The secret to finger-licking, fall-off-the-bone ribs are all about cook time – the lower the heat and longer the cooking time, the juicier this dish will be. Professional rib cookers might spend thousands of dollars on outdoor smokers, but luckily for us, we can still achieve a delicious plate of ribs by using something most of us have – our slow cooker.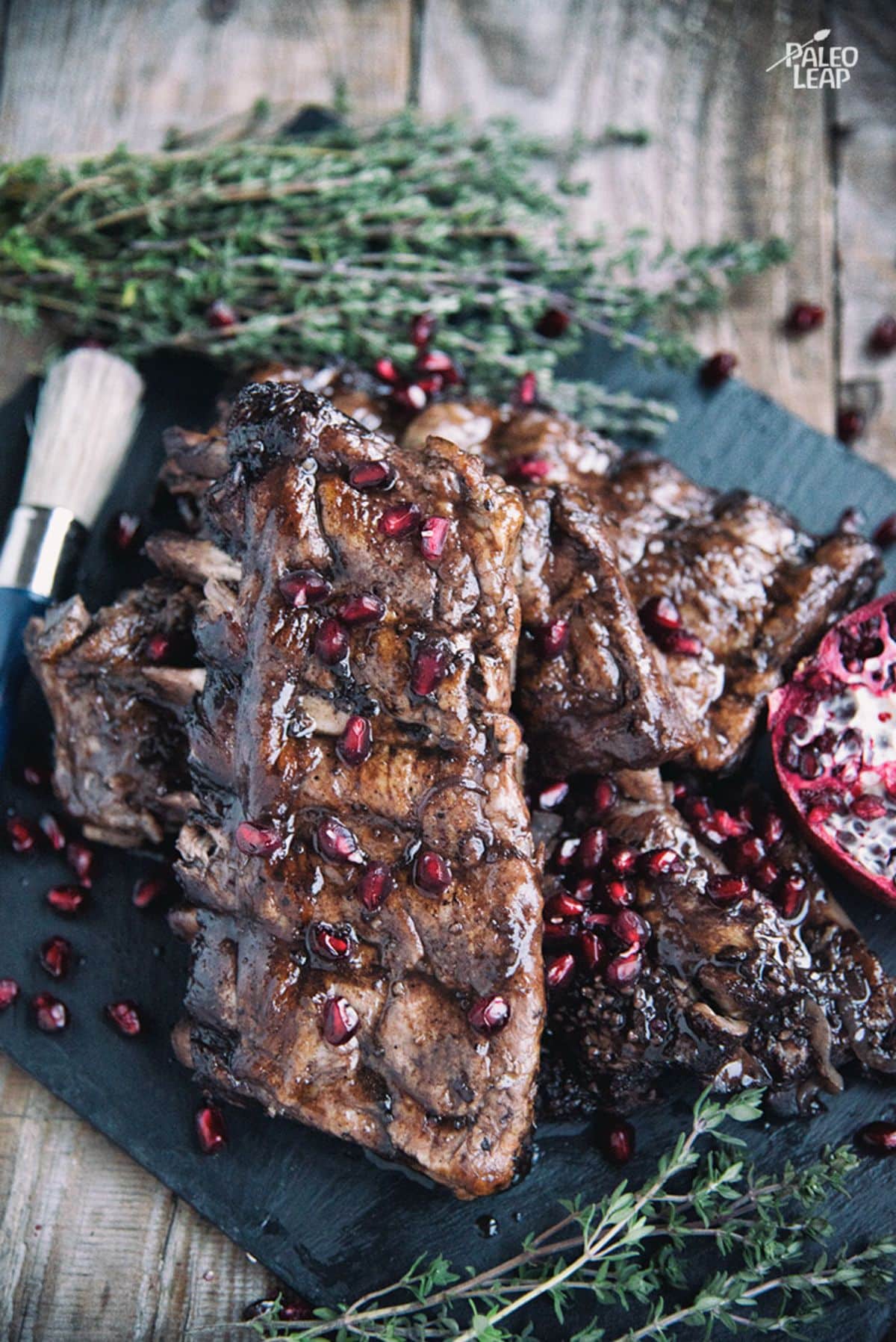 This is the perfect appliance for getting a tender rack of ribs – and it saves a lot of time when you pull everything together for dinner. There are a ton of slow cooker rib variations, but this one sweetens things up with a homemade pomegranate sauce that'll put a spin on how you might usually serve ribs.
Working with fresh pomegranates might seem a little intimidating, but these fruits are completely worth the hassle. They offer a bunch of awesome nutrients and have an incredibly unique, sweet flavor.
For tips on cooking with these, see this recipe for roasted cauliflower with mint and pomegranate – about halfway down the page, you'll see pomegranate prep tips (it's also a great side to consider when you serve this dish!)
Some other sides that are awesome with ribs include these grilled sweet potatoes (especially if you're going for a picnic-themed dish) or this fresh summer salad for a lighter plate. We also love ribs with a light dessert – and the baked blueberry stuffed apples stay true to the picnic theme without forgoing a Paleo diet.
Slow-Cooker Ribs with Pomegranate Sauce Recipe
Serves: 6 Prep: 20min Cook: 8h 30min
Ingredients
2 lb. baby back ribs, membrane removed
1 yellow onion, sliced
3 garlic cloves, smashed and peeled
4 fresh thyme sprigs
2 cups pomegranate juice
1 cup chicken stock
1/4 cup red wine vinegar
1/4 cup water
1/2 cup pomegranate seeds, for serving
1 -2 tsp. chili powder
1/2 -1 tsp. paprika
Sea salt and freshly ground black pepper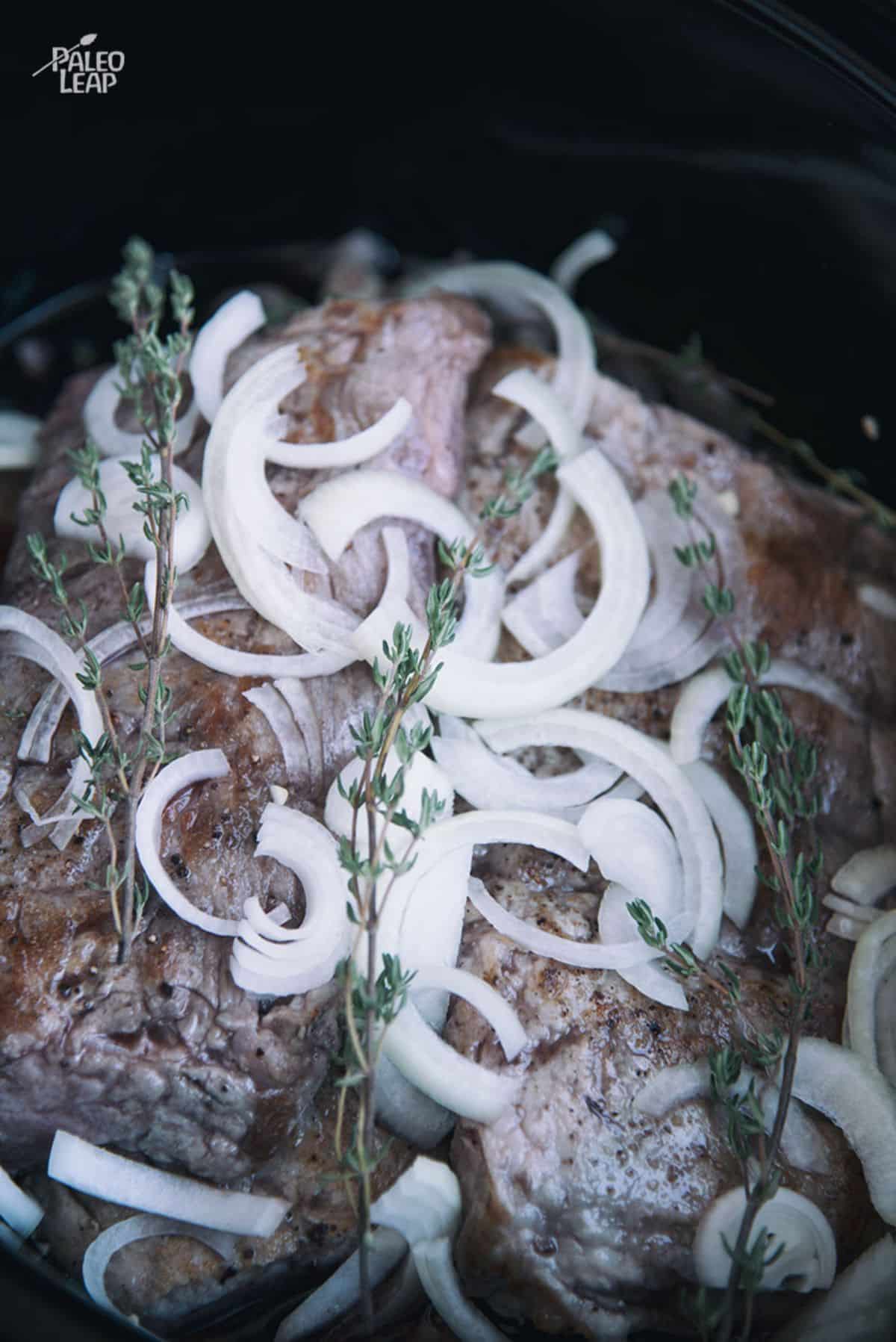 Preparation
Season the ribs with salt and pepper to taste and place in a slow cooker.
Top with the sliced onion and garlic; then, pour in the pomegranate juice, chicken stock, and water.
Add in the thyme sprigs and cover.
Cook the ribs on low for 8 hours or until the ribs are tender.
Remove ribs from the slow cooker and set aside.
Strain the sauce from the slow cooker and pour into a saucepan.
Bring the sauce to a boil. Pour in the red wine vinegar, chill powder, and paprika; season with salt and pepper to taste.
Start with the smaller amount of chili powder and paprika, taste, and add more seasoning if you'd like more spice.
Lower the heat and simmer the sauce for 15 to 20 minutes.
Preheat oven to 425 F. Brush the ribs generously with the pomegranate sauce.
Place the ribs on a baking sheet and cook in the oven for 4 to 5 minutes per side.
Serve the ribs topped with pomegranate seeds.
Slow-Cooker Ribs with Pomegranate Sauce Recipe
Looking for a sweet, fall-off-the-bone ribs recipe? This unique pomegranate variation is a great choice!
Ingredients
2

lb.

baby back ribs

membrane removed

1

yellow onion

sliced

3

garlic cloves

smashed and peeled

4

fresh thyme sprigs

2

cups

pomegranate juice

1

cup

chicken stock

1/4

cup

red wine vinegar

1/4

cup

water

1/2

cup

pomegranate seeds

for serving

1 -2

tsp.

chili powder

1/2 -1

tsp.

paprika

Sea salt and freshly ground black pepper
Instructions
Season the ribs with salt and pepper to taste and place in a slow cooker.

Sea salt and freshly ground black pepper

Top with the sliced onion and garlic; then, pour in the pomegranate juice, chicken stock, and water.

1 yellow onion,

3 garlic cloves,

2 cups pomegranate juice,

1 cup chicken stock,

1/4 cup water

Add in the thyme sprigs and cover.

Cook the ribs on low for 8 hours or until the ribs are tender.

Remove ribs from the slow cooker and set aside.

Strain the sauce from the slow-cooker and pour into a saucepan.

Bring the sauce to a boil. Pour in the red wine vinegar, chill powder, and paprika; season with salt and pepper to taste.

1/4 cup red wine vinegar,

1 -2 tsp. chili powder,

1/2 -1 tsp. paprika,

Sea salt and freshly ground black pepper

Start with the smaller amount of chili powder and paprika, taste, and add more seasoning if you'd like more spice.

Lower the heat and simmer the sauce for 15 to 20 minutes.

Preheat oven to 425 F. Brush the ribs generously with the pomegranate sauce.

Place the ribs on a baking sheet and cook in the oven 4 to 5 minutes per side.

Serve the ribs topped with pomegranate seeds.

1/2 cup pomegranate seeds
Nutrition
Calories:
428
kcal
|
Carbohydrates:
19
g
|
Protein:
31
g
|
Fat:
26
g
|
Saturated Fat:
9
g
|
Polyunsaturated Fat:
4
g
|
Monounsaturated Fat:
11
g
|
Trans Fat:
0.2
g
|
Cholesterol:
106
mg
|
Sodium:
213
mg
|
Potassium:
708
mg
|
Fiber:
2
g
|
Sugar:
14
g
|
Vitamin A:
751
IU
|
Vitamin C:
5
mg
|
Calcium:
74
mg
|
Iron:
2
mg