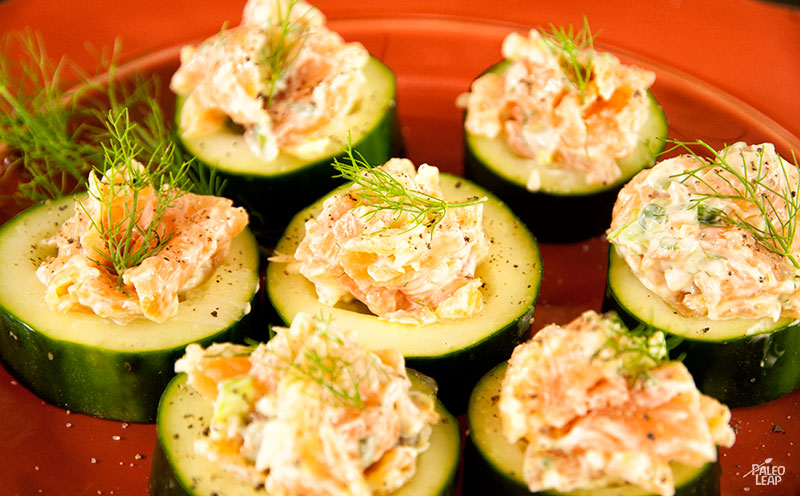 Smoked salmon is a healthy way to treat yourself to something special, especially when it's all dressed up with some homemade mayo, capers, and crunchy green onions for flavor. It's a classic for breakfast or brunch, but sophisticated enough to be an evening food if that's when you want it.
With anything best-known for topping a bagel, though, there's always the question of what to put it on. Bagels and crackers are off the table, but it's still nice to have a milder delivery vehicle to balance such a rich salad. Cucumbers are one way to make that happen: they're crunchy and summery, and better yet, they don't take a lot of effort to throw together.
If you're not looking for finger food but still like the idea of smoked salmon with cucumbers, you could also make this into a more fork-friendly salad by simply cutting the cucumbers into small cubes and mixing them right into the salad along with the salmon. This makes it even simpler to prepare, but still just as delicious to eat!
Smoked Salmon Salad in Cucumber Slices Recipe

SERVES: 4

PREP: 15 min.

Values are per portion. These are for information only & are not meant to be exact calculations.
Ingredients
12 oz. smoked salmon, coarsely chopped
¼ cup green onions, finely chopped;
3 tbsp. homemade mayonnaise;
2 tbsp. drained capers; (optional)
1 tbsp. fresh dill, chopped + some for garnishing;
2 English cucumbers; sliced;
Sea salt and freshly ground black pepper;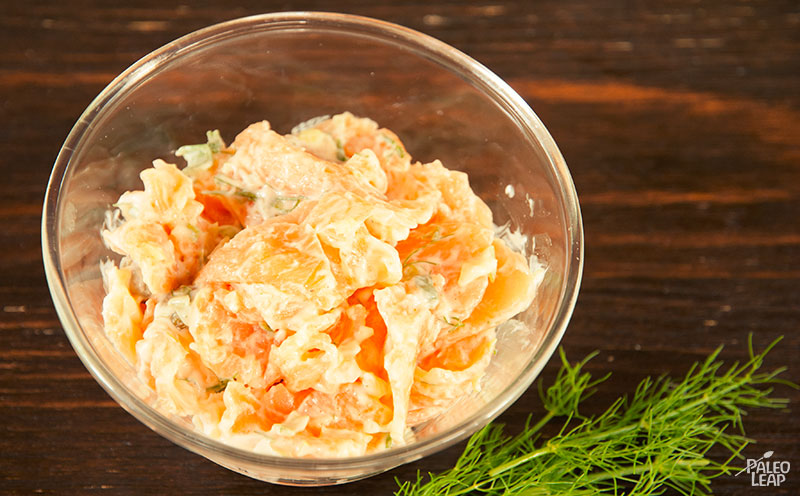 Preparation
In a bowl, combine the green onions, dill, capers, and mayonnaise.
Add the chopped salmon, give the mixture a good stir, and season to taste.
Make each cucumber slice into a small cup by scooping out the center with a small spoon, leaving the bottom intact.
Fill each cucumber cup with the salmon mixture.
Sprinkle some fresh dill, season to taste, and serve.