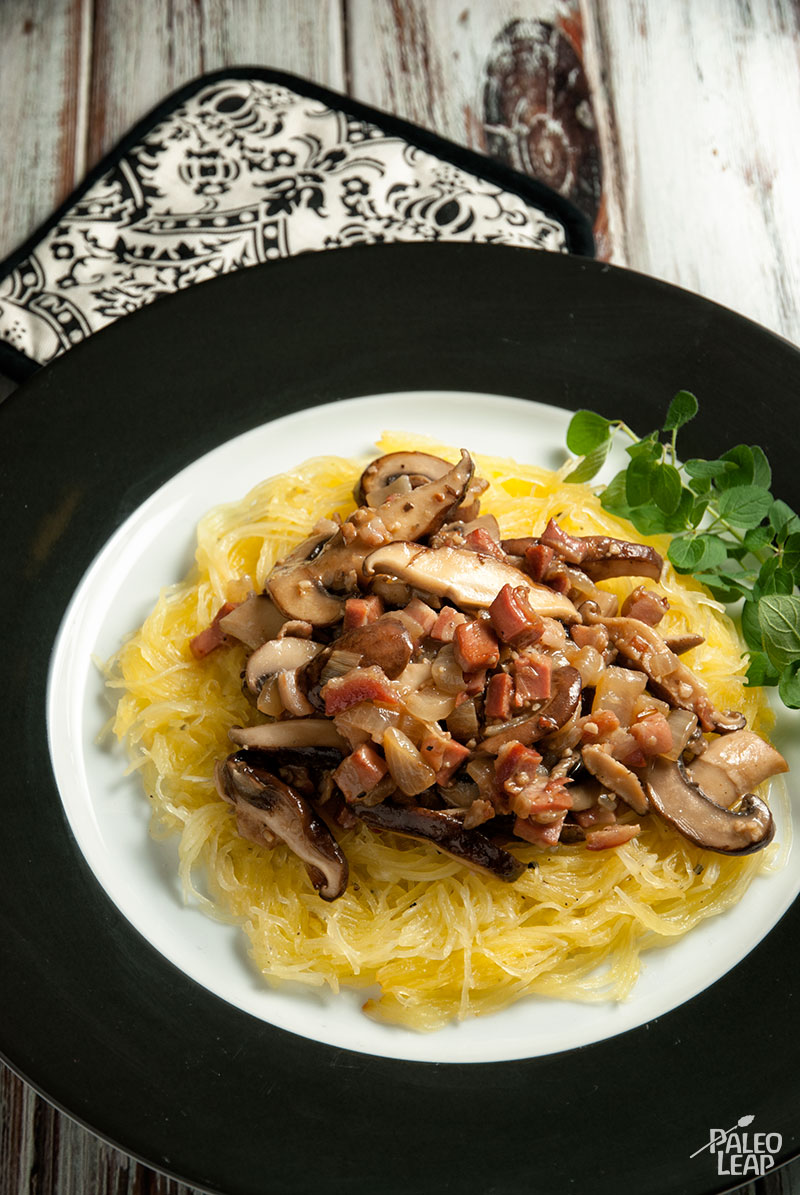 Mushrooms are a quick and easy way to add some savory flavor to a big pile of spaghetti-squash "noodles" – add some fatty-salty pancetta and a (dairy-free) cream sauce, and it only gets better! Pancetta is a type of Italian cured pork; you should be able to find it near the bacon and cured salami. Just make sure to check the labels to make sure the ingredients are OK.
For the mushrooms, I'd suggest shiitakes, but if there's something else in season, go for it: fresh mushrooms are always a pleasure. Whatever type you pick, they add a nice savory richness to the sauce: spaghetti squash is so mild-tasting that it's good to have a sauce with a little more body.
To make a full meal out of this, you could always add some chicken to the mushroom sauce, or just serve it as a side for another main dish. Grilled or baked chicken (or turkey!) would be perfect, or try it out with a nice steak if you're up for something richer.
Spaghetti Squash with Creamy Mushroom Sauce Recipe

SERVES: 4

PREP: 15 min.

COOK: 30 min.

Values are per portion. These are for information only & are not meant to be exact calculations.
Ingredients
1 spaghetti squash, halved lengthwise and seeded;
4 oz. pancetta, chopped;
1¼ cup Shiitake mushrooms, chopped;
1 onion, chopped;
3 cloves of garlic, minced;
Sea salt and freshly ground black pepper;
Ingredients for the creamy sauce
1 cup coconut milk;
2 tbsp. ghee or butter;
2 garlic cloves, minced;
1 tsp. onion powder;
1 tsp. dried oregano;
Sea salt and freshly ground black pepper;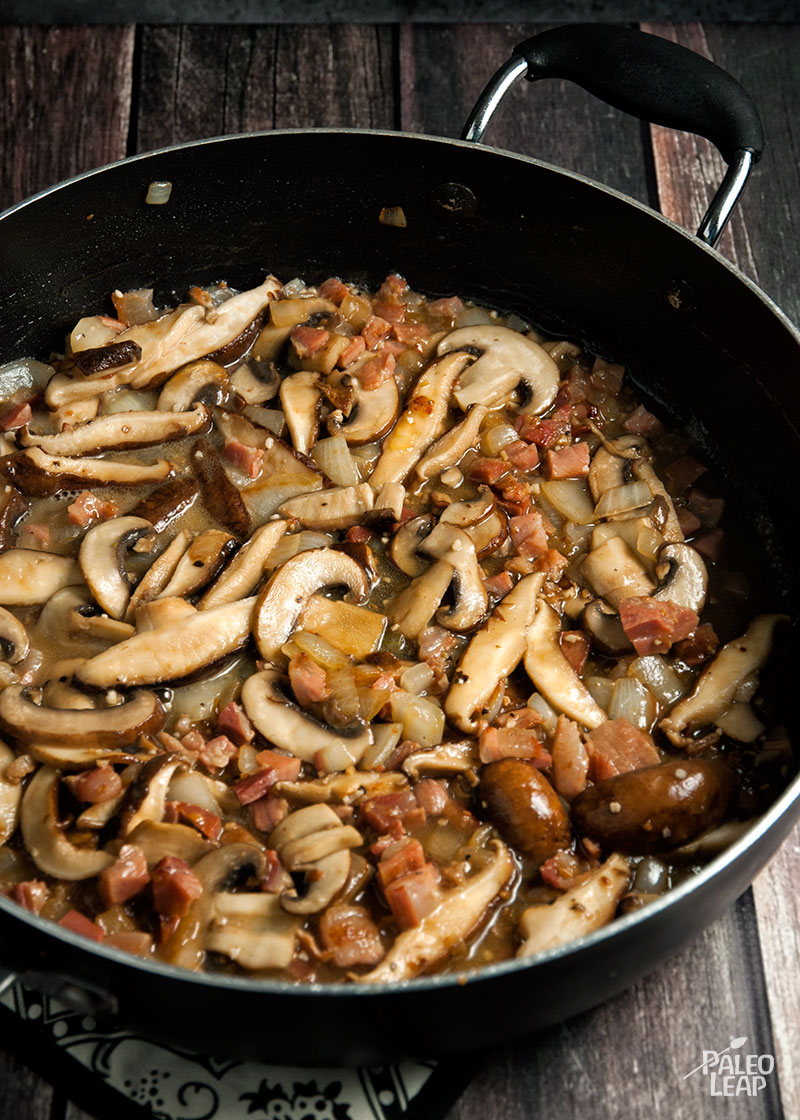 Preparation
Preheat your oven to 350 F.
Place the spaghetti squash, cut side down, on a baking sheet and bake for 30 minutes in the preheated oven.
Combine all the ingredients for the sauce in a saucepan placed over a medium-low heat. Heat until thickened, whisking the whole time, and set aside.
Place a skillet over  a medium heat, melt some cooking fat in it and sauté the onion and garlic until fragrant (about 2 minutes).
Add the pancetta as well as the mushrooms and cook until the mushrooms are soft.
Add the creamy sauce to the skillet, give everything a good stir, and adjust the seasoning.
Use a fork or spoon to scoop the stringy flesh from the squash.
Serve the squash with creamy mushroom sauce on top.