These ribs get a triple layer of flavor. First, there's a spicy rub full of paprika and cayenne pepper; then there's some homemade BBQ sauce with optional Sriracha; finally, there's a sprinkle of fresh herbs on top.
And while the BBQ sauce is going on, they also get a turn on the grill to add that smoky char to the outside. It's definitely a treat worth getting your fingers dirty for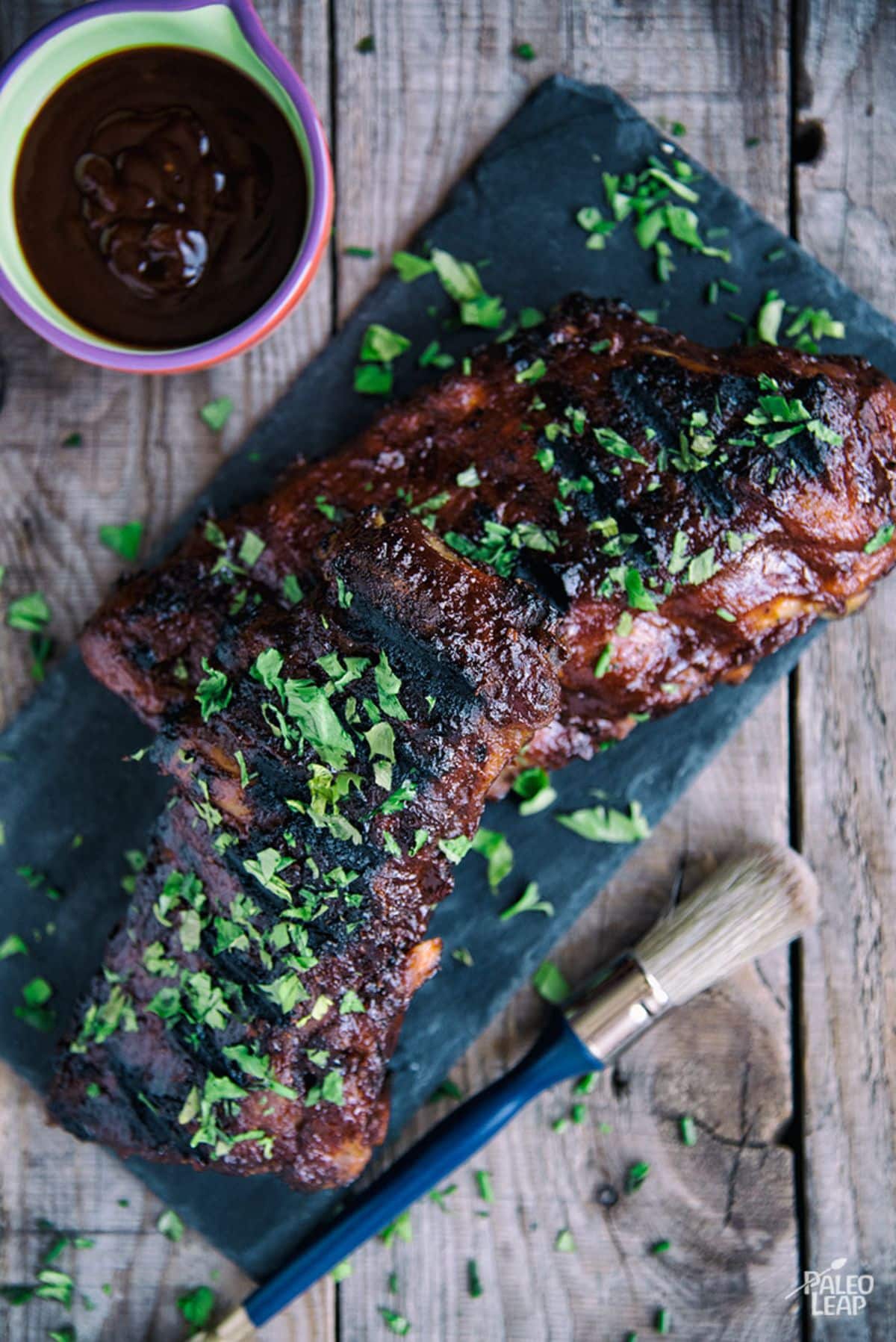 The cook time is long on paper, but most of that is just roasting in the oven while you do other things; you don't actually have to pay attention to the recipe for two and a half hours. Time on the grill is just a few minutes.
To make an easy dinner out of this, you could throw some asparagus or sweet potato onto the grill at the same time as the ribs. Really any vegetable would work here, maybe with some grilled pineapple rounds for dessert.
Spicy Barbecue Ribs With Fresh Herbs Recipe
SERVES: 4 PREP: 20 min COOK: 2.5 h
Ingredients
3 to 4 lbs baby back ribs, membrane removed
1 tbsp. smoked paprika
½ tbsp. garlic powder
½ tbsp. onion powder
½ tsp. cayenne powder
1 cup homemade BBQ sauce
4 tsp. Sriracha (optional or to taste)
2 tbsp. raw honey (optional)
¼ cup fresh chives, minced
¼ cup fresh cilantro, minced
¼ cup fresh parsley, minced
Sea salt and freshly ground black pepper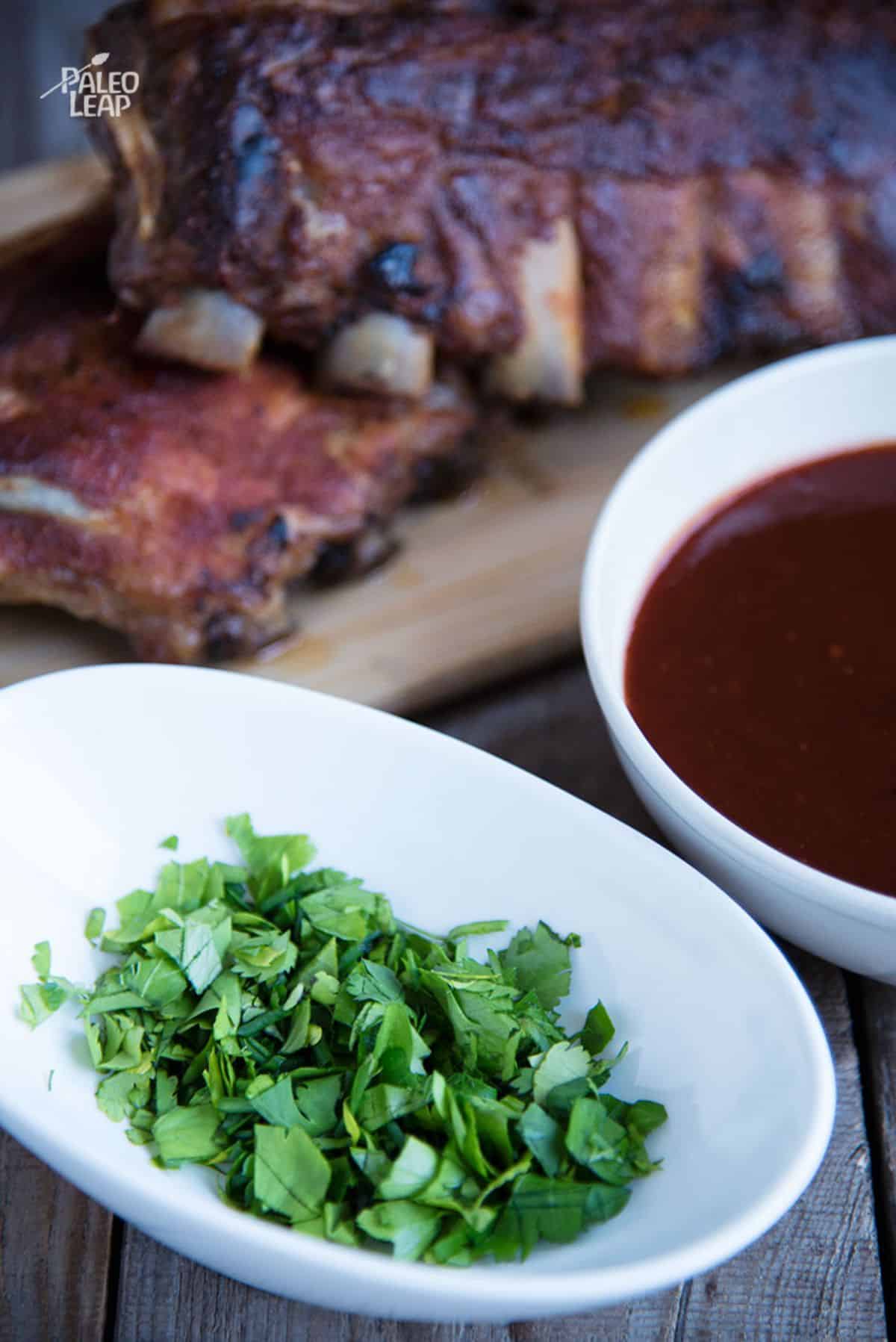 Preparation
Preheat your oven to 325 F.
In a bowl, combine the smoked paprika, garlic powder, onion powder, cayenne, and salt and pepper to taste.
Cover the ribs with the rub on both sides and wrap each set of ribs in parchment paper. Place the ribs in a single layer on a baking sheet and bake in the oven for 2 ½ hours.
In a bowl, stir together the BBQ sauce, Sriracha, if using, and honey.
Baste the ribs generously with the BBQ sauce and grill over medium-high heat for 5 to 10 minutes per side.
Serve the ribs garnished with fresh herbs.
📖 Recipe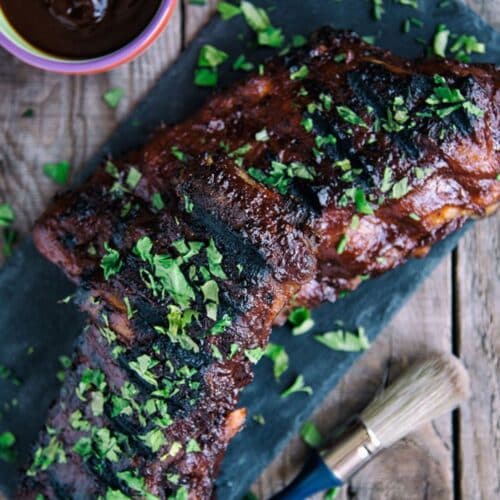 Spicy Barbecue Ribs With Fresh Herbs Recipe
Why choose between a spice rub and BBQ sauce when you could have both, plus a topping of fresh herbs?
Instructions
Preheat your oven to 325 F.

In a bowl, combine the smoked paprika, garlic powder, onion powder, cayenne, and salt and pepper to taste.

1 tbsp. smoked paprika,

½ tbsp. garlic powder,

½ tbsp. onion powder,

½ tsp. cayenne powder,

Sea salt and freshly ground black pepper

Cover the ribs with the rub on both sides and wrap each set of ribs in parchment paper. Place the ribs in a single layer on a baking sheet and bake in the oven for 2 ½ hours.

3 to 4 lbs baby back ribs

In a bowl, stir together the BBQ sauce, Sriracha, if using, and honey.

1 cup homemade BBQ sauce,

4 tsp. Sriracha,

2 tbsp. raw honey

Baste the ribs generously with the BBQ sauce and grill over medium-high heat for 5 to 10 minutes per side.

Serve the ribs garnished with fresh herbs.

¼ cup fresh chives,

¼ cup fresh cilantro,

¼ cup fresh parsley
Nutrition
Calories:
653
kcal
Carbohydrates:
41
g
Protein:
43
g
Fat:
36
g
Saturated Fat:
13
g
Polyunsaturated Fat:
6
g
Monounsaturated Fat:
15
g
Trans Fat:
0.3
g
Cholesterol:
148
mg
Sodium:
1061
mg
Potassium:
876
mg
Fiber:
3
g
Sugar:
31
g
Vitamin A:
2784
IU
Vitamin C:
12
mg
Calcium:
117
mg
Iron:
3
mg