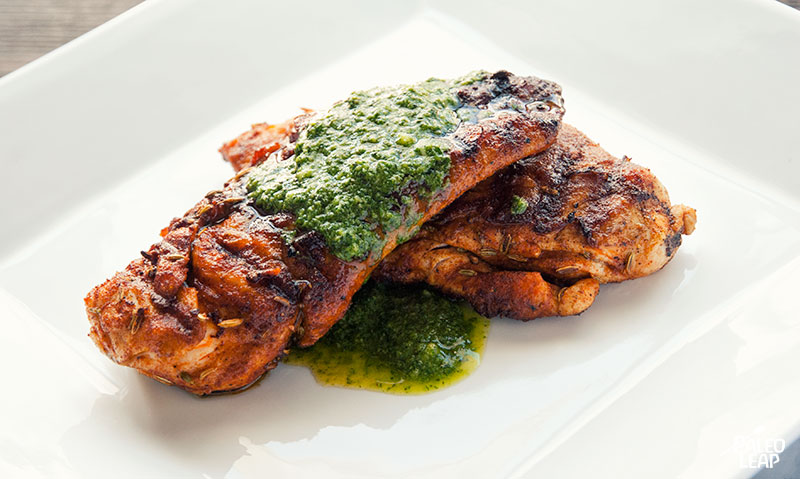 This is a simple and tasty chicken recipe where the chicken is rubbed in a wonderful blend of savory spices and then topped with a sauce of fresh parsley and mint. The main spice being used here is smoked paprika, which is a spice made from dried bell peppers that gives color and taste to dishes.
The refreshing sauce here is great to cut through the heat and pungency of the spicy and helps create a great combination.
Spicy chicken with herb sauce recipe
Serves 4
Values are per portion. These are for information only & are not meant to be exact calculations.
Ingredients for the chicken
4 boneless chicken breasts;
2 tbsp smoked paprika;
2 tsp ground cumin;
2 tsp ground mustard;
2 tsp ground fennel seeds;
1 tsp freshly ground black pepper;
2 tsp sea salt;
Coconut oil, butter, ghee or tallow to cook;
Ingredients for the herb sauce
1 cup extra-virgin olive oil;
2 cups fresh mint leaves;
1 cup fresh flat-leaf parsley leaves;
6 garlic cloves, roughly chopped;
2 tbsp homemade or Dijon mustard;
1 green chili, seeded and chopped, optional;
Sea salt and freshly ground black pepper to taste;
Preparation
To prepare the sauce, place the mint, parsley, garlic and chili, if using, in the bowl of a food processor and process to chop roughly.
Add the mustard, season to taste with salt and pepper and process again to combine.
Now slowly drizzle the olive oil in while the food processor in in function to create an emulsion.
For the spice rub, combine the paprika, cumin, mustard powder, fennel, salt and pepper in a bowl.
Rub the chicken breasts all over with your chosen cooking fat and also rub them with the spice mixture.
Heat a frying pan over a medium heat and fry the chicken breasts in some additional cooking fat for about 5 minutes per side, until well cooked.
Serve the spicy chicken topped with the fresh herb sauce.