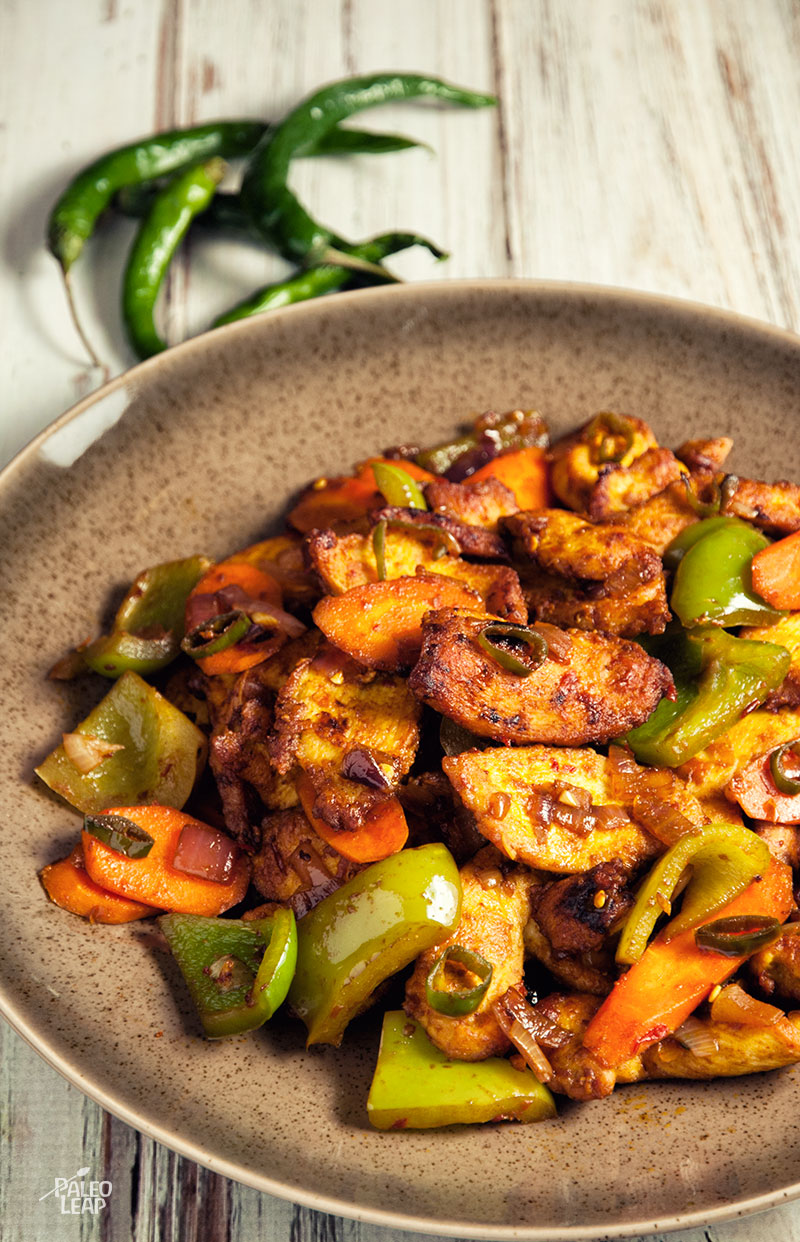 Crispy chicken strips and stir-fried vegetables make this quick one-pan dinner the perfect solution for something fast and flavorful – not to mention beautiful on the plate. Bright-yellow turmeric and crunchy fresh vegetables are sure to cheer up any table that could use a little color, and once they finally get to your mouth, all the spices taste even better than they look.
The spice list here looks a little daunting, but most of the ingredients are spices you probably have anyway, and if you don't, you'll end up using them in all kinds of other recipes as well. Most of them should be easy to find even if you don't have an Indian grocery around. For the chili paste, just make sure you check the ingredients before you buy; a lot of them have junk oils or added sugar.
This stir-fry would go perfectly with vegetable curry, or with just about any roasted vegetables you want to throw in the oven (cauliflower? Broccoli? Parsnips?). Or try it with cauliflower tortillas in place of the typical flatbread: it's a little bit of extra time to make the tortillas, but they do make a great, kid-friendly vegetable side.
Spicy Indian Chicken Stir-Fry Recipe

SERVES: 4

PREP: 20 min. + 2 h.

COOK: 25 min.
Values are per portion. These are for information only & are not meant to be exact calculations.
Ingredients
4 chicken breasts, cut into strips
4 carrots, sliced
1 small red onion, minced
2 bell peppers, chopped
2 green chilies, sliced
1 tbsp. garlic paste
1 tbsp. ginger paste
1 tsp. chili powder
½ tsp. cumin
2 tbsp. red chili paste
Ingredients for the marinade
2 tsp. ginger, minced
2 garlic cloves, minced
2 tsp. turmeric powder
1 tsp. red chili powder
1 tsp. coriander powder
1 1/2 tsp. cumin powder
2 tbsp. tapioca starch
1 egg, beaten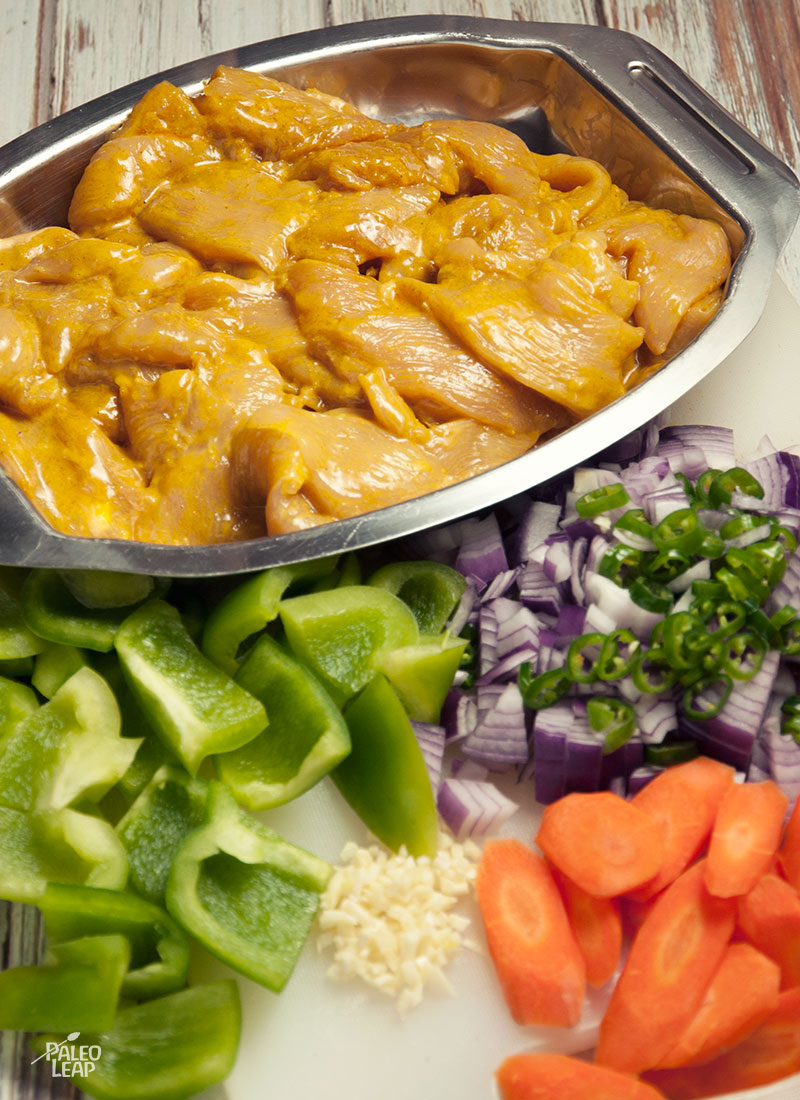 Preparation
In a bowl, combine all the ingredients for the marinade and stir well.
Add the chicken and stir until well coated; then place in the refrigerator and marinate for at least 2 hours.
Melt some cooking fat in a large skillet placed over a medium-high heat and brown the chicken slices on all sides.
Remove the chicken and set aside.
Add the onion, garlic paste, ginger paste, cumin, and chili powder to the pan, and cook for 2 to 3 minutes.
Add the remaining vegetables and cook until they start to soften (about 5 minutes).
Return the chicken to the pan. Stir until everything is well coated, cover, and cook for another 5 to 10 minutes or until the chicken is cooked through.