As summer quickly approaches, I get the urge to spend more and more time in the great outdoors. Unfortunately, this results in me spending less time in the kitchen; however, there are plenty of recipes available that can be thrown together in no time and still be thoroughly enjoyable.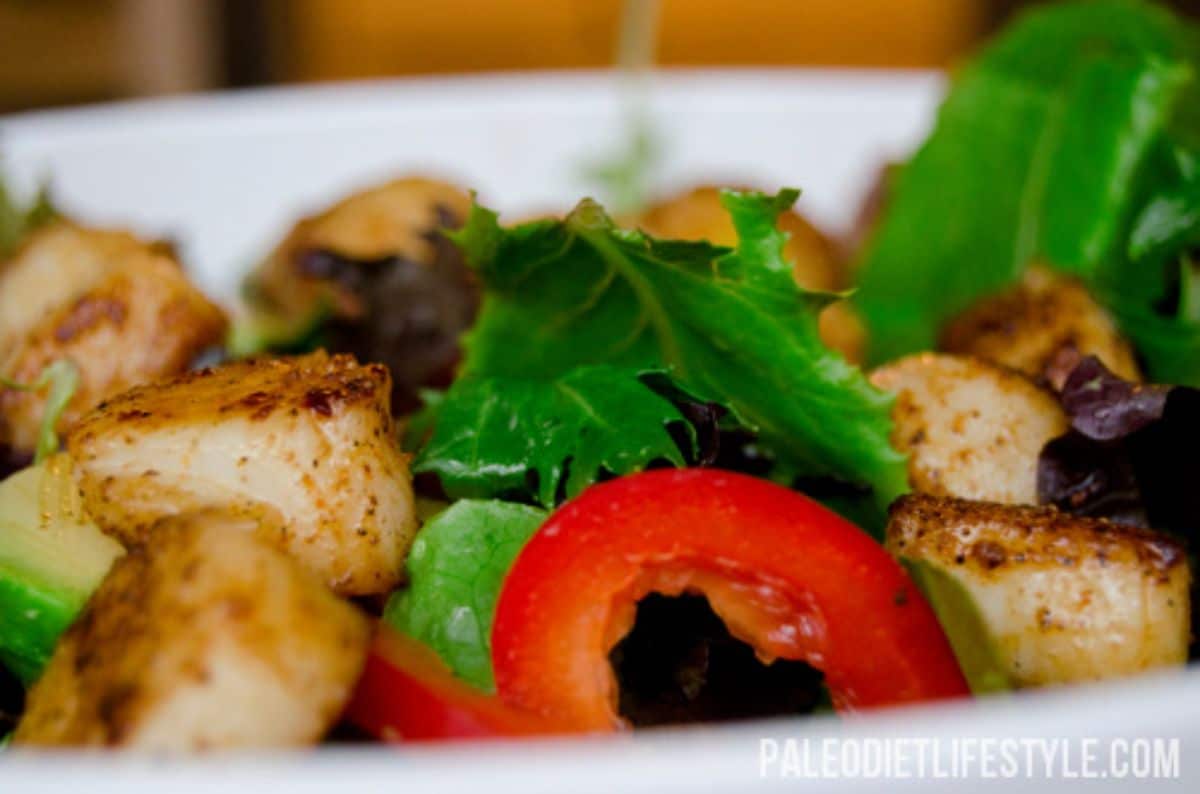 I tried out this Spicy Scallop Salad the other night, and it was amazing. It can be difficult to try and make a meal out of any salad, but I try to overcome this by adding fish or meat into the mix.
The salad becomes much more hearty and filling, and it is also the best way to add some distinct and powerful flavors, especially with this recipe, because they are cooked in a coating of bold cayenne and black pepper.
When it comes to cooking with any seafood, fresh is always the best option. You can determine quite easily with scallops when they are best to buy, as they should take on a white and soft pink color.
If they seem to appear slightly yellow, you know they are no longer so fresh, and you want to avoid cooking with them. 
If you're not sure, head over to a good fish market and ask your fishmonger about the provenance and freshness of the scallops. A good fish market is always a better place to buy fish and seafood than the grocery store anyway.
Below is the recipe I used, but know that there are a lot of options and alternatives when it comes to most of the ingredients. For instance, if you are not a fan of scallops, shrimp would be a great substitute. In addition, the vinaigrette is very versatile, making it a great topper for many salads.
Here scallops are a great option as they are quick and easy to prepare. They aren't a very popular source of protein, but it's a shame because they are nutritious and blend very well with many flavors.
They are a good source of vitamin B12, magnesium, zinc, selenium, and phosphorus, many of which are lacking in many people's diets, even some people on a healthy paleo diet.
Spicy scallop salad recipe
Serves: 4
Ingredients
2 teaspoon cayenne pepper;
2 teaspoon freshly ground black pepper;
1 teaspoon sea salt;
1 lb small sea or bay scallops;
3 tablespoon lemon juice (about 1.5 lemons);
1 tablespoon paleo mayonnaise, optional;
Pinch of cayenne pepper;
1 teaspoon Dijon or homemade mustard;
1 clove garlic, minced;
½ cup olive oil;
2 big handfuls of mixed greens;
1 red bell pepper, seeded and cut into strips;
1 avocado, cubed;
Sea salt and freshly ground black pepper to taste;
3 tbsp cooking fat;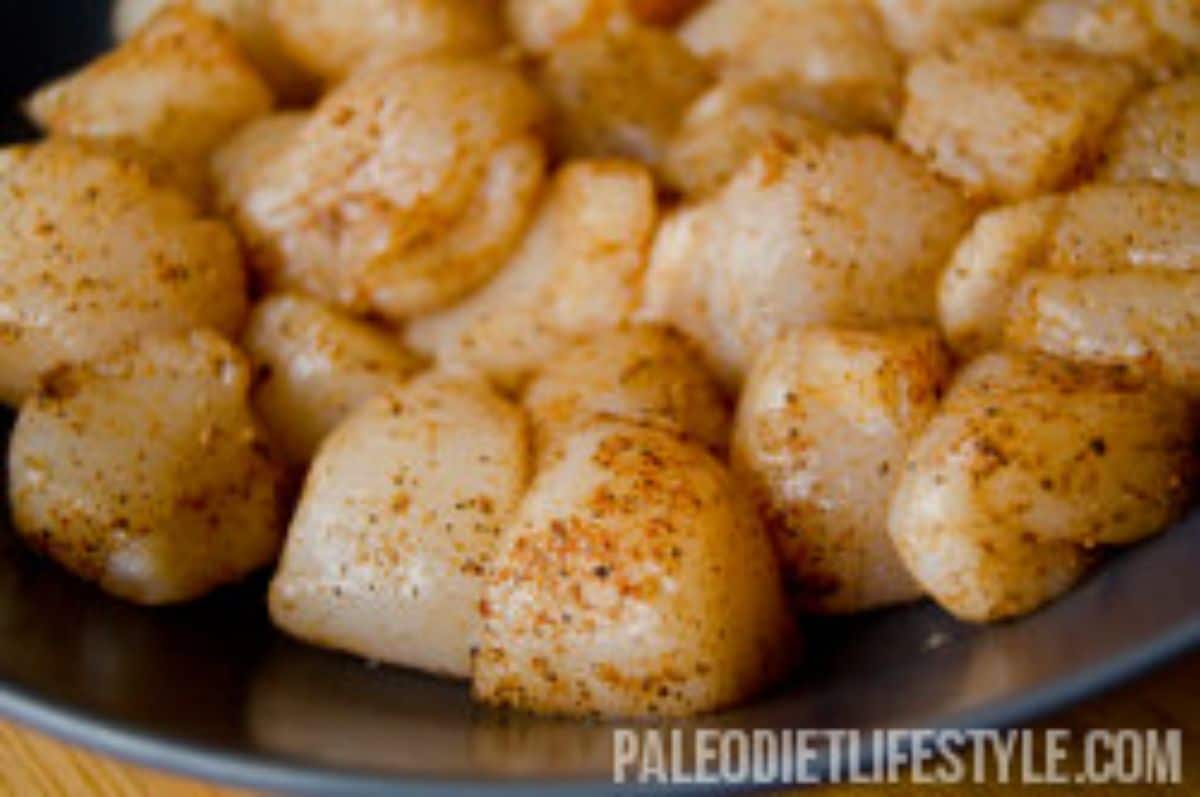 Preparation
Combine mixed greens, peppers, and avocado in a large bowl and set aside.
In a small bowl, prepare the vinaigrette by whisking together the lemon juice, mayonnaise, mustard, cayenne, and salt and pepper to taste. Once combined, slowly mix in the olive oil.
In a bowl large enough to hold the scallops, mix the cayenne, salt, and pepper.
Rinse the scallops and lightly pat dry.
Add the scallops to the mixture prepared in step 4 and ensure that they are evenly coated.
Over medium heat, heat a skillet and melt the cooking fat in preparation for searing the scallops. Your skillet must be hot prior to adding the scallops; however, do not allow the cooking fat to burn.
Place the scallops in the pan and cook for about two minutes per side until they are opaque white and just cooked through.
Add the scallops to the bowl of mixed greens and veggies, and add the dressing over the top. Serve while the scallops are still warm.
There you have it! This a quick and easy salad that will help limit your time in the kitchen and keep you under the sun longer.
📖 Recipe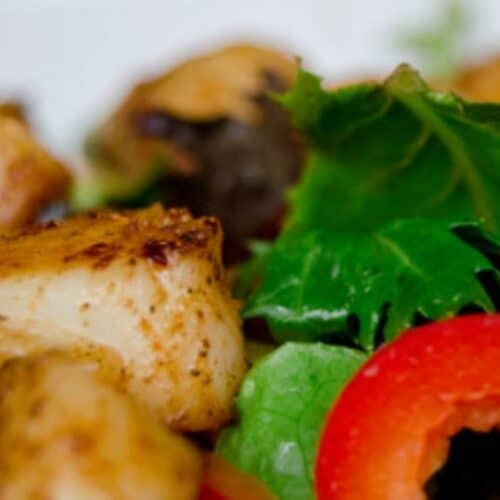 Spicy scallop salad recipe
A quick and bold, yet fresh tasting scallop salad ideal for the summer time when time is better spent outdoors than in the kitchen.
Instructions
Combine mixed greens, peppers, and avocado in a large bowl and set aside.

2 teaspoon cayenne pepper,

2 big handfuls of mixed greens,

1 avocado

In a small bowl, prepare the vinaigrette by whisking together the lemon juice, mayonnaise, mustard, cayenne, and salt and pepper to taste. Once combined, slowly mix in the olive oil.

1 teaspoon sea salt,

3 tablespoon lemon juice,

1 tablespoon paleo mayonnaise,

1 teaspoon Dijon or homemade mustard,

½ cup olive oil

In a bowl large enough to hold the scallops, mix the cayenne, salt, and pepper.

1 lb small sea or bay scallops,

Pinch of cayenne pepper,

Sea salt and freshly ground black pepper to taste

Rinse the scallops and lightly pat dry.

Add the scallops to the mixture prepared in step 4 and ensure that they are evenly coated.

Over medium heat, heat a skillet and melt the cooking fat in preparation for searing the scallops. Your skillet must be hot prior to adding the scallops however, do not allow the cooking fat to burn.

Place the scallops in the pan and cook for about two minutes per side until they are opaque white and just cooked through.

Add the scallops to the bowl of mixed greens and veggies, and add the dressing over the top. Serve while the scallops are still warm.

2 teaspoon freshly ground black pepper,

1 clove garlic,

2 big handfuls of mixed greens,

1 red bell pepper
Nutrition
Calories:
532
kcal
Carbohydrates:
12
g
Protein:
15
g
Fat:
48
g
Saturated Fat:
7
g
Polyunsaturated Fat:
11
g
Monounsaturated Fat:
28
g
Trans Fat:
0.1
g
Cholesterol:
29
mg
Sodium:
1060
mg
Potassium:
586
mg
Fiber:
5
g
Sugar:
2
g
Vitamin A:
1438
IU
Vitamin C:
48
mg
Calcium:
22
mg
Iron:
1
mg