Shrimp recipes are fantastic for a lot of reasons – while they might fall on the more expensive side, they are incredibly easy to prep, quick to put together, and full of healthy nutrients that are difficult to acquire from more typical beef and poultry courses.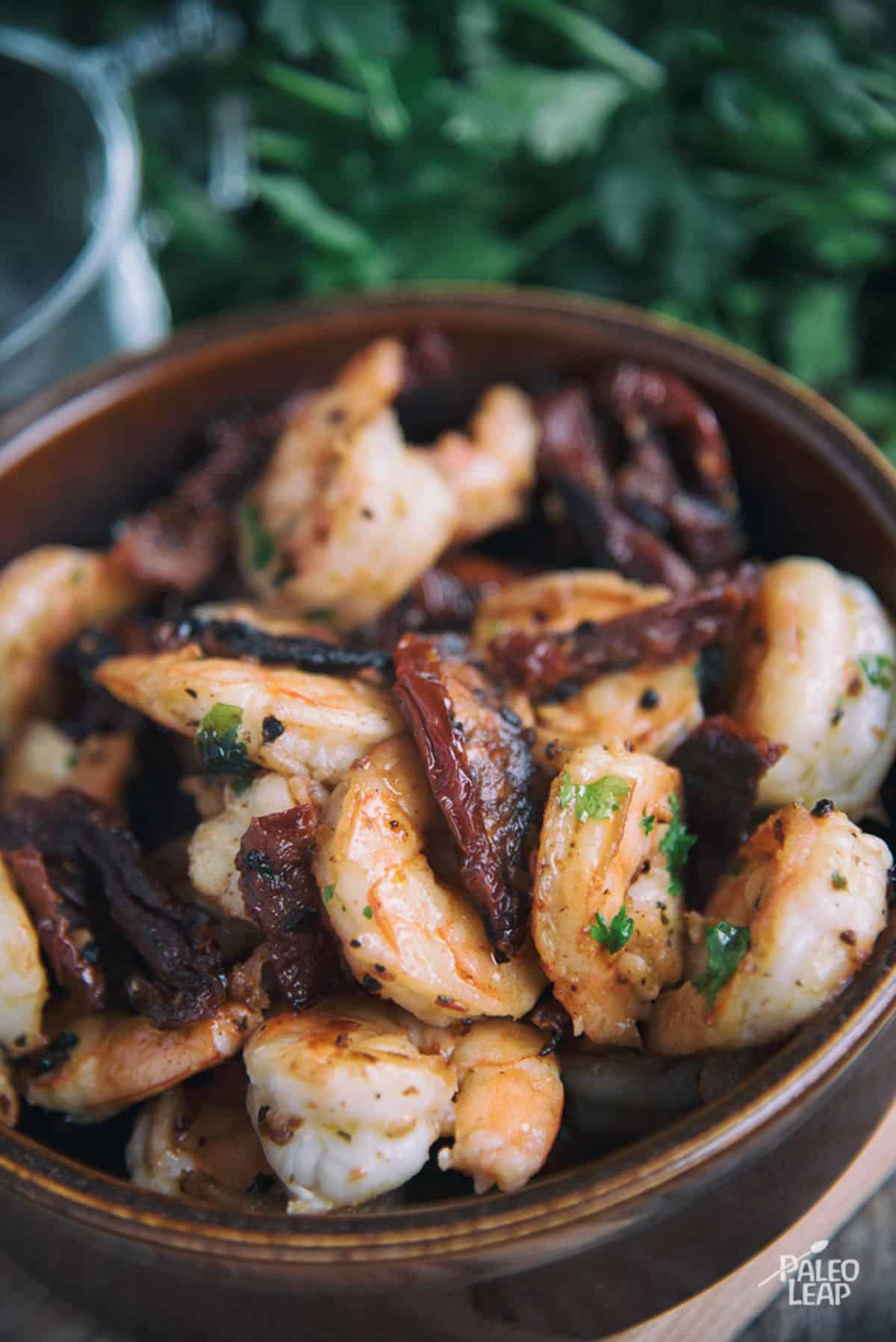 This recipe works well as either a simple lunch or dinner main course, and what you serve this dish with can be adjusted based on your preferences and dietary needs.
As long as you have shrimp, you can easily pull together a complete main course with whatever produce and ingredients you have on hand. This makes this dish a great option for those nights when you're not quite sure what to make for dinner and don't have a ton of time to throw something together.
One of the advisements you'll hear when using shrimp as your main protein source is the importance of including fats in the prep to ensure a more balanced macro profile.
You'll see in this recipe that the dish is designed with this in mind – the ¼ cup of olive oil is perfect for seafood dishes since it adds just the right amount of needed fats.
One component this dish is missing is a balanced carbohydrate. To introduce this macro to your plate, try preparing a simple vegetable side dish that complements the flavor palette of this main course.
For this dish, some great options include this Italian-style roasted vegetable medley or the grilled eggplant and sun-dried tomato salad.
Spicy Shrimp And Sun-Dried Tomatoes Recipe
Serves: 4 Prep: 15 min Cook: 6 min
Ingredients
1 lb. shrimp, peeled and deveined
¼ cup olive oil
4 garlic cloves, minced
½ cup sun-dried tomatoes, sliced
2 tsp. chili flakes
1 tbsp. fresh parsley, minced
Sea salt and freshly ground black pepper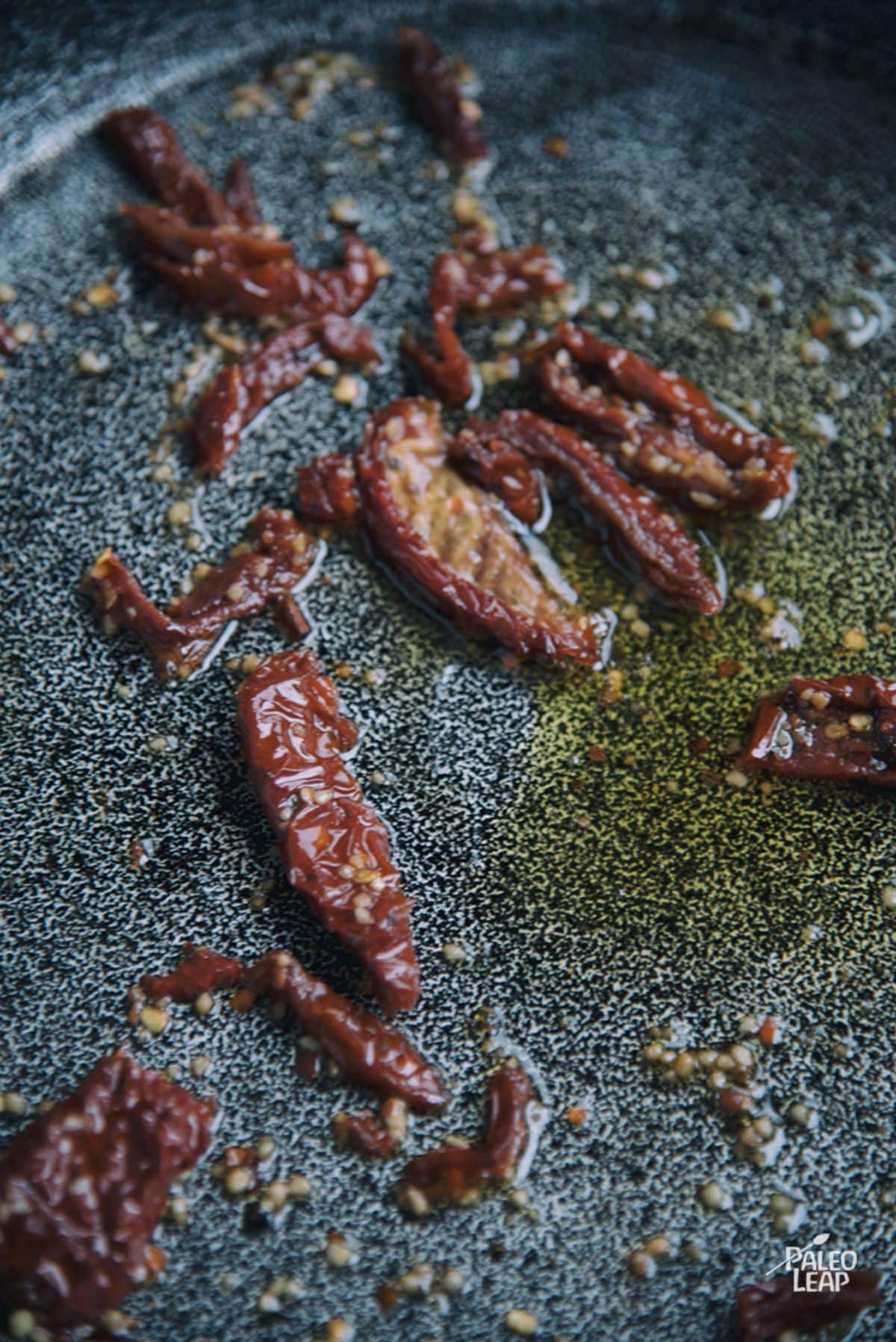 Preparation
Heat the olive oil in a skillet over medium heat.
Add the garlic and cook until fragrant (1 to 2 minutes).
Add the sun-dried tomatoes and chili flakes; cook for 1 to 2 minutes.
Add the shrimp to the skillet and cook, tossing until the shrimp are no longer pink.
Sprinkle with fresh parsley, toss everything one last time, and serve.
📖 Recipe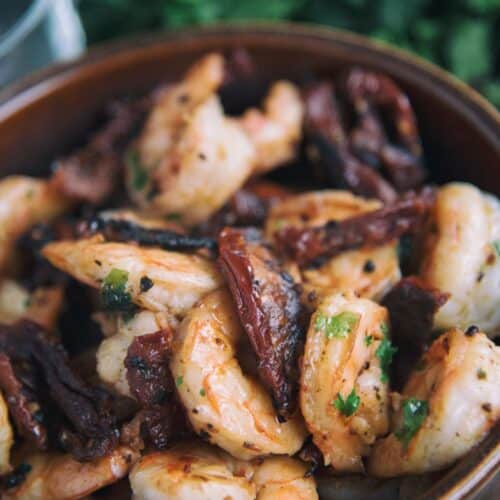 Spicy Shrimp And Sun-Dried Tomatoes Recipe
This spicy shrimp recipe is easy to pull together and works well with a ton of different side options, giving you needed versatility in your meal.
Instructions
Heat the olive oil in a skillet over medium heat.

Add the garlic and cook until fragrant (1 to 2 minutes).

Add the sun-dried tomatoes and chili flakes; cook for 1 to 2 minutes.

½ cup sun-dried tomatoes,

2 tsp. chili flakes

Add the shrimp to the skillet and cook, tossing until the shrimp are no longer pink.

Sprinkle with fresh parsley, toss everything one last time, and serve.

1 tbsp. fresh parsley,

Sea salt and freshly ground black pepper
Nutrition
Calories:
530
kcal
Carbohydrates:
10
g
Protein:
89
g
Fat:
19
g
Saturated Fat:
2
g
Polyunsaturated Fat:
2
g
Monounsaturated Fat:
10
g
Cholesterol:
1293
mg
Sodium:
4050
mg
Potassium:
552
mg
Fiber:
3
g
Sugar:
5
g
Vitamin A:
1162
IU
Vitamin C:
11
mg
Calcium:
488
mg
Iron:
10
mg