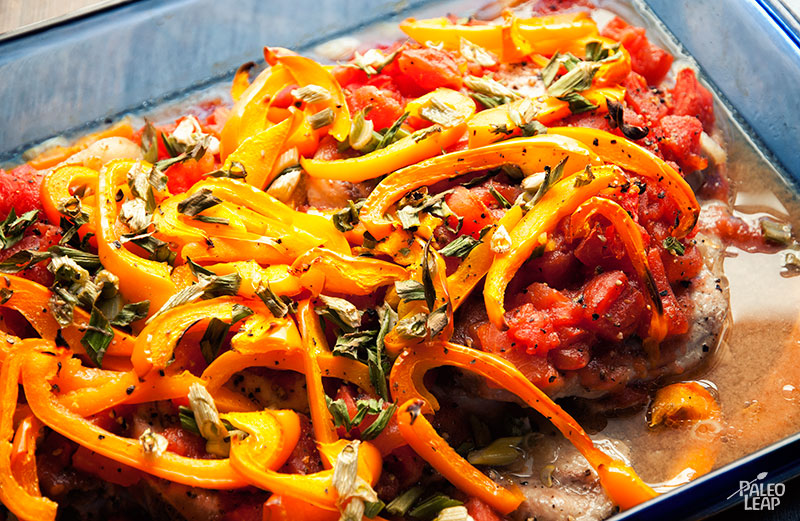 The first step to cooking a delicious pork chop is to keep it moist and juicy – no pork-flavored shoe leather! Here, instead of pan-frying the chops you'll sear them quickly and then bake them at a gentler temperature, minimizing moisture loss and resulting in a more toothsome chop.
But even perfectly tender pork is still pretty mild, so why not kick the flavor up a bit with a fiery-sweet topping of tomatoes and jalapeño? Or if you don't love spicy food, just leave out the jalapeño: you'll end up with a savory-sweet vegetable salsa baked over the pork chops. Either way, the meat soaks up the vegetable juices, making the finished dish full-flavored and ready to make a big impression.
This recipe could go with pretty much any kind of side: a salad is always good, or try any oven-roasted vegetables to balance out the spiciness of the main dish. Or what about a plate of sweet potato fries? Don't be afraid to experiment; with such a delicious recipe, you'll want to make it more than once, so you'll have plenty of chances to try out a new set of sides.
Spicy Tomato Pork Chops Recipe

SERVES: 4

PREP: 15 min.

COOK: 40 min.
Add to Meal Plan
Ingredients
4 pork chops;
14.5 oz. diced tomatoes;
2 medium sweet bell peppers, seeded and thinly sliced;
1 fresh jalapeño pepper, minced;
2 to 3 green onions, sliced thinly;
1 tsp. dried oregano;
Sea salt and freshly ground black pepper;
Preparation
Preheat your oven to 350 F.
Season the pork chops to taste with sea salt and black pepper.
In a large skillet, heat some cooking fat over a high heat and add the chops. Cook until lightly browned (about 2 minutes per side) and transfer to a baking dish.
In a bowl, combine the diced tomatoes, jalapeño, and salt and pepper to taste.
Heap the tomato-jalapeño mixture, bell peppers, green onions, and oregano on top of the pork chops.
Bake everything in the oven for 35 minutes or until the pork is cooked and tender.