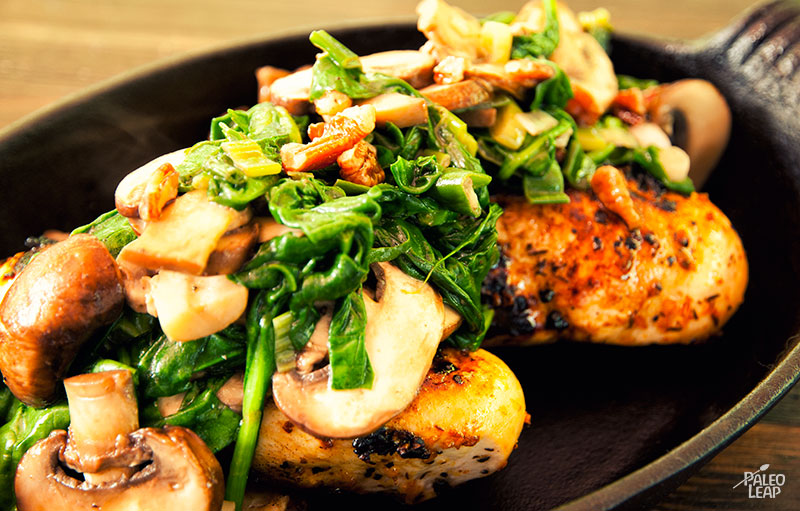 Take a break from salads but keep all the nutrition of spinach with a very simple grill recipe featuring sautéed vegetables as a topping for paprika-rubbed chicken. It's an easy way to get protein and vegetables all in one recipe, with a delicious summery feel.
When you sautee a big pile of spinach, there's always the risk that it might get mushy or tasteless, but here you'll avoid that with crunchy chopped nuts and few green onions to add just a little bite. Add the mushrooms, and you've got a hearty but interesting vegetable topping perfect for serving over the lightly-spiced chicken breasts.
This recipe would also give you a great way to make salad toppings for the rest of the week. Just throw twice as much chicken as you need on the grill and leave the vegetables alone. Then you'll have plenty of leftover grilled chicken for adding protein to lunchboxes or quick meals. This is an easy way to make eating out or ordering takeout a lot less tempting, and get in some delicious meals as well!
Spinach and Mushroom Chicken Recipe

SERVES: 4

PREP: 15 min.

COOK: 30 min.
Values are per portion. These are for information only & are not meant to be exact calculations.
Ingredients
4 boneless skinless chicken breasts;
3 cups baby spinach;
2 cups mushrooms, sliced;
3 green onions, sliced;
2 tbsp. pecans, chopped;
2 tsp. paprika;
1 tsp. onion powder;
½ tsp. garlic powder;
1 tsp. dried thyme;
Sea salt and freshly ground black pepper;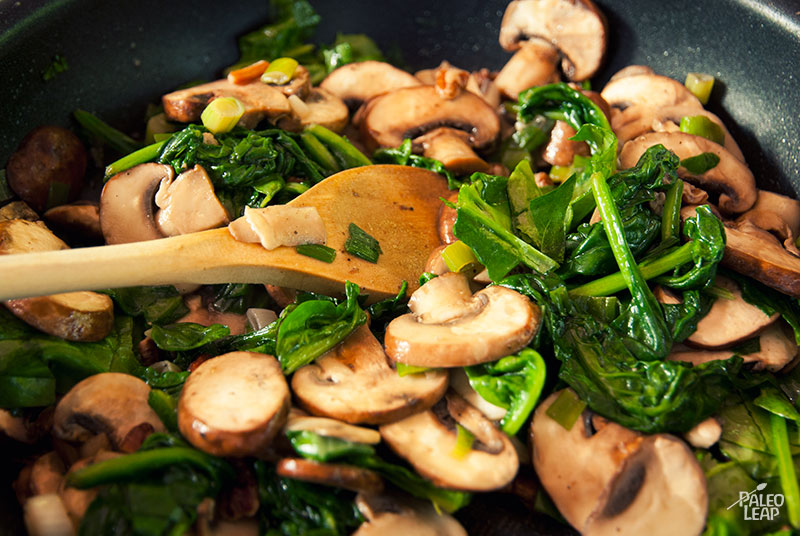 Preparation
Preheat your grill to a medium-high heat.
Combine the paprika, onion powder, garlic powder and dried thyme in a small bowl. Season with salt and pepper to taste.
Sprinkle the chicken with the seasoning mixture.
Grill the chicken for 10 to 15 minutes per side on the preheated grill.
Melt some cooking fat in a large skillet and sauté the spinach, mushrooms, onions, and pecans until the mushrooms are tender. Set aside and keep warm.
Top each chicken breast with the spinach mixture to serve.