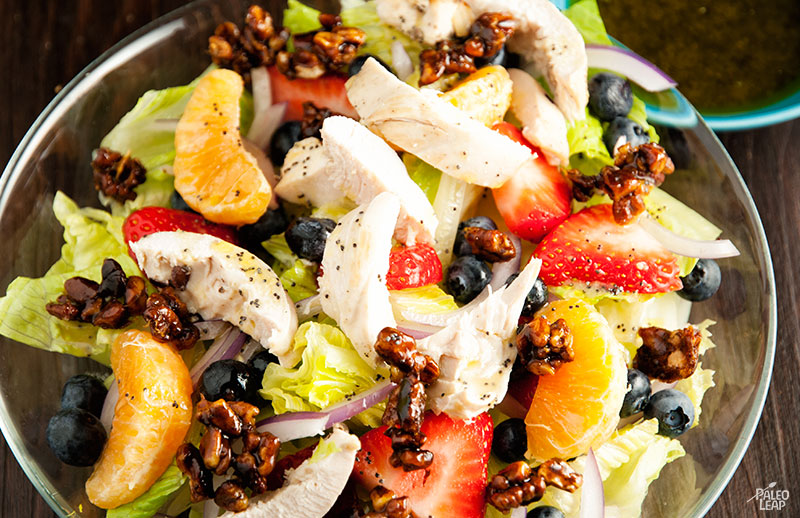 Almonds and walnuts get all the press when it comes to salad topper nuts, but there's a whole world of other nuts out there to explore! And today, it's time for pecans to show off what they've got. In this salad, crunchy caramelized pecans add a delicious touch of Southern sweetness to a big pile of lettuce and fresh berries. Add the mustard-poppyseed dressing and just a little bit of bite with some red onion, and you've got a perfect combination for a hot, late-summer afternoon.
If you're not big on honey, you can definitely leave it out here; just cook the chopped pecans until they're warm and toasted and carry on with the salad as usual. You'll get a little less sweetness in the final product, but that's not necessarily a problem, especially if you're saving your sweet tooth for dessert.
This one works as either a side salad or a main meal: to make it into a side, just leave out the chicken. And if you've got a serious appetite, you could always add even more chicken. Either way, it's delicious with a bowl of soup, or maybe some simple summer chicken if you're using the salad just as a side dish.
Strawberry Pecan Salad Recipe
Values are per portion. These are for information only & are not meant to be exact calculations.
Ingredients
1 cup pecans, chopped;
12 oz. Romaine lettuce, chopped;
8 oz. fresh strawberries, halved;
4 oz. fresh blueberries;
1/4 cup red onion, sliced;
2 clementine oranges, peeled;
2 chicken breasts, cooked and diced; (optional)
1 tbsp. raw honey; (optional)
Dressing Ingredients
½ cup lemon juice;
1 tsp. Dijon mustard;
2/3 cup. olive oil;
1 tbsp. honey; (optional)
1 tbsp. poppy seeds;
Sea salt and freshly ground black pepper;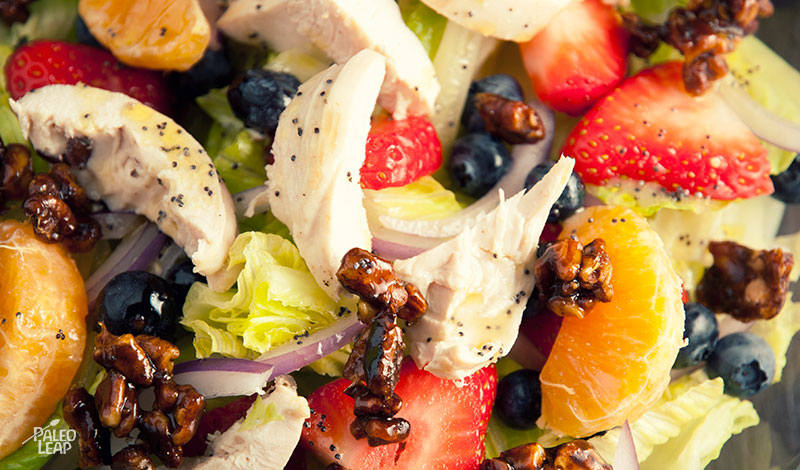 Preparation
Sauté the pecans with the honey until caramelized in a skillet placed over a medium heat. Set aside to cool.
In a large bowl, combine the lettuce, blueberries, strawberries, oranges, chicken, and onion.
Combine all the ingredients for the dressing in a bowl.
Drizzle the dressing on the salad and toss gently.
Serve the salad with the candied pecans on top.