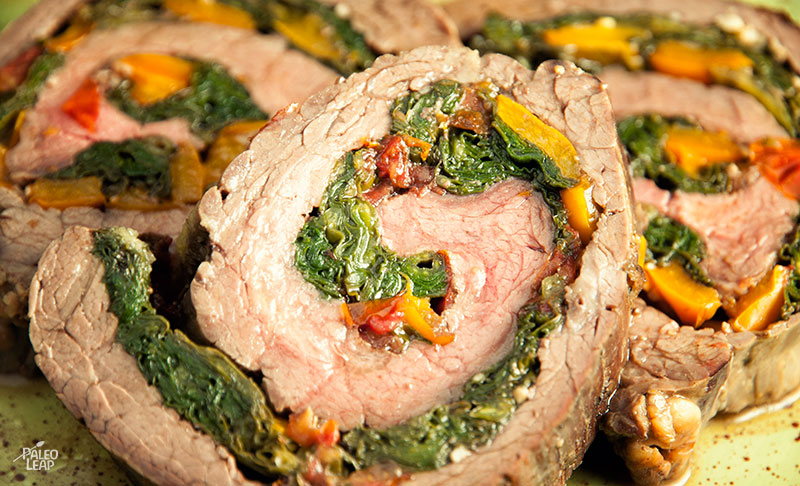 Stuffing isn't just for the birds! With this impressive-looking stuffed steak, you can get delicious steak juices all through your spinach and add some color to the meat on your plate, all while you add quite a substantial amount of vegetables to the meal!
The only part that looks a little intimidating is butterflying the steak in the first place, but here's the trick: it sounds harder than it is. Lay your steak on the cutting board and give it a stern glance so it knows who's in charge; then hold your knife parallel to the cutting board and cut through the steak almost (but not quite) to the other side so you can open it up like a manila folder or the covers of a book. You should end up with a piece of steak that's half as thick, but has twice the surface area.
After that, the rest is easy. A little fat and garlic to give the spinach some flavor and a bell pepper for crunch and color; roll it all up, tie it closed, and roast until it's done! Because the meat is pretty thin, it doesn't actually take long to cook. In fact, if you throw in some delicata squash to go with it, they'll both be done at the same time – yum!
Stuffed Flank Steak Recipe

SERVES: 4

PREP: 20 min.

COOK: 35 min.

Values are per portion. These are for information only & are not meant to be exact calculations.
Ingredients
1½ lb. flank steak;
6 oz. spinach, chopped;
1 bell pepper, seeds removed and chopped;
1 tomato, diced;
2 garlic cloves, minced;
Sea salt and freshly ground black pepper;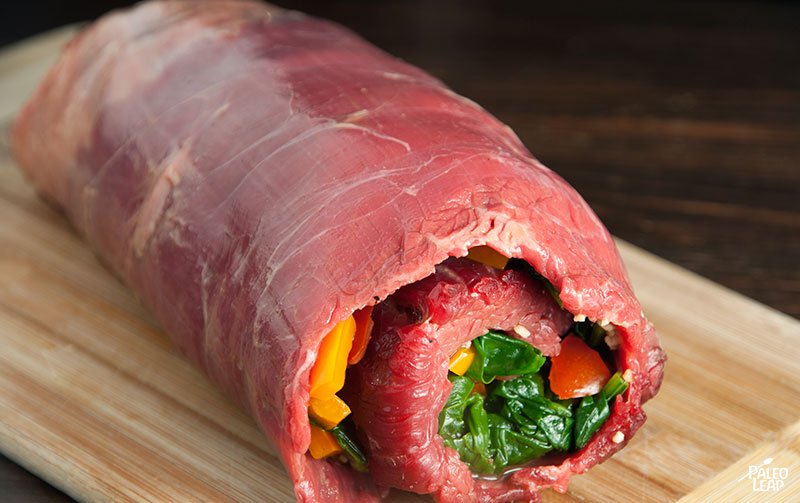 Preparation
Preheat your oven to 425 F.
Lay the steak on a flat surface. Using a sharp knife held parallel to the cutting board, slice horizontally through the steak, stopping just short of the far side so you can open it up like a book.
Flatten the steak to an even thickness using a rolling pin or meat hammer.
Heat some cooking fat in a skillet placed over a medium heat, add the garlic, and cook for 1 minute.
Add all the spinach, season to taste, and cook for 2 minutes or until the spinach is wilted.
Season the steak to taste.
In bowl combine the tomato, bell pepper, and spinach mixture.
Press the filling all over the top of the steak.
Roll up the steak to enclose the filling. If any falls out the ends, tuck it back in.
Tie the steak into its rolled shape with some cotton twine.
Roast the steak for 30 to 35 minutes; then finish it up by broiling for 5 minutes.
Let the meat rest for a few minutes.
Remove the twine, slice, and serve.