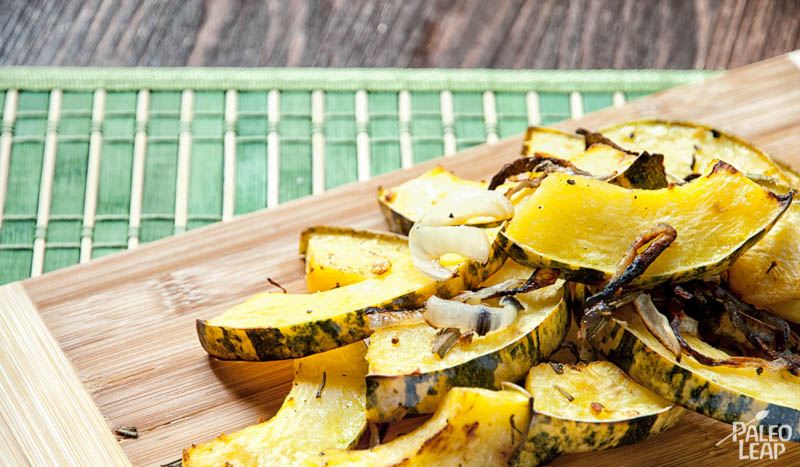 A lot of CSA boxes are starting to deliver delicate squash right now, so it's the perfect time to expand your squash repertoire if you've never cooked with it before. Delicata squash has a unique feature that sets it apart from other winter squashes: you can eat the skin. So there's no need to worry about peeling it beforehand, making this a very quick recipe to whip up as a side for whatever else you're cooking. I also like leaving the skin on because it adds a lot of color to the dish, and helps keep the pieces of squash from falling apart as you serve them.
Taste-wise, the flesh of the squash is sweet and pleasant, with a melt-in-your-mouth buttery texture that only gets richer and more delicious from its time in the oven. A hint of sharpness from the salt and mustard, and a savory sprinkle of rosemary bring out this natural sweetness, for a final result that's mild but never boring.
If you can hold yourself back from eating it straight off the baking sheet, delicata squash makes a perfect side for pork roast, cinnamon chicken, or any other hearty main dish. It's also a great lunchbox option because the fork-sized pieces are a lot easier to deal with than one big piece of acorn or butternut squash. And whether it's eaten off a plate or out of a lunchbox, it's sure to be delicious.
Roasted Delicata Squash Recipe

SERVES: 4

PREP: 10 min.

COOK: 30 min.

Values are per portion. These are for information only & are not meant to be exact calculations.
Ingredients
1 big delicata squash;
1 medium red onion, sliced;
3 garlic cloves, minced;
2 tbsp. melted ghee or extra-virgin olive oil;
1 tsp. fresh rosemary, minced;
1 tablespoon Dijon or homemade mustard;
Sea salt and freshly ground black pepper to taste;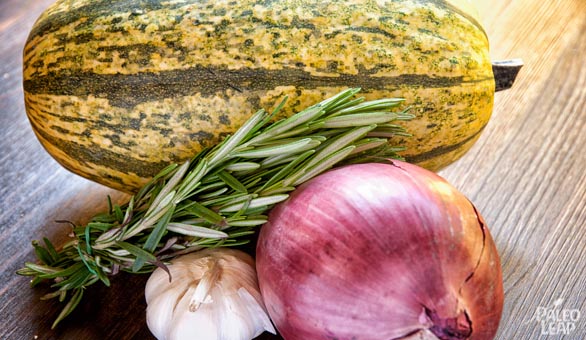 Preparation
Preheat your oven to 425 F.
Cut the squash in half lengthwise and scoop out the seeds. Then cut each half into 1/2-inch-thick wedges.
In a large bowl, combine the wedges, olive oil, garlic, rosemary, red onions, Dijon mustard, and salt and pepper to taste. Once the squash wedges are coated, spread them out on a baking sheet.
Roast in the oven about 30 minutes or until crisp, turning once or twice to make sure both sides get brown.