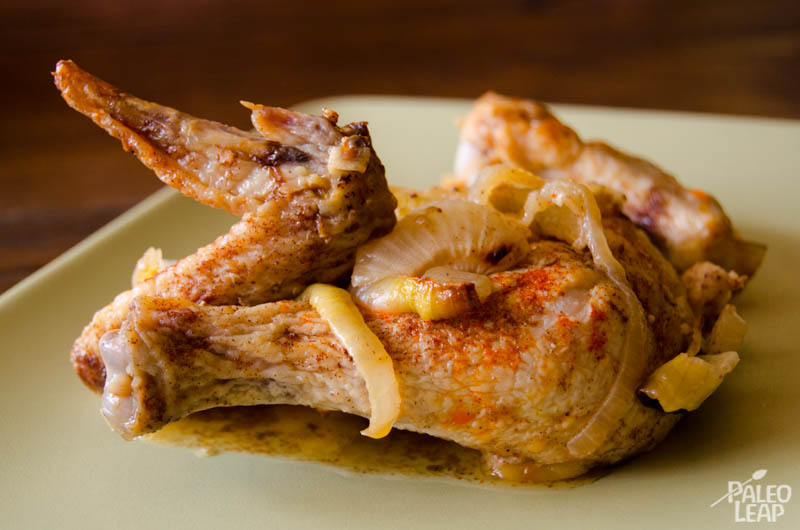 There are flavors associated to each season and this has a strong influence on how I cook things and what ingredients I use at different times of the year. Cinnamon is one of my favorite fall flavors and as the colder months are approaching, this cinnamon chicken dish gets quite popular in my household. It goes especially well with other popular fall ingredients like squashes.
When I cook with cinnamon in dishes other than desserts, I like to also incorporate garlic. The two ingredients exert completely different kinds of flavor that compliment each other very well. It gives a pungent and sweet taste that's quite difficult to describe; thus, you must try out this dish to get what I mean.
Like many of the Paleo recipes found on this website, the following recipe is really easy to prepare and only requires a few basic ingredients. The liquid obtained at the end of the cooking process is delicious when used as a simple sauce. Other than that, all you'd need to add to this dish for a complete meal would be a simple side or salad. Good examples would be a roasted bell pepper side, a raspberry and spinach salad or a sweet potato mash.
For this recipe, I recommend that you buy a whole chicken and cut it yourself into its height pieces. It's the cheaper option and you can use the chicken carcass to make a delicious chicken stock afterwards. Try to go to a respectable local butcher to get a good quality, well fed and free-range chicken.
Cinnamon chicken recipe
Serves 4
Values are per portion. These are for information only & are not meant to be exact calculations.
Ingredients
1 3lbs chicken, cut into 8 pieces (breasts, drumsticks, thighs and wings);
½ tsp sea salt;
½ tsp black pepper;
2/3 tsp cinnamon;
2 cloves garlic, minced;
½ tsp paprika;
1 onion, sliced;
1 cup water or chicken stock;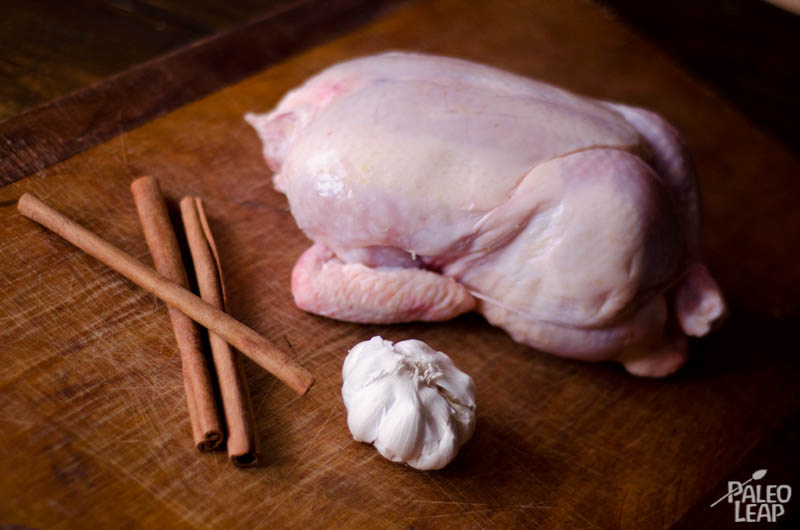 Preparation
Preheat your oven to 400 F.
In a small bowl, combine the salt, pepper, garlic and cinnamon. Rub the chicken pieces with this mixture and allow it to sit for about 30 minutes at room temperature.
Place the chicken pieces in a large roasting pan, sprinkle the meat all over with the paprika and add the onion slices to the pan.
Cook for 35 minutes and then reduce the heat to 350 F.
Stir in a cup of water to the roasting pan and continue cooking for another 50 minutes.
Serve and use the juices from the pan as a sauce.
Serve this dish with a simple side of roasted root vegetables or a salad for a very satisfying Paleo meal.