Every once in a while, it feels wonderful to bake a meal that is meant to impress, even if the beauty is for ourselves alone.
If your body is yearning for a unique dish that incorporates artichoke hearts with sun-dried tomatoes, fresh sage, and thyme, then you are in the right place at the right time. First, make the stuffing by frying all ingredients in your favorite Paleo oil and chill it before cutting it craftily into your pork tenderloin.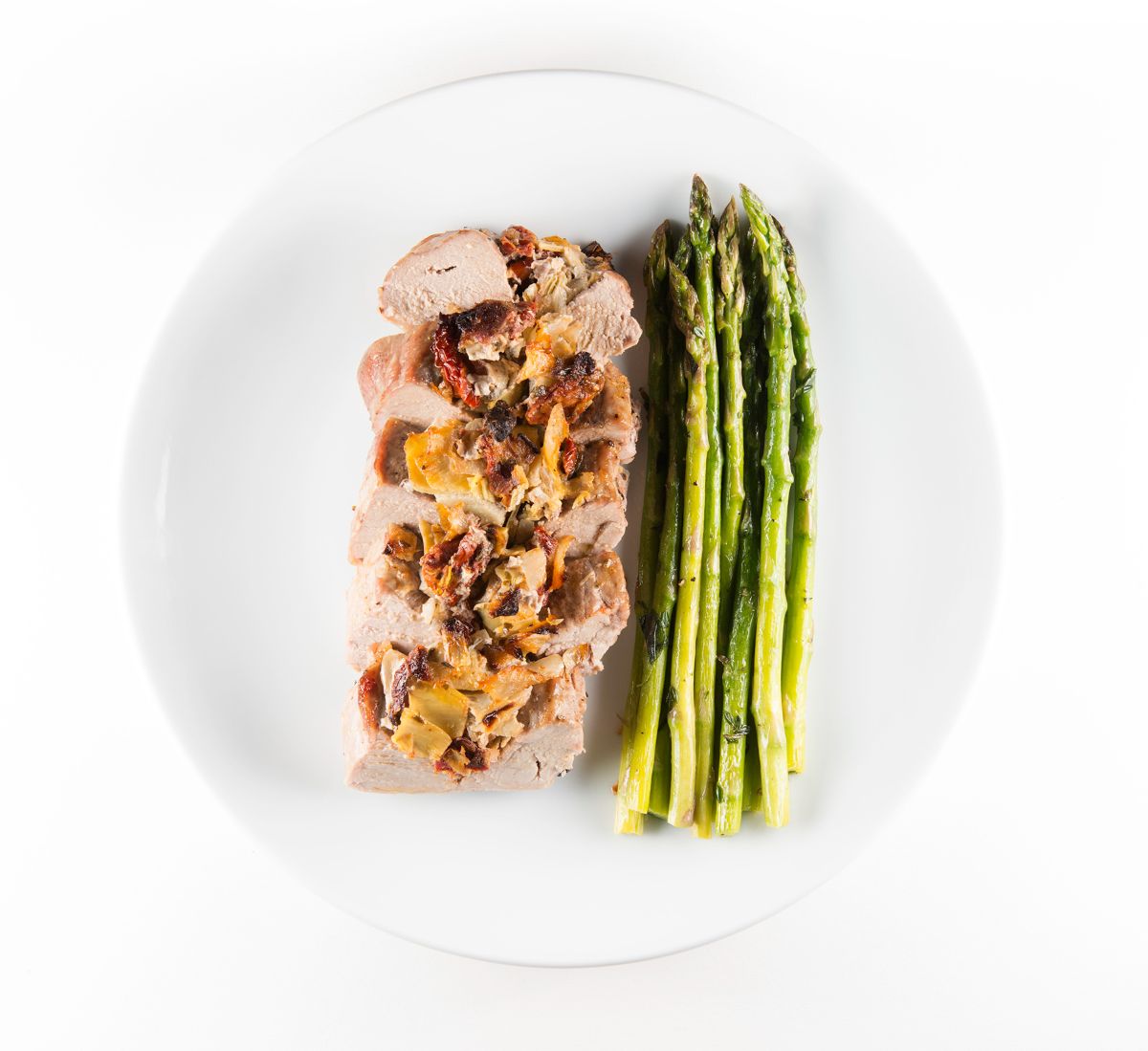 For 4 adults, it is best to fill a tenderloin that weighs 1 ½ pounds or more, to ensure that everyone gets enough protein before filling themselves with a slice of moist Paleo carrot cake.
But before we get carried away with whipped cream dreams of dessert, it is time to discuss the greens that accompany the meal. Asparagus is best eaten when in season, typically from February to June, with stalks being in peak performance during April.
As pork can be stuffed year-round, let us also suggest green garlic beans if you are making this mid-summer, and steamed kale if you are baking even later in the year.
As you learn to eat seasonally, your appreciation for all fruits and vegetables will grow just as your cooking skills flourish with a desire to eat locally. Think about food miles and how they impact the quality of what goes into your mouth, then relish in every bite of your extra-fine dining.
Stuffed Pork Tenderloin With Asparagus Recipe
Serves: 4 Prep: 25 min Cook: 1h 15 min
Ingredients
1 large pork tenderloin
1 large egg
½ onion, chopped
6 sun-dried tomatoes, chopped
2 artichoke hearts, chopped
½ tsp. fresh sage, chopped
⅛ tsp. fresh thyme, minced
⅛ tsp. ground nutmeg
2 garlic cloves, minced
1 bunch of fresh asparagus
Cooking fat
Salt and pepper to taste
Preparation
Preheat oven to 450F.
Place a large pan over medium-high heat, add some cooking fat and cook the onion, sun-dried tomatoes, artichokes, garlic, herbs, and spices for about 10 minutes. Set aside in a bowl in the refrigerator to cool down a bit.
Place the tenderloin in a baking dish, rub it with cooking fat, and season it all over with salt and pepper. Cut in and down the center, lengthwise, but do not cut through to the other side, to create the seam.
When the vegetable mixture is cool enough, whisk in the whole egg.
Stuff the tenderloin with the mixture and place in the oven for 30 minutes.
Reduce heat to 300F and cook for another 20 minutes. Turn the oven off, but leave the tenderloin in for another 15 minutes.
Wash the asparagus and cut the hard white parts off the tail.
Place a pan over medium-high heat, add some cooking fat and cook the asparagus for about 5 minutes with salt and pepper. Cook until just done and still a bit al dente.
📖 Recipe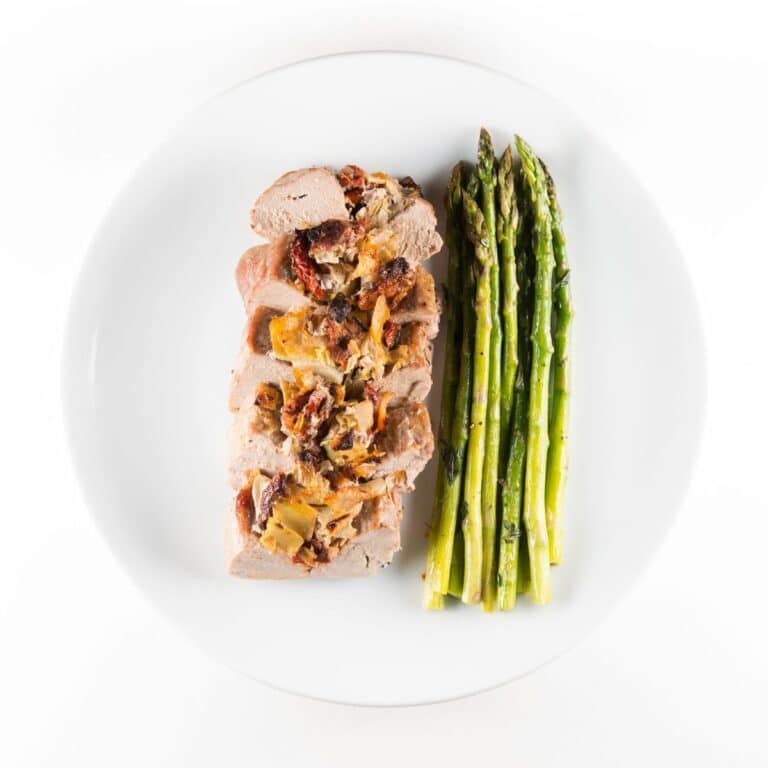 Stuffed Pork Tenderloin With Asparagus Recipe
Pork tenderloin can be stuffed with many tasty things, from apples to nuts and raisins; this stuffing includes artichoke hearts and sun-dried tomatoes.
Ingredients
1

large pork tenderloin

1

large egg

½

onion

chopped

6

sun-dried tomatoes

chopped

2

artichoke hearts

chopped

½

tsp.

fresh sage

chopped

⅛

tsp.

fresh thyme

minced

⅛

tsp.

ground nutmeg

2

garlic cloves

minced

1

bunch of fresh asparagus

Cooking fat

Salt and pepper to taste
Instructions
Preheat oven to 450F.

Place a large pan over medium-high heat, add some cooking fat and cook the onion, sun-dried tomatoes, artichokes, garlic, herbs, and spices for about 10 minutes. Set aside in a bowl in the refrigerator to cool down a bit.

½ onion,

6 sun-dried tomatoes,

2 artichoke hearts,

½ tsp. fresh sage,

⅛ tsp. fresh thyme,

2 garlic cloves,

Cooking fat,

⅛ tsp. ground nutmeg

Place the tenderloin in a baking dish, rub it with cooking fat, and season it all over with salt and pepper. Cut in and down the center, lengthwise, but do not cut through to the other side, to create the seam.

1 large pork tenderloin,

Salt and pepper to taste

When the vegetable mixture is cool enough, whisk in the whole egg.

Stuff the tenderloin with the mixture and place in the oven for 30 minutes.

Reduce heat to 300F and cook for another 20 minutes. Turn the oven off, but leave the tenderloin in for another 15 minutes.

Wash the asparagus and cut the hard white parts off the tail.

1 bunch of fresh asparagus

Place a pan over medium-high heat, add some cooking fat and cook the asparagus for about 5 minutes with salt and pepper. Cook until just done and still a bit al dente.

Cooking fat,

Salt and pepper to taste
Nutrition
Calories:
578
kcal
Carbohydrates:
4
g
Protein:
96
g
Fat:
17
g
Saturated Fat:
6
g
Polyunsaturated Fat:
3
g
Monounsaturated Fat:
7
g
Trans Fat:
0.2
g
Cholesterol:
336
mg
Sodium:
257
mg
Potassium:
1937
mg
Fiber:
1
g
Sugar:
2
g
Vitamin A:
133
IU
Vitamin C:
3
mg
Calcium:
46
mg
Iron:
5
mg