Why choose between guacamole and salsa when you could have both? Roasted sweet potatoes with a light coating of spices work as the base for a pile of guacamole and salsa with just a little bacon on top – no tortilla chips necessary.
They taste great, they're full of nutritional standouts like avocado and sweet potatoes, and they add a cheerful burst of color to any table.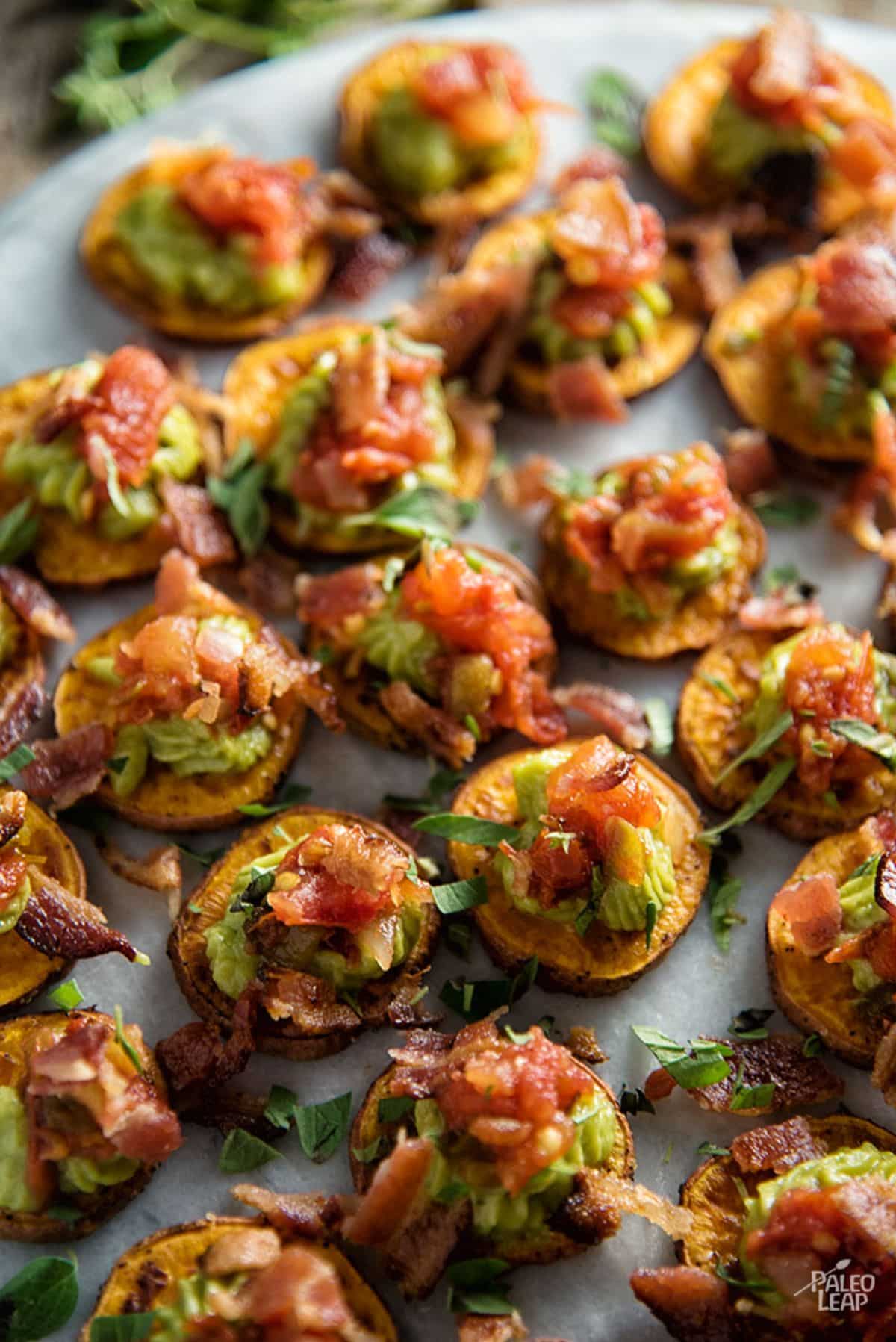 Leave the skin on the sweet potatoes for this one; it helps hold them together to make a sturdy base for the toppings. You could also do it without the bacon for a completely vegan recipe.
You can use your favorite salsa for this; either make it yourself or get one from the store (salsa is one of those rare and precious prepared foods where you actually can find at least one Paleo-friendly brand in most grocery stores).
If you can find a good brand of guacamole, you could also just buy that pre-prepared to save yourself some effort, but guacamole is so easy to make at home that it's not a huge deal.
Sweet Potato Bites with Guacamole and Bacon Recipe
SERVES: 4 PREP: 20 min COOK: 24 min
Ingredients
2 sweet potatoes, scrubbed clean but NOT peeled, thinly sliced
4 oz. bacon, cooked and crumbled
1 cup fresh salsa
1 tsp. chili powder
½ tsp. paprika
½ tsp. garlic powder
2 tbsp. extra-virgin olive oil
Fresh cilantro, minced
Sea salt and freshly ground black pepper
Simple Guacamole Ingredients
2 medium avocados, peeled, pitted, and diced
1 tbsp. fresh lime juice
1 garlic clove, minced
½ cup Roma tomatoes, diced
¼ cup red onion, diced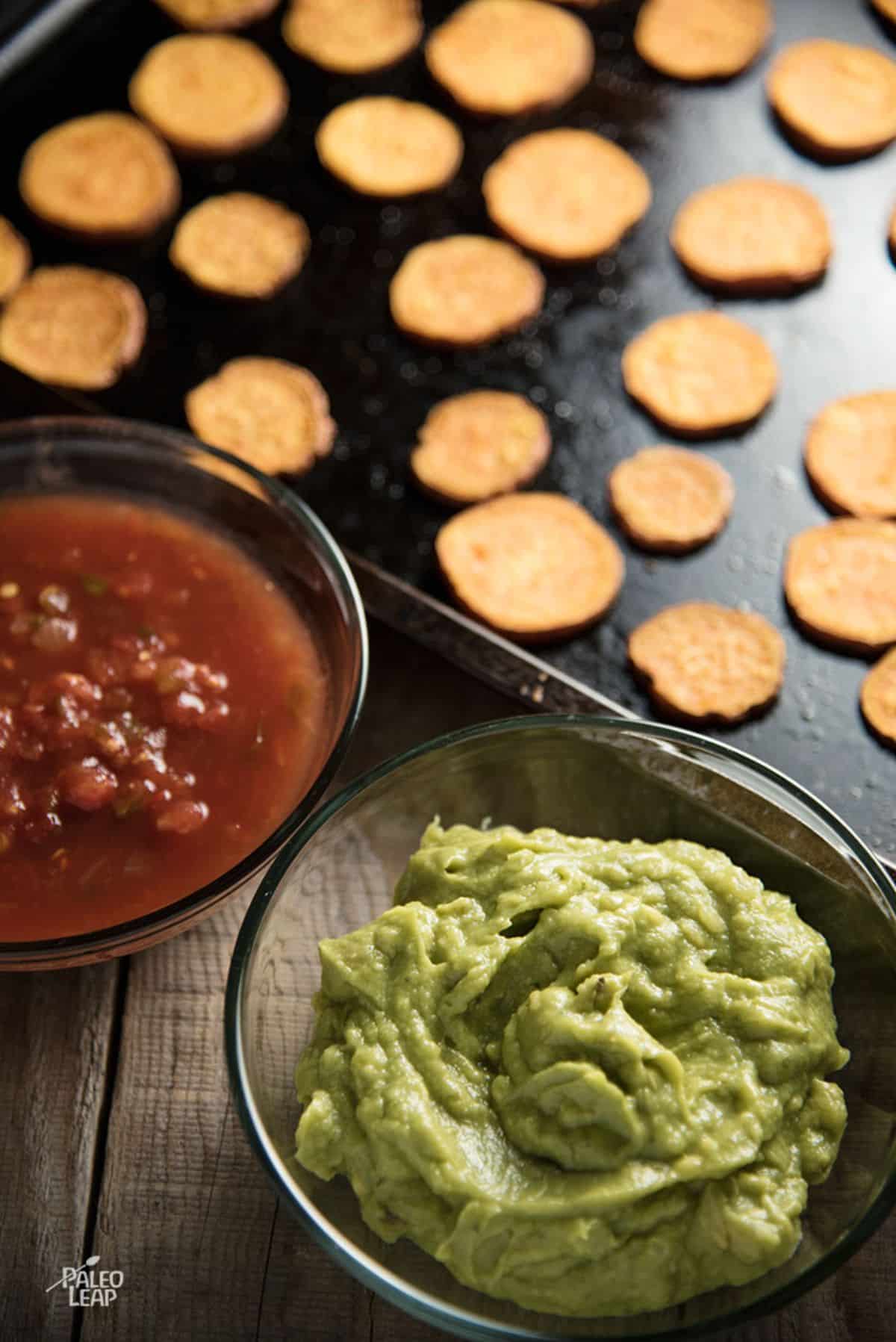 Preparation
Preheat your oven to 450 F.
In a bowl, mash the two avocados until smooth. Add all the remaining ingredients for the guacamole. Stir until well combined, cover, and refrigerate.
Place sliced sweet potatoes in a bowl and drizzle with olive oil. Sprinkle with chili powder, paprika, garlic powder, and salt and pepper to taste, and toss until well coated.
Place the sliced sweet potatoes on a baking sheet and cook in the oven for 10 to 12 minutes on each side.
Top each sweet potato slice with guacamole, fresh salsa, bacon bits, and fresh cilantro.
📖 Recipe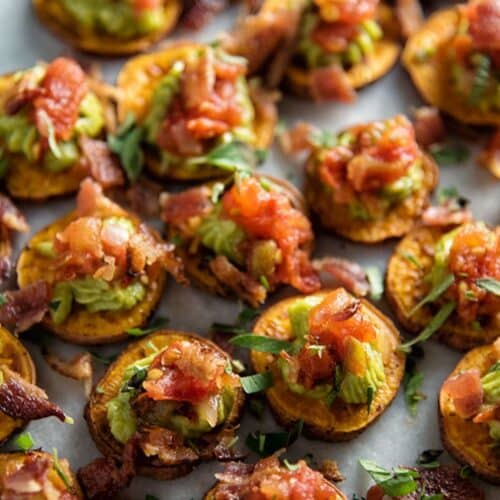 Sweet Potato Bites with Guacamole and Bacon Recipe
These colorful bites of roasted sweet potatoes, salsa, guacamole, and bacon are nutritional winners that your taste buds will love.
Instructions
Preheat your oven to 450 F.

In a bowl, mash the two avocados until smooth. Add all the remaining ingredients for the guacamole. Stir until well combined, cover, and refrigerate.

2 medium avocados,

1 tbsp. fresh lime juice,

1 garlic clove,

½ cup Roma tomatoes,

¼ cup red onion

Place sliced sweet potatoes in a bowl and drizzle with olive oil. Sprinkle with chili powder, paprika, garlic powder, and salt and pepper to taste, and toss until well coated.

2 sweet potatoes,

1 tsp. chili powder,

½ tsp. paprika,

½ tsp. garlic powder,

Sea salt and freshly ground black pepper,

2 tbsp. extra-virgin olive oil

Place the sliced sweet potatoes on a baking sheet and cook in the oven for 10 to 12 minutes on each side.

Top each sweet potato slice with guacamole, fresh salsa, bacon bits, and fresh cilantro.

4 oz. bacon,

1 cup fresh salsa,

Fresh cilantro
Nutrition
Calories:
438
kcal
Carbohydrates:
30
g
Protein:
8
g
Fat:
34
g
Saturated Fat:
7
g
Polyunsaturated Fat:
5
g
Monounsaturated Fat:
20
g
Trans Fat:
0.04
g
Cholesterol:
19
mg
Sodium:
680
mg
Potassium:
1068
mg
Fiber:
11
g
Sugar:
7
g
Vitamin A:
10608
IU
Vitamin C:
19
mg
Calcium:
64
mg
Iron:
2
mg