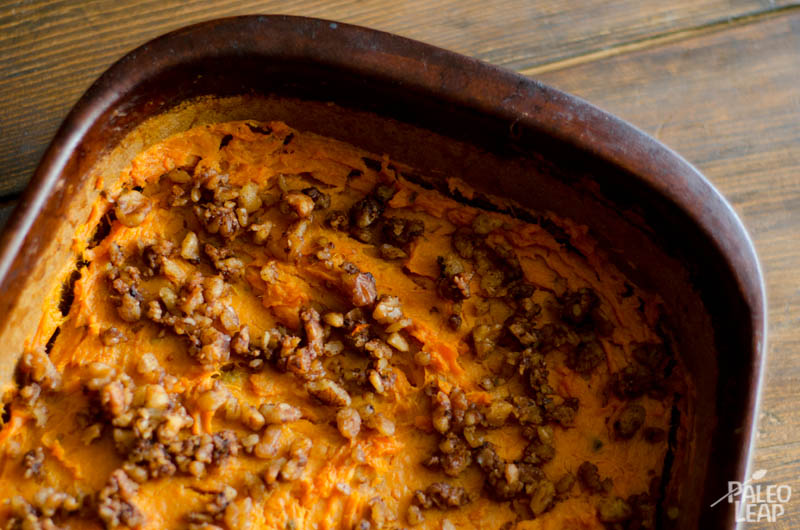 This is a recipe for a delicious sweet potato casserole that is perfect to serve alongside any of your holiday meals! Sweet potatoes are very complimentary to most savory meals and they can easily be paired up with any choice of meat or fish. The sweetness of the following Paleo side dish blends perfectly with more savory options and brings a festive side to your holiday meals. A variation of the mashed sweet potatoes with flavors from cinnamon and walnuts is often served on Thanksgiving, but there is no reason not to enjoy it around the new year feasts.
The idea of mashing regular white potatoes and serving them the traditional way is just so boring! At the same time, I find that potatoes can be such a staple dish, especially when serving a huge meal, so you don't want to completely forget about them. This casserole is certainly a creative alternative and it's great to have a sweeter dish on the table that is not dessert. The vanilla, cocoa powder and toasted walnuts combined together is absolutely delicious! So much so that I am chowing down on it as I write this, because I just can't get enough! Try it for yourself.
This dish is not only delicious, but is also very nutritious. Sweet potatoes are a great source of healthy carbohydrates, beta carotene, vitamin C, manganese and potassium. They are higher in fructose than regular white potatoes, but are still mostly starchy and digested to glucose, which is a better source of energy compared to sources of carbohydrates higher in fructose such as most fruits. Combined with the fat from the coconut milk, this dish will fill you up and leave you very satisfied.
Sweet potato casserole recipe
Serves 4, as a side

Values are per portion. These are for information only & are not meant to be exact calculations.
Ingredients
6 large sweet potatoes, peeled and chopped into chunks;
1 cup walnuts, chopped;
½ cup full-fat coconut milk;
1 tbsp cocoa powder;
1 tbsp vanilla extract;
1 tbsp cinnamon;
2 tbsp olive oil, butter or clarified butter;
Sea salt and freshly ground black pepper to taste;
Preparation
Preheat oven to 350F and then start by filling a large sauce pot with water and place all the chopped sweet potatoes in it. Place the saucepan over a high-heat on the stove top and bring the water to a boil. Continue cooking the potatoes for anywhere from 15 to 20 minutes, basically until they are tender when pierced with a fork. Remove from heat and strain the excess water.
Return the sweet potatoes to the pot they were cooked in and drizzle 1 tablespoon of olive oil, butter or clarified butter on top of them. Using a masher or hand-mixer, mash the potatoes until smooth. I tend to prefer the texture to be slightly clumpy, but to each their own! As you continue to mash, slowly pour the coconut milk in, followed by the vanilla extract. Once it has been mixed well, give it a taste to see if it requires any salt and pepper. I found it to be just perfect how it was, but a little salt cuts on some of the sweetness. Transfer the mashed mix into a baking dish, or better yet, a casserole dish and set aside.
In a medium bowl, toss the walnuts in the remaining oil or butter. Sprinkle with the cinnamon and cocoa powder  and then give it another good mixing. Evenly cover the mashed potato mixture with the topping, put in the preheated oven and cook for about 20 minutes and, once finished, indulge!