Hummus is a perfect party snack or finger food – if only it weren't made out of chickpeas! Here though, you can get that creamy, dip-friendly texture without any legumes at all: just use mashed sweet potatoes as the base of the hummus in place of the chickpeas.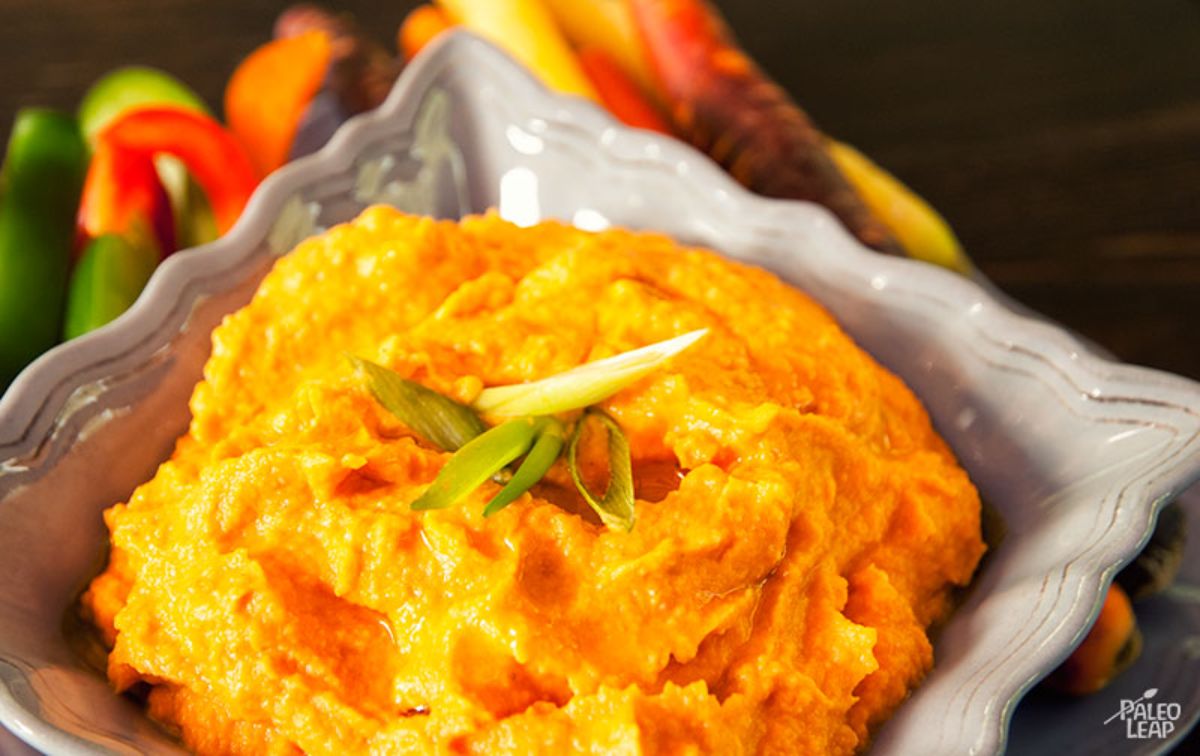 To make the mashed potatoes, first, bring a big pot of water to boil. Throw in the potatoes and cook until they're soft (typically, this takes 20-30 minutes, depending on the size of your potatoes). If you're impatient, you can cut them up, so they cook faster.
Then just toss them in a blender or haul out your potato masher and have at 'em until they're smooth. Unless your potatoes are unusually huge or tiny, you can usually count on 1-2 sweet potatoes per cup of mash.
Next, it's tahini time! Tahini is just a kind of nut butter made with sesame seeds: it's very simple to make yourself. And it's also surprisingly rich in minerals, with significant amounts of calcium, iron, magnesium, copper, and manganese.
Toss in a bit of garlic and some lime juice for tang, and just blend it all up for an irresistibly snacky dip to go with carrot sticks or any other dipping vehicle you like (or if you want to eat it straight off the spoon…well, who's going to know?)
Sweet Potato Hummus Recipe
SERVES: 4 PREP: 25 min COOK: 10 min
Ingredients
4 cups cooked and mashed sweet potatoes;
¼ cup tahini; (directions below)
¼ cup lime juice;
2 garlic cloves, minced;
2 tsp. ground cumin;
¼ tsp. cayenne pepper; (optional)
Sea salt and freshly ground black pepper;
Ingredients for the tahini
1 cup sesame seeds:
2 tbsp. olive oil;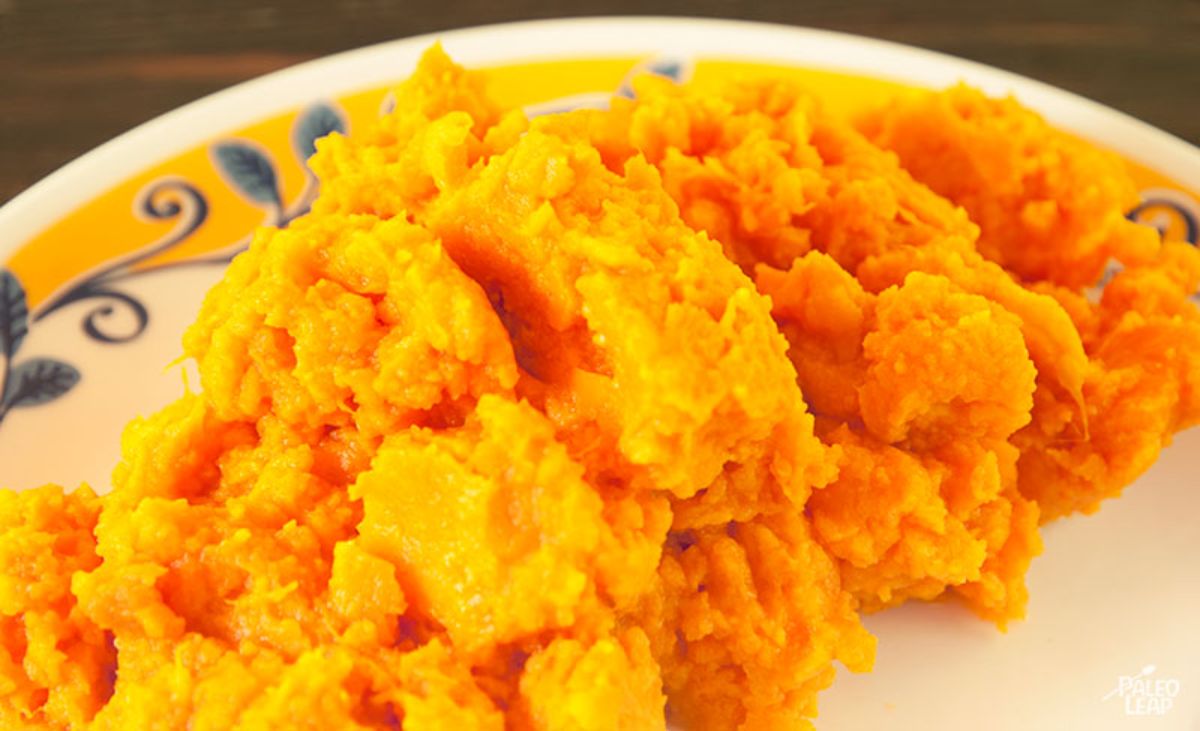 Preparation
To cook the sweet potatoes, peel them off and cut the flesh into large chunks. Bring a pot of salted water to a boil and add in the sweet potato chunks.
Let it simmer for about 7 to 10 minutes until the flesh is very tender when pricked with a fork.
Drain, place the cooked sweet potato in a bowl, and mash with a fork or potato masher. Place in the refrigerator to cool.
Preheat your oven to 350°F.
Spread the sesame seeds on a shallow baking tray and roast, frequently shaking, until fragrant (about 8 minutes).
To prepare the tahini, combine the roasted sesame seeds with the olive oil in a food processor and process until the mixture turns into a smooth paste (about 5 minutes).
In a large bowl, combine the mashed sweet potatoes, tahini, lime juice, garlic, cumin, and cayenne.
Mix everything well and season to taste.
📖 Recipe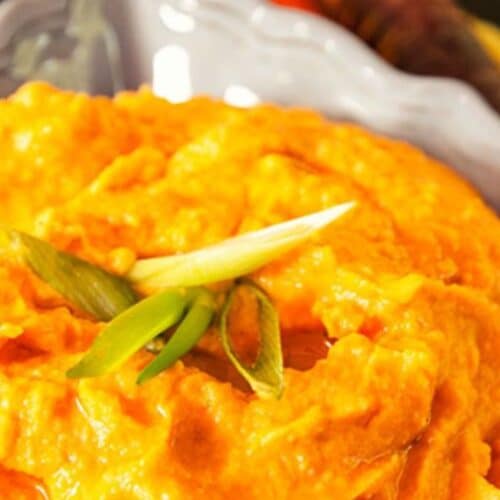 Sweet Potato Hummus Recipe
Don't give up hummus when you go Paleo; try this healthier sweet potato version instead.
Ingredients
Ingredients for the tahini
Instructions
To cook the sweet potatoes, peel them off and cut the flesh into large chunks. Bring a pot of salted water to a boil and add in the sweet potato chunks.

4 cups cooked and mashed sweet potatoes

Let it simmer for about 7 to 10 minutes until the flesh is very tender when pricked with a fork.

Drain, place the cooked sweet potato in a bowl, and mash with a fork or potato masher. Place in the refrigerator to cool.

Preheat your oven to 350°F.

Spread the sesame seeds on a shallow baking tray and roast, frequently shaking, until fragrant (about 8 minutes).

To prepare the tahini, combine the roasted sesame seeds with the olive oil in a food processor and process until the mixture turns into a smooth paste (about 5 minutes).

1 cup sesame seeds:,

2 tbsp. olive oil,

¼ cup tahini

In a large bowl, combine the mashed sweet potatoes, tahini, lime juice, garlic, cumin, and cayenne.

¼ cup lime juice,

2 garlic cloves,

2 tsp. ground cumin,

¼ tsp. cayenne pepper

Mix everything well and season to taste.

Sea salt and freshly ground black pepper
Nutrition
Calories:
500
kcal
Carbohydrates:
42
g
Protein:
12
g
Fat:
35
g
Saturated Fat:
5
g
Polyunsaturated Fat:
13
g
Monounsaturated Fat:
16
g
Sodium:
87
mg
Potassium:
767
mg
Fiber:
10
g
Sugar:
6
g
Vitamin A:
19049
IU
Vitamin C:
9
mg
Calcium:
455
mg
Iron:
9
mg