Raise your hand if you've ever felt a tiny (or not-so-tiny) pang of longing for a Cadbury Fruit and Nut bar. It's OK; we've all been there. The chocolate on its own is good, but add in the chewy dried fruit and the crunchy nuts, and the party is on.
Unfortunately, Cadbury bars are the kind of cheap chocolate that isn't even a Paleo gray area; it's just plain unhealthy. If you read the ingredients, you'll spy sugar in the #1 spot, closely followed by soy, "PGPR" (whatever that is), the mysterious "natural and artificial flavor," sunflower oil, and then even more sugar to round it all off.
So Cadbury is out. But you don't have to give up that delicious combination of velvety-smooth chocolate with crunchy nuts and chewy dried fruit. In fact, you can make it yourself, and make it even better, with high-quality dark chocolate that doesn't have the sandy consistency of the cheap stuff. And when you're the master chef, you can tailor the fruit and nuts to your favorite mix. This recipe kicks up the flavor even more with a sprinkle of sea salt (if you've never tried sea salt combined with a sweet flavor, you're missing out!), but if you're not a fan, you can just skip that as well.
Doing all this yourself doesn't actually take a lot of kitchen know-how. You don't need a special candy mold or even a thermometer, just some basic equipment that you probably already have. So the next time you get candy bar cravings, why not round up your favorite sweet and salty ingredients, warm up some high-quality dark chocolate, and take a stab at doing it yourself: it tastes better, and it's a whole lot kinder on your body.
Sweet and Salty Chocolate Bark Recipe

PREP: 5 min.

COOK: 25 min.

Values are per portion. These are for information only & are not meant to be exact calculations.
Ingredients
1 lb. dark chocolate; (454 g)
1 cup whole pecans;
½ cup dried cherries or cranberries, chopped;
Sea salt to taste (optional);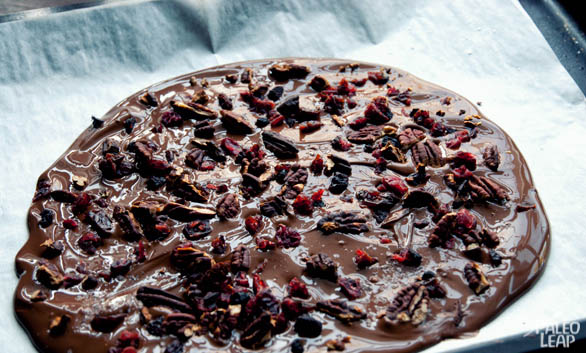 Preparation
Preheat your oven to 350 F.
Place the pecans on a baking sheet and roast in the oven for 10 to 15 minutes. They're done when they start to smell good: take them out, and crush them with your hands or cut into chunks with a knife.
Chop the chocolate into pieces.
Melt the chocolate using a double boiler or directly in a saucepan over a medium heat, stirring constantly.
Pour  the melted chocolate on a baking sheet lined with parchment paper, and spread it around with a spatula.
Sprinkle some sea salt evenly over the chocolate to taste.
Sprinkle the chopped pecans and chopped cherries evenly on top of the chocolate; you can apply some pressure to make sure they stick to the chocolate.
Wait until the chocolate has cooled down, break into pieces, and serve.