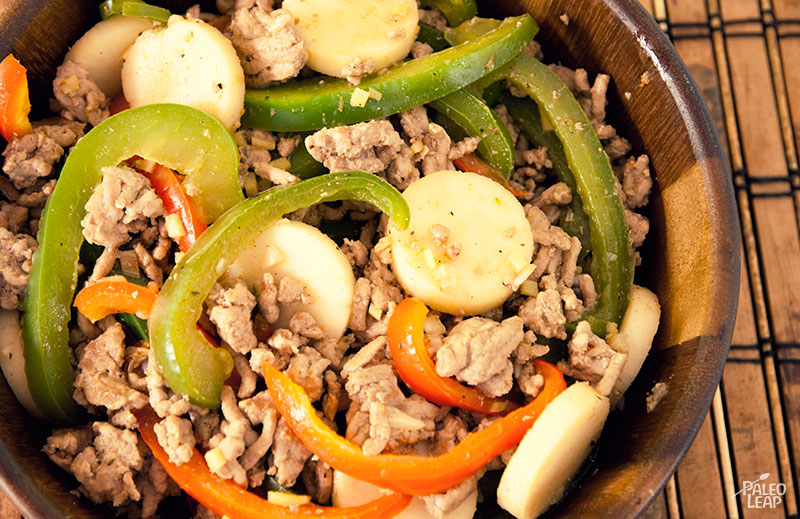 Stir-fries getting a little blah? Spice them right back up with this fiery, crunchy skillet recipe featuring ground turkey, crisp water chestnuts, and homemade sriracha sauce. Like most stir-fries, it's an easy way to get a whole meal in just one pan, and you can't argue with the prep time.
A couple quick words on the ingredients before you get into them: coconut aminos are a Paleo-friendly replacement for soy sauce; you can buy them at health-food stores or online. And yes, rice wine vinegar is actually Paleo: despite the "rice" in the name, the finished vinegar doesn't actually include any rice. Water chestnuts are typically available canned in the ethnic food aisle – even if you can't find an actual Asian grocery, you can usually find at least one brand. They're mild-tasting but crunchy: perfect for a spicy sauce.
It might seem like that's a lot of special ingredients to buy for one recipe, but the rice wine vinegar and water chestnuts are really cheap, and the coconut aminos are delicious in so many things; you'll be going back for another bottle before you know it.
Cauliflower "rice" is always a classic choice for an Asian-inspired side dish, but any kind of basic roasted or grilled vegetables would also be tasty. And don't be afraid to make more than you need for one meal: if you want to get fancy with the leftovers, this would be a delicious filling for some lettuce wraps. Or throw it in an omelet for extra protein and flavor. Of course, that's assuming that you have any leftovers – considering how tasty the recipe is, it's very possible that you won't!
Szechuan Peppers and Ground Turkey Recipe

SERVES: 4

PREP: 15 min.

COOK: 15 min.
Values are per portion. These are for information only & are not meant to be exact calculations.
Ingredients
1 lb. ground turkey;
8 oz water chestnuts, sliced;
1 lb. bell peppers, sliced;
3 garlic cloves, minced;
2 tbsp. ginger, minced;
½ cup chicken stock;
3 tbsp. coconut aminos;
1 tbsp. honey; (optional)
2 tsp. fish sauce;
1 tbsp. rice wine vinegar;
½ tbsp. sriracha sauce; (optional)
Cooking fat;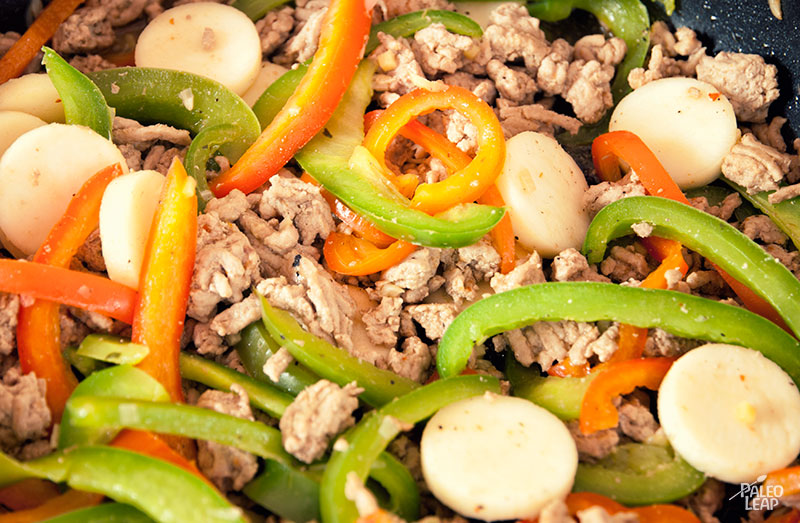 Preparation
Melt some cooking fat in a large wok placed over a medium-high heat.
Add the ground turkey, garlic, and ginger.
Break down the turkey and cook until browned.
In a bowl, combine the chicken stock, coconut aminos, honey, fish sauce, rice wine vinegar and sriracha sauce.
Add the bell peppers and coconut aminos mixture to the wok and and cook for another 4 to 5 minutes.
Add the water chestnuts and cook for an additional 2 minutes, and serve.