A challenge that many newcomers to the Paleo Lifestyle face are that they may feel somewhat restricted in what they can eat.
When you become a more experienced Paleo chef, though, you realize that a Paleo diet doesn't limit you at all in the kitchen; in fact, it can even empower you to enjoy flavors that are more varied than what the average person enjoys.
I first realized this when I began exploring the cuisine of different cultures and countries. This is definitely something great to discover while traveling. A wide range of cultures already have dishes that are very healthy and that don't need any adaptation or modifications.
Many of the Pacific islands, Asian and south Asian cultures traditionally eat a diet that is already very healthy and free of the modern agents of disease like fructose, vegetable seed oils, and wheat, as well as other grains.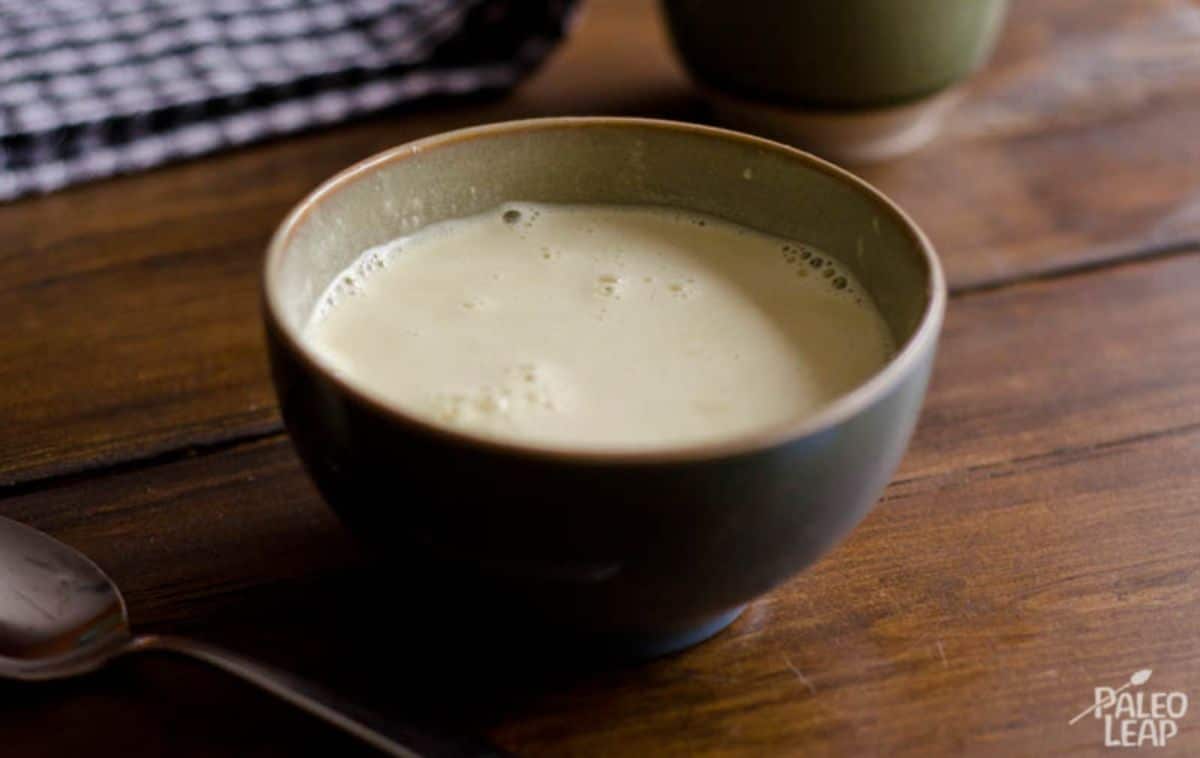 Thailand is a country with a very interesting culture that also happens to have a very interesting cuisine. Take the following Thai soup, for example.
In my opinion, it is no more complicated to prepare this soup than making your traditional chicken soup, but it's much more flavorful and interesting! It's certainly a dish that could have your friends or relatives rethink some preconceived ideas that they might have about a Paleo diet.
This recipe optionally calls for a little bit of almond flour, which is used to thicken it. If using almond flour, the end result will be a thick and very colorful soup hiding some goodies like chicken, red bell peppers, and mushrooms under its orange-looking and flavorful liquid, thanks to the coconut milk and curry powder.
Curry powder is a prepared mixture of varying spices used in south Asian cuisine, such as Thai and Indian cuisine. The most popular ingredients are coriander, cumin, red pepper, and turmeric, and the level of heat differs from one to the other, with some mixtures being very mild tasting and others being very hot and spicy.
Look for a brand that sells a curry powder that's certified gluten-free, and that doesn't contain any other ingredients than the spices themselves.
This soup goes along very well with a main dish of fish or seafood, and it is a great example of how using spices in your Paleo kitchen can really bring the flavors of a dish to a whole new level while keeping its healthfulness.
In many cases, those spices also have nutritional and medicinal properties that are not to be frowned upon. I hope that a simple soup like this one will encourage you to explore the traditional cuisine of other cultures around the world and show you just how easy it can be to experience a wide variety of flavors.
Thai chicken curry soup recipe
Ingredients
2 teaspoon coconut oil;
1 chicken breast, chopped;
1 onion, finely chopped;
1 red bell pepper, chopped;
1 cup button mushrooms, chopped;
2-3 tablespoon curry powder;
2 cups water or chicken stock;
1 tablespoon almond flour, optional, for thickening;
3 cups coconut milk;
1 tablespoon fish sauce, optional;
½ teaspoon fresh coriander, finely chopped;
Sea salt and freshly ground black pepper to taste;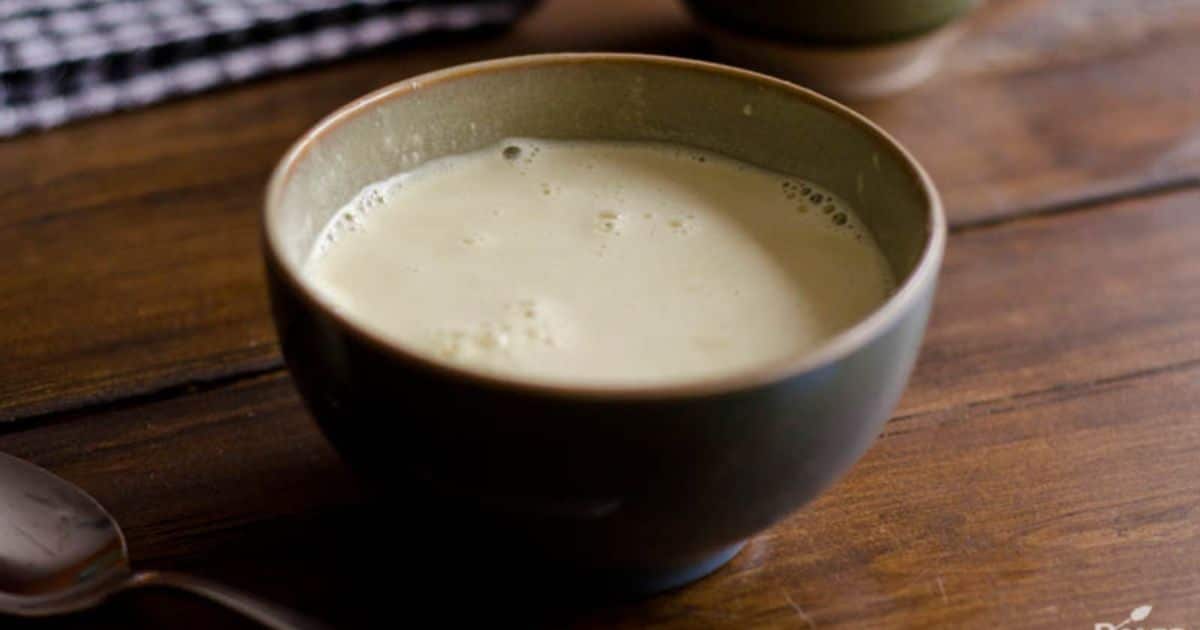 Preparation
Add the coconut oil and chicken to a large saucepan over medium heat. Toss the chicken in the oil and cook for about 2 minutes.
Add the onion, red bell pepper, and mushrooms to the saucepan and cook for just a minute. Season to taste with salt and pepper at this point.
Coat the meat and vegetables in the curry powder (add up to 3 tablespoon depending on how spicy you want the dish to be). Cook for just about 45 seconds.
Add the water or stock, almond flour, coconut milk, and fish sauce. Stir well. Allow the soup to simmer for 5 to 10 minutes until the vegetables are tender and the chicken is cooked through.
Adjust the seasoning, if needed, and top with the fresh coriander prior to serving.
📖 Recipe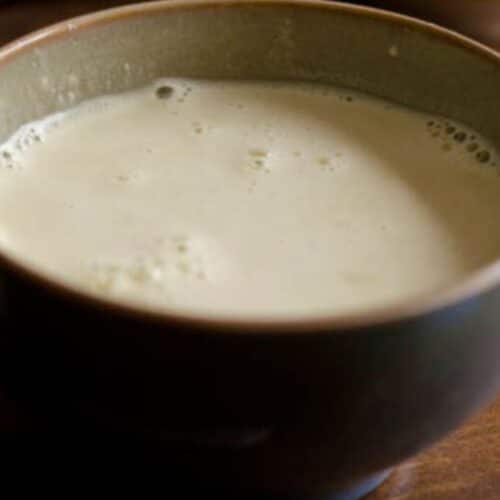 Thai chicken curry soup recipe
A delicious, rich and completely Paleo Thai influenced curry soup full of goodness from the coconut milk, chicken and mushrooms.
Instructions
Add the coconut oil and chicken to a large saucepan over medium heat. Toss the chicken in the oil and cook for about 2 minutes.

2 teaspoon coconut oil,

1 chicken breast

Add the onion, red bell pepper, and mushrooms to the saucepan and cook for just a minute. Season to taste with salt and pepper at this point.

1 onion,

1 red bell pepper,

1 cup button mushrooms,

Sea salt and freshly ground black pepper to taste

Coat the meat and vegetables in the curry powder (add up to 3 tablespoon depending on how spicy you want the dish to be). Cook for just about 45 seconds.

2-3 tablespoon curry powder

Add the water or stock, almond flour, coconut milk, and fish sauce. Stir well. Allow the soup to simmer for 5 to 10 minutes until the vegetables are tender and the chicken is cooked through.

2 cups water or chicken stock,

1 tablespoon almond flour,

3 cups coconut milk,

1 tablespoon fish sauce

Adjust the seasoning, if needed, and top with the fresh coriander prior to serving.

½ teaspoon fresh coriander
Nutrition
Calories:
503
kcal
Carbohydrates:
16
g
Protein:
21
g
Fat:
43
g
Saturated Fat:
35
g
Polyunsaturated Fat:
1
g
Monounsaturated Fat:
3
g
Trans Fat:
0.01
g
Cholesterol:
40
mg
Sodium:
617
mg
Potassium:
947
mg
Fiber:
3
g
Sugar:
5
g
Vitamin A:
984
IU
Vitamin C:
44
mg
Calcium:
66
mg
Iron:
7
mg