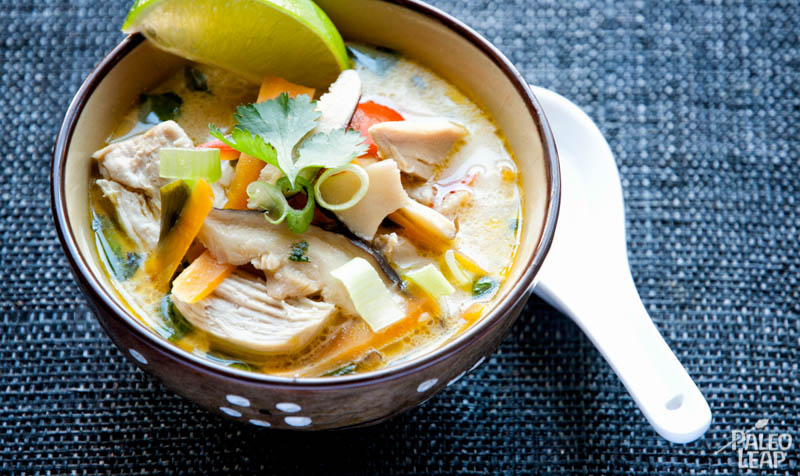 Tom kha kai is a hot and spicy soup native to Laos and Thailand, typically prepared with coconut milk, chicken, and a delicious variety of vegetables, herbs, and spices. In the Thai language, it literally translates to something like "chicken-ginger soup:" "kha" refers to a ginger-like root traditionally used as a flavoring, and "kai" is the chicken. This soup is based on the tom kha kai concept, but the recipe uses ingredients that you'll be able to find more easily in a typical supermarket. For example, grocery stores in the United States don't typically carry the exact type of root used in Thailand (although if you have an ethnic market nearby, ask them for galangal), but you can get a very similar flavor with ordinary ginger.
The idea of tom kha kai is to enjoy the subtle mixture of all the spices together; that's why this recipe calls for so many different types of flavorings, from the spicy jalapeño pepper to the richer warmth of garlic and ginger to the tangy lime zest and the bright, fresh notes of the cilantro. It's completely adjustable depending on how you feel about spicy food: for a milder soup, just reduce the jalapeño, or for a spicier version, add a little more.
In Thailand, traditional tom kha kai isn't made with skinless chicken breast; it's used as a vehicle for all kinds of organ meat, feet, and even blood. That makes for a much more flavorful and interesting soup if you can get these parts of the bird – plus, it's a great way to get some extremely nutritious odd bits into your diet. But in case you can't find the good stuff, you can still get a really flavorful broth by using the chicken stock in this recipe, which adds subtle savory enhancement to the whole recipe.
You can also save some time with this recipe if you have some leftover cooked chicken already waiting around the fridge. Just make the rest of the recipe as usual, but skip the chicken in Step 4, and wait until Step 6 to add it in. That way, the chicken will pick up the spicy flavor of the rest of the soup, without getting tough from being overcooked. With leftover chicken already cooked, the whole soup would only take a few minutes to prepare, making it perfect for a quick and easy weekend lunch, or a dinner when you need your meal on the table fast, but still want something delicious.
Thai Coconut soup Recipe

SERVES: 4

PREP: 15 min.

COOK: 30 min.

Values are per portion. These are for information only & are not meant to be exact calculations.
Ingredients
1 lb. boneless skinless chicken breasts;
1 bunch scallions, thinly sliced;
1 red bell pepper, sliced;
4 garlic cloves, minced;
2-inch piece of  fresh ginger, peeled and finely chopped;
1 large carrot, peeled and shredded;
1 jalapeño, seeded and minced;
1 cup shiitake mushrooms, sliced;
4 cups chicken stock;
1 can full-fat coconut milk (14 oz.)
1 tbsp. fish sauce;
1 tsp. lime zest;
Fresh minced herbs, such as cilantro or basil;
Lime wedges (for serving);
2 tbsp. cooking fat;
Sea salt and freshly ground black pepper to taste;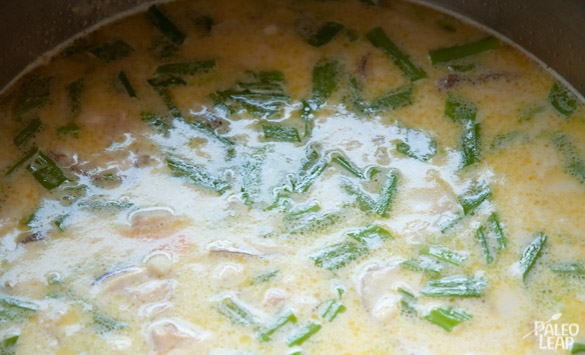 Preparation
In a large saucepan, heat the cooking fat over a medium heat.
Cook the scallions, garlic, and ginger, stirring frequently, until softened (about 5 minutes).
Add the carrot, red bell pepper, jalapeño, and mushroom, and cook until softened (about 3-4 minutes).
Add the chicken, chicken stock, coconut milk, and fish sauce.
Bring the soup to a boil then reduce to a simmer and cook until the chicken is cooked through (15 to 20 minutes).
Remove the chicken from the soup. Shred it into chunks and return to the pot.
Stir in the lime zest, the fresh herbs, and salt and pepper to taste, and remove from the heat.
Garnish each bowl with a lime wedge to serve.