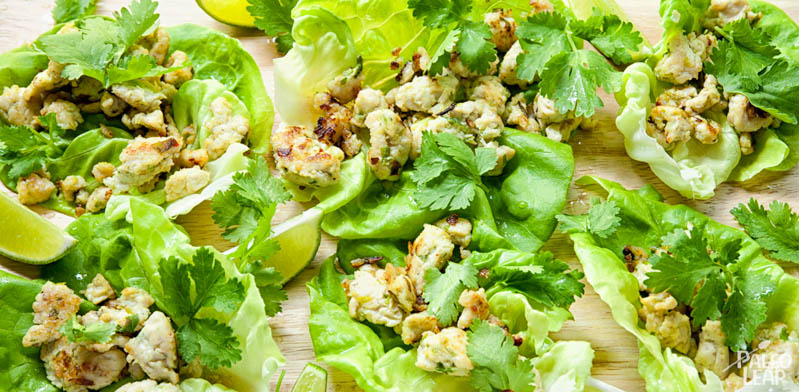 Larb is not a dish most people are familiar with, which makes it a perfect option for spicing up your regular menu with something new. And in this case, "spicing up" is literally the effect, with a combination of chili peppers, Sriracha, fish sauce, and limes adding a delicious heat and zest to a basic chicken breast.
The use of Sriracha sauce in this recipe is bound to be a little controversial, since the Sriracha sauce that you can buy in the classic rooster bottle contains sugar and a lot of additives. Some people refuse to compromise at all, and won't even consider adding the store-bought sauce. If they don't have the time to make their own Sriracha at home, they'll leave it out. Other people would argue that the quest to be 100% strict all the time is unnecessary and a little neurotic, and that in this case such a tiny amount (1/2 a teaspoon for the entire recipe) shouldn't prevent you from enjoying the convenience and flavor of the store-bought Sriracha.
It's a question for everyone to decide individually, but I would suggest making a homemade version if you can, especially since Sriracha is so delicious that once you try it, you'll start wanting to put it on everything!
Aside from the Sriracha debate, though, this is a great way to explore Southeast Asian cuisine, and perfect for a light lunch or an afternoon snack, depending on what size of lettuce leaves you use. You could even make mini-wraps with the lettuce leaves and add larb to a spread of rolled sandwiches. Serve it up with some fresh lime wedges on the side, and enjoy!
Thai Larb Recipe

SERVES: 4

PREP: 15 min.

COOK: 8 min.
Add to Meal Plan
Ingredients
1 1/2 lb. boneless skinless chicken breasts, cut into 1-inch pieces;
1/2 cup green onions, coarsely chopped;
2 tbsp. lemongrass, thinly sliced;
2 lime leaves, thinly sliced;
1 small red chili, thinly sliced;
2 garlic cloves, thinly sliced;
2 tsp. and 1 tbsp. fish sauce;
3 tablespoons extra-virgin olive oil;
Boston or romaine lettuce leaves;
Fresh cilantro leaves;
1 lime, quartered;
1/3 cup fresh lime juice;
½ tsp. Sriracha sauce; (optional)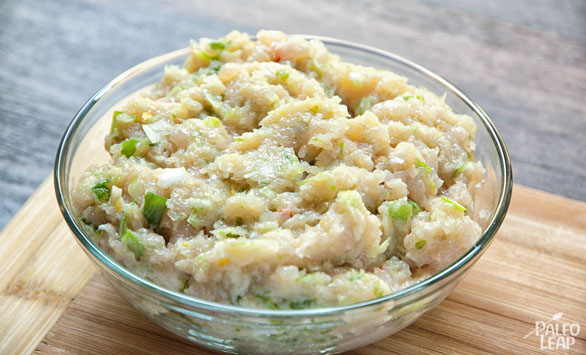 Preparation
In a food processor, combine the chicken, green onions, lemongrass, lime leaves, red chili, garlic, 2 tsp. of the fish sauce, salt and pepper to taste, and 1 tbsp. of olive oil.
Pulse until the chicken is finely chopped.
In a small bowl, combine the lime juice, the remaining 1 tbsp. of fish sauce, and the Sriracha sauce.
In a large skillet, warm the remaining olive oil over medium-high heat.
Add the chicken mixture and sauté until chicken turns golden-brown, about 6 to 8 minutes.
Top the lettuce leaves with the chicken mixture, garnish with cilantro leaves, and drizzle some lime sauce on top.
Serve with some lime.