Are you a lover of fish and seafood recipes? Do you revel in the taste of fish? If your answer is "yes," this recipe is for you! Filled with halibut, salmon, shrimp, and scallops, this tomato-based chowder will satisfy your seafood craving and have you filled up on those Omega 3s.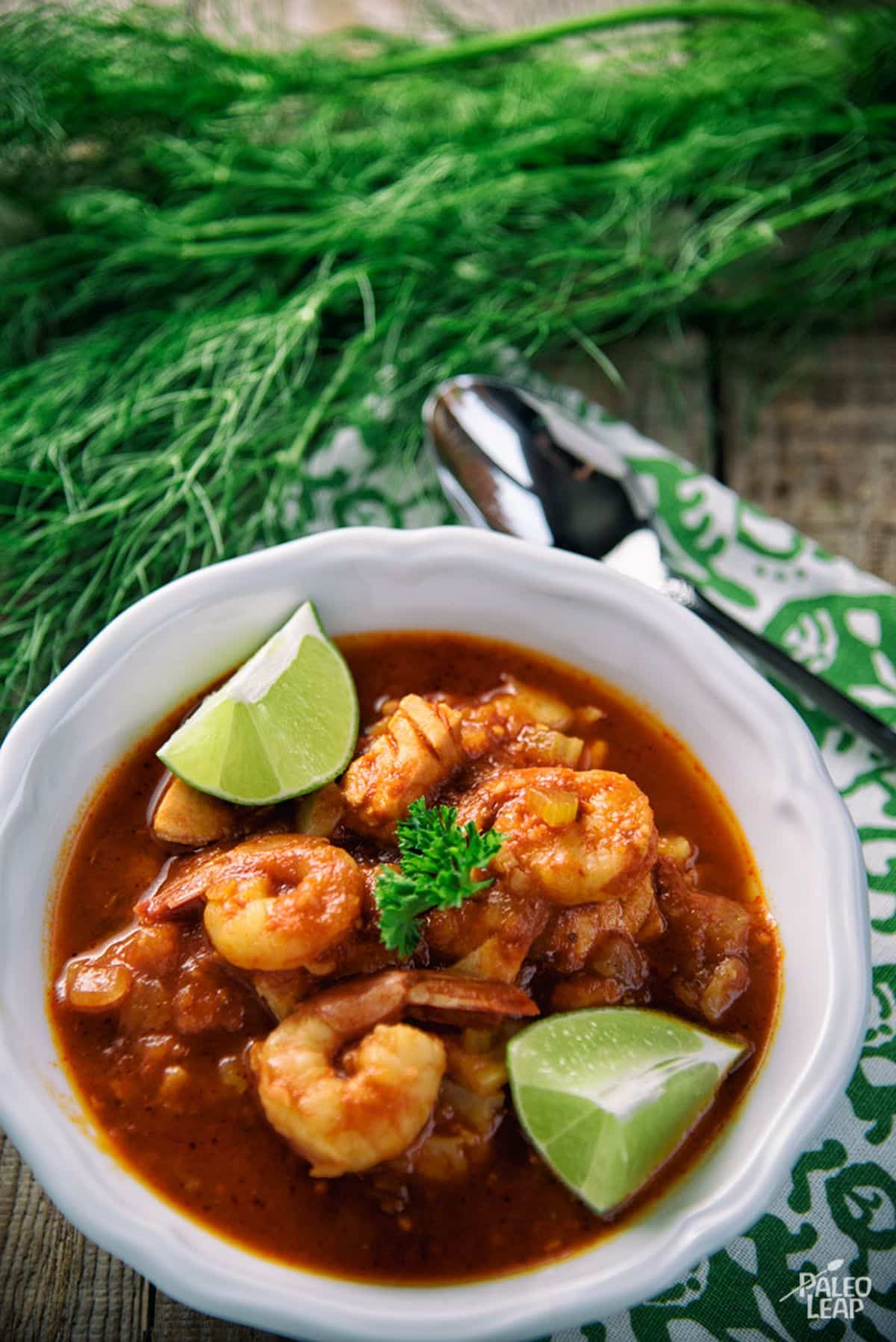 If you live near the coast, check out your local fish market or meat counter for fresh seafood. Fish (and most perishable food) tastes better fresh.
When comparing the nutrition benefits of fresh vs. farmed fish, remember this: fresh fish contains higher levels of the Omega-3s compared to farmed fish. Fresh fish also has lower levels of Omega-6s, which most of us get too many of, anyway.
Serve this chowder with a baked sweet potato or roasted veggies for a nutrient-packed meal. Or, pack this chowder to go for a complete lunch.
Tomato Fish Chowder Recipe
Serves: 4 Prep: 20 min Cook: 30 min
Ingredients
½ lb. halibut fillet, skinless, chopped
½ lb. salmon fillet, skinless, chopped
20 raw shrimps, peeled and deveined
½ lb. sea scallops
1 red onion, diced
2 garlic cloves, minced
2 celery stalks, diced
1 small fennel bulb, diced
½ tsp. chili flakes
2 cups fish or chicken stock
2 cups tomato sauce
1 cup butternut squash, grated
Juice from ½ lemon
¼ cup fresh flat-leaf parsley, chopped
Sea salt and freshly ground black pepper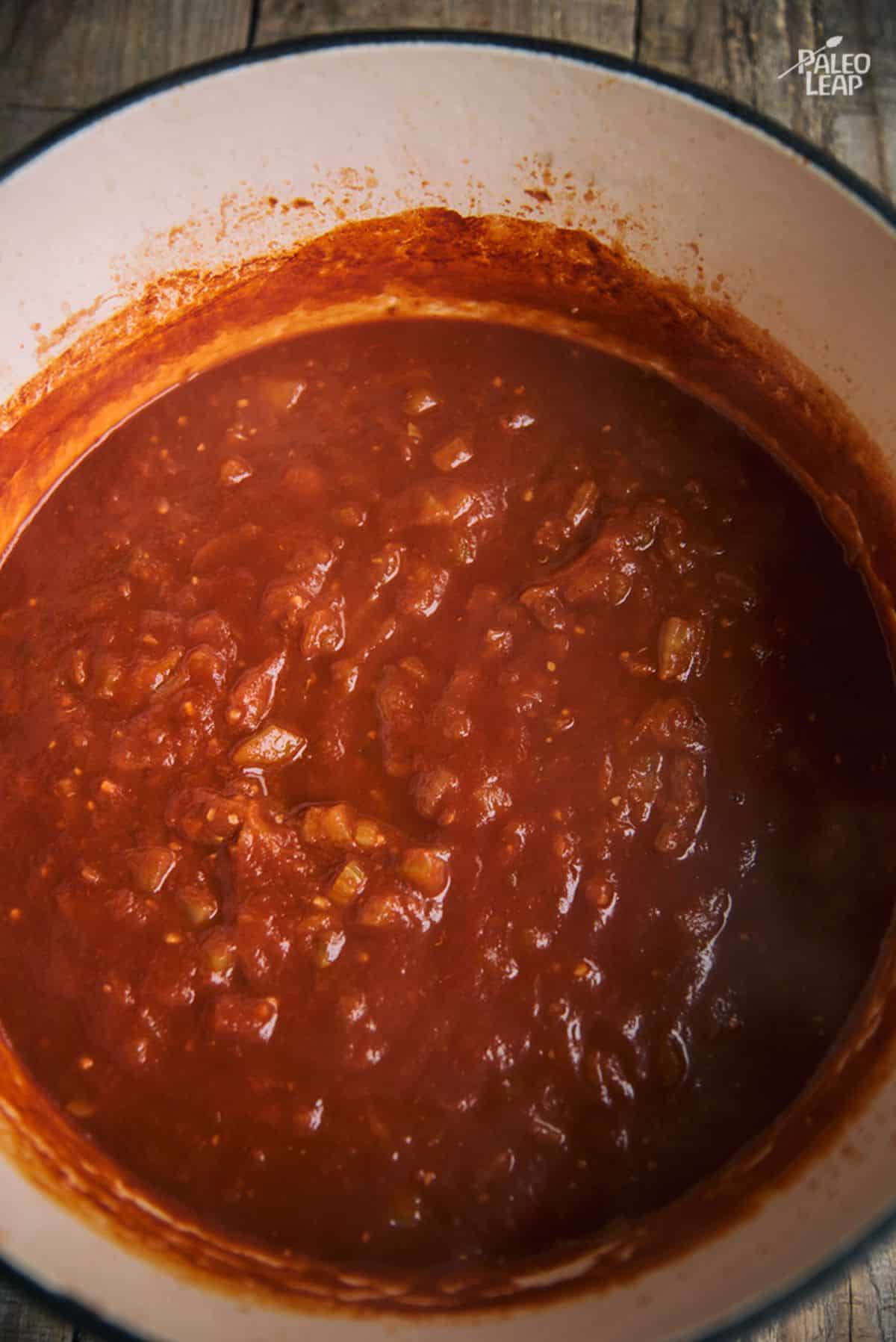 Preparation
Heat cooking fat in a saucepan over medium heat.
Add the onion, garlic, celery, fennel, and chili flakes. Cook for 4 to 5 minutes.
Deglaze the pan with the fish stock, scraping the bottom of the pan.
Pour in the tomato paste and grated butternut squash; bring to a boil, then lower the heat.
Add in the halibut, salmon, shrimp, and sea scallops.
Simmer for 20 to 25 minutes.
Add in the lemon juice and season to taste. Serve topped with parsley and lime wedges.
📖 Recipe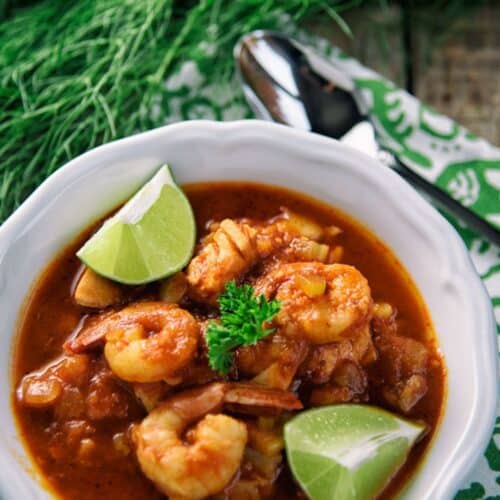 Tomato Fish Chowder Recipe
If you love seafood, try this tomato- and broth-based chowder with four types of seafood and a whole lot of flavor!
Ingredients
½

lb.

halibut fillet

skinless, chopped

½

lb.

salmon fillet

skinless, chopped

20

raw shrimps

peeled and deveined

½

lb.

sea scallops

1

red onion

diced

2

garlic cloves

minced

2

celery stalks

diced

1

small fennel bulb

diced

½

tsp.

chili flakes

2

cups

fish or chicken stock

2

cups

tomato sauce

1

cup

butternut squash

grated

Juice from ½ lemon

¼

cup

fresh flat-leaf parsley

chopped

Cooking fat
Instructions
Heat cooking fat in a saucepan over medium heat.

Add the onion, garlic, celery, fennel, and chili flakes. Cook for 4 to 5 minutes.

1 red onion,

2 garlic cloves,

2 celery stalks,

1 small fennel bulb,

½ tsp. chili flakes

Deglaze the pan with the fish stock, scraping the bottom of the pan.

2 cups fish or chicken stock

Pour in the tomato paste and grated butternut squash; bring to a boil, then lower the heat.

2 cups tomato sauce,

1 cup butternut squash

Add in the halibut, salmon, shrimp, and sea scallops.

½ lb. halibut fillet,

½ lb. salmon fillet,

20 raw shrimps,

½ lb. sea scallops

Simmer for 20 to 25 minutes.

Add in the lemon juice and season to taste. Serve topped with parsley and lime wedges.

Juice from ½ lemon,

¼ cup fresh flat-leaf parsley,

Sea salt and freshly ground black pepper
Nutrition
Calories:
337
kcal
Carbohydrates:
25
g
Protein:
45
g
Fat:
7
g
Saturated Fat:
1
g
Polyunsaturated Fat:
2
g
Monounsaturated Fat:
2
g
Trans Fat:
0.01
g
Cholesterol:
157
mg
Sodium:
1144
mg
Potassium:
1712
mg
Fiber:
5
g
Sugar:
11
g
Vitamin A:
4904
IU
Vitamin C:
31
mg
Calcium:
129
mg
Iron:
4
mg