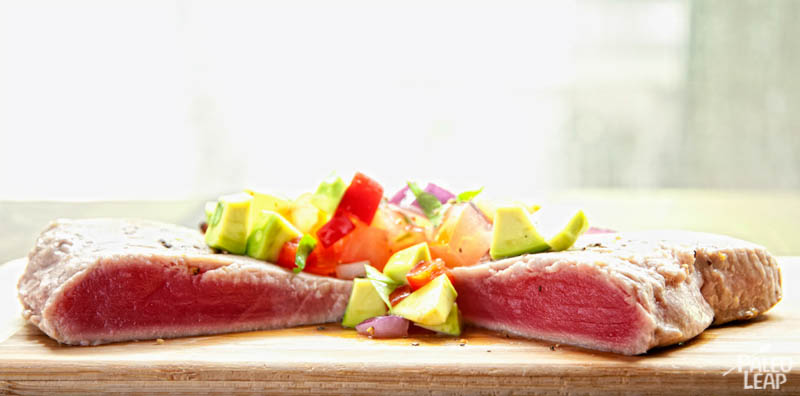 If salmon is the well-dressed aristocrat of seafood, tuna is the unpredictable double agent: canned, it's a shoestring budget staple that's right at home with the value-sized bags of rice and potatoes, but left as a steak, it's suddenly transformed into a gourmet dinner. This recipe takes advantage of tuna's sophisticated side, topping medium-rare grilled fish with juicy salsa for an elegant, minimalist dinner.
It's lucky that tuna and avocado taste so good together, because avocado adds one of the few vital nutrients that tuna is lacking: fat. Other than that, tuna is extremely nutritious, and there's no reason to be afraid of mercury, since the naturally occurring selenium in fish will protect you from mercury toxicity (read more about this in the article on fish and seafood).
Like most salsas, this one is best if you let it marinate for a few hours beforehand, so the flavors have time to mature. A quick way to do this is to chop up the salsa ingredients while you're preparing lunch, and then let them chill in the fridge until dinner time. Because the salsa in this recipe brings so much flavor, don't go crazy spicing the fish. I only used sea salt and black pepper with a pinch of ground coriander. Also make sure you don't leave it too long on the grill; tuna is so lean that it's easy to over-cook, and dry, rubbery fish is nobody's friend. Cooked on the outside but still rare in the middle, it's perfectly safe to eat, and melt-in-your-mouth tender all the way through.
Tuna With Avocado Salsa

SERVES: 4

PREP: 2h15 min.

COOK: 8 min.

Values are per portion. These are for information only & are not meant to be exact calculations.
Ingredients
4 (6 oz.) pieces fresh of tuna;
½ tsp. ground coriander;
Sea salt and freshly ground black pepper;
Avocado Salsa
Ingredients
2 avocados, peeled and diced;
3 plum tomatoes, seeded and diced;
1 red onion, minced;
1 jalapeno pepper, minced; (optional)
2 tbsp. lime juice, freshly squeezed;
2 tbsp. fresh cilantro, minced;
Sea salt and freshly ground pepper to taste;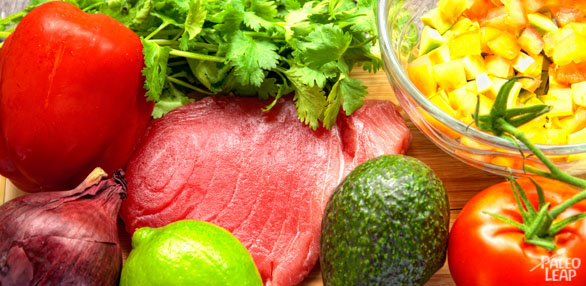 Preparation
Combine all the ingredients for the salsa in a medium bowl, season to taste with sea salt and freshly ground black pepper, and combine well.
Refrigerate the salsa for 2 to 4 hours to bring out the flavors.
Preheat your grill to a medium high heat.
Sprinkle coriander over the tuna steaks and season to taste with sea salt and black pepper.
Grill the tuna 2 to 3 minutes per side.
Serve the grilled tuna with the avocado salsa on top.