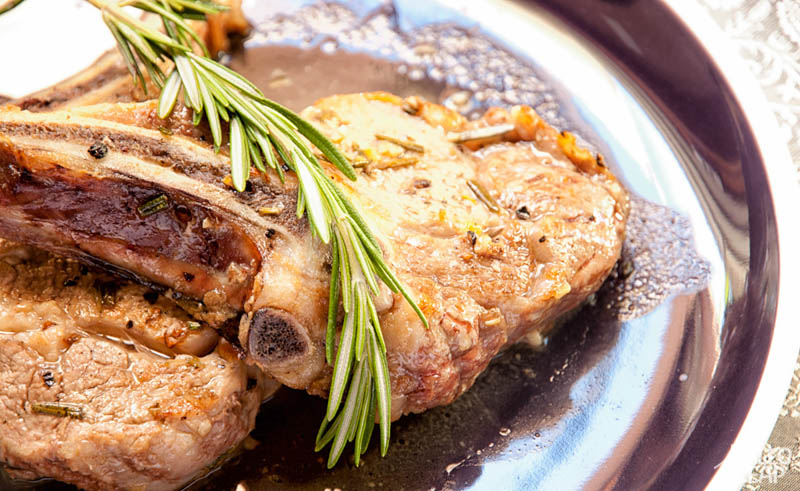 Tender, flavorful, and fragrant with herbs and wine, these veal chops are a surprisingly delicious option for a quick dinner. Because they're seared in the pan first, and then finished in the oven, they get a nicely browned crust without sacrificing a juicy inside: the best of both worlds.
For this recipe, you'll also be upping the flavor with a deglazed sauce. The name makes it sound complicated and intimidating, but it's really very simple. Think about what happens when you brown the meat: inevitably, some of that delicious dark brown crust gets left behind in the pan. If you just wash it down the sink, all that flavor gets wasted. The point of deglazing is to keep it in your recipe instead, by making those leftover bits of crust part of the sauce. You wind up with a sauce that's more flavorful (and as a bonus, a pan that's easier to clean!)
Better yet, deglazing is actually quite simple. After you sear the chops, don't wash the pan out right away. Instead, pour in the wine and stock, and use a spatula or another soft tool to scrape up the remaining "crust" from the bottom of the pan. As the liquid warms up, these tiny flakes of food will dissolve into it. At the same time, some of the water will be evaporating out of the wine/stock mixture. After a few minutes, you'll be left with a rich, savory reduction sauce to pour over your chops and enjoy.
If wine isn't your game, the white wine in this recipe is optional. It adds more flavor, but you could also skip it or replace it with a little more chicken stock. Especially if you use homemade stock, the recipe will turn out delicious either way.
Veal Chops With Rosemary Recipe

SERVES: 2

PREP: 5 min.

COOK: 25 min.

Values are per portion. These are for information only & are not meant to be exact calculations.
Add to Meal Plan
Ingredients
2 veal chops,
3 cloves garlic, minced;
2 tbsp. fresh rosemary, minced;
2 tbsp Paleo cooking fat;
1/2 cup white wine; (optional)
1/4 cup chicken stock;
Sea salt and freshly ground black pepper to taste;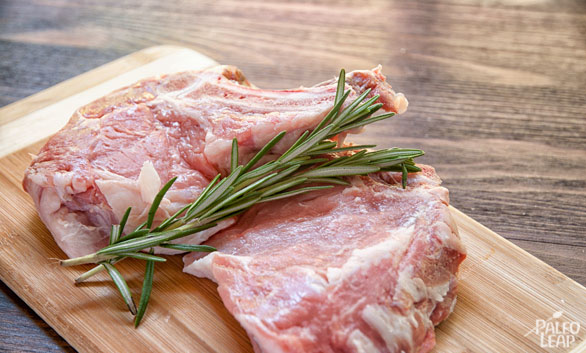 Preparation
Preheat your oven to 350 F.
Rub the chops with rosemary and garlic on each side and season to taste; then let them rest for 10 minutes.
Warm the cooking fat in a skillet placed over a medium high heat.
Cook the chops in the skillet until golden brown (about 5 to 7 minutes on each side).
Transfer the chops from the skillet to a baking dish, and bake in the oven for 10 more minutes.
In the meantime, over a medium heat, add the wine and chicken stock to the skillet previously used skillet, and warm everything up for a minute or two. While the liquid is warming up, scrape off any flakes of food on the bottom of the pan.
Remove the chops from the oven, top with the sauce, and serve.