As much as we love the idea and flavors of slow food, there are times in life that call for a quicker pace of getting food on the table. Right now! - to be more precise.
And other times, we feel like gorging on vegetables, rather than dense protein, without any rhyme or reason involved.
Some days we just want what we want, and nothing else will do. So, when the need for an Asian-inspired stir-fry arises, go with your gut instinct and decide to make it at home instead of going out.
The reasons for cooking at home? You have the most control over all of the ingredients that go into your food. It may not seem like a big deal in the grand scheme of life, but if you are eating all organic for personal reasons, then you are fulfilling your dietary preferences.
If you are trying to avoid cross contamination due to food sensitivities, know that it is also easier to cook from scratch with spices you know and trust.
Avoiding food additives and artificial sweeteners? That's when it is good to read labels - that usually doesn't happen in a restaurant. Finally, while many Asian dishes list soy sauce as an ingredient, here you will be using coconut aminos, which are by far healthier for you.
By all means, eat out when the mood strikes or when the situation calls for a meal on the run. But the real power of feeling good comes from knowing how to chop, slice, dice, and cook up a keto stir-fry all for yourself when that is the food you are really craving.
Vegetable Stir-Fry Recipe
Serves: 4 Prep: 15 min Cook: 25 min
Ingredients
1 bell pepper, sliced
8 oz. mushrooms, sliced
1 onion, sliced
1 daikon radish, thinly sliced
1 zucchini, diced
2 garlic cloves, minced
1 tbsp. fresh ginger, minced
¼ cup chicken stock
¼ cup coconut aminos
2 tbsp. coconut oil
Fresh cilantro for garnish
Sea salt and freshly ground black pepper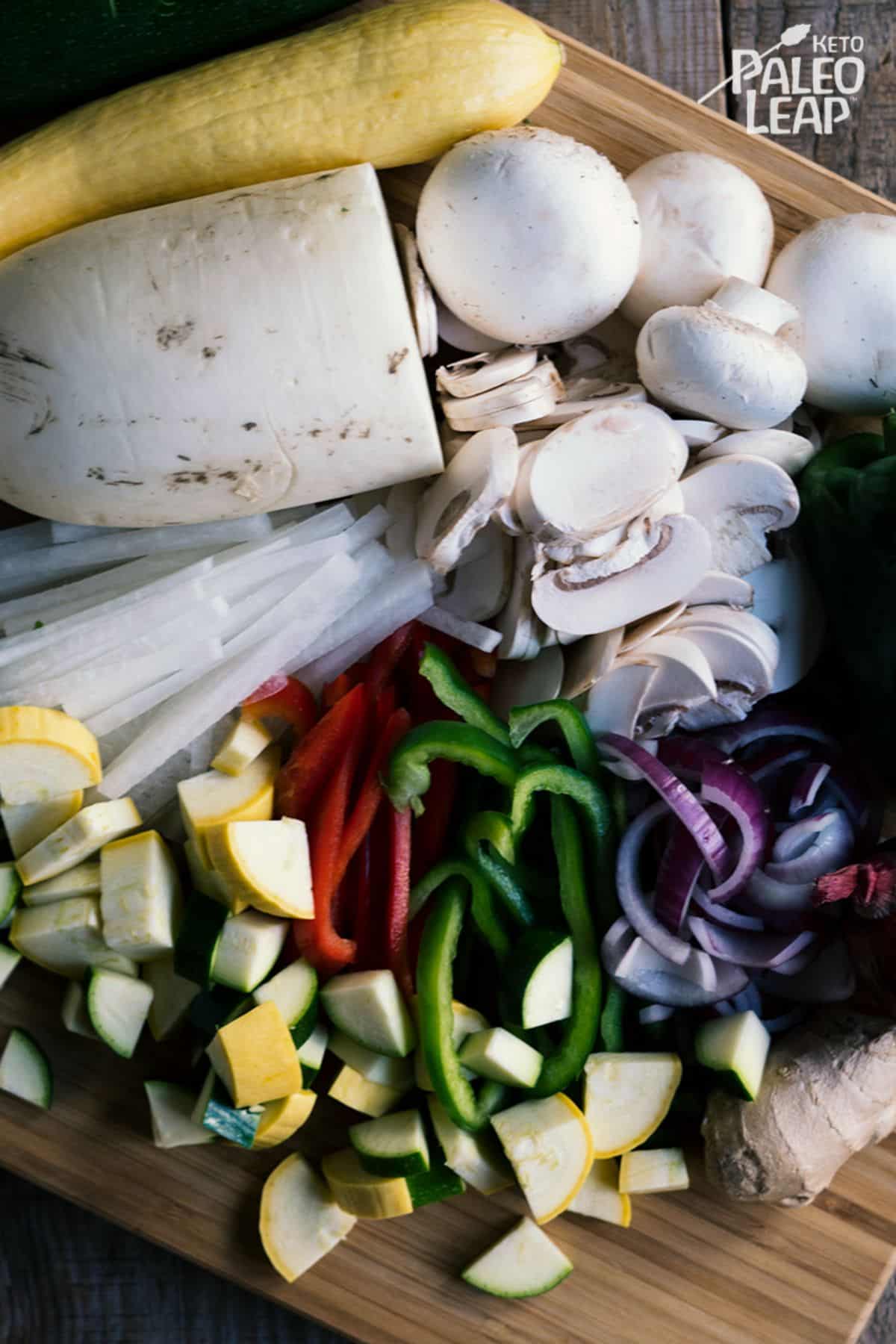 Preparation
Melt coconut oil in a skillet over medium heat.
Add the garlic and ginger, and cook until soft, about 2 to 3 minutes.
Add bell pepper, onion, daikon, and zucchini, and cook 4 to 5 minutes longer.
Stir in the mushrooms and cook for 1 to 2 minutes, then pour in the coconut aminos and chicken stock and season to taste.
Give everything a good stir and cook until all vegetables are soft.
Serve topped with fresh cilantro.
📖 Recipe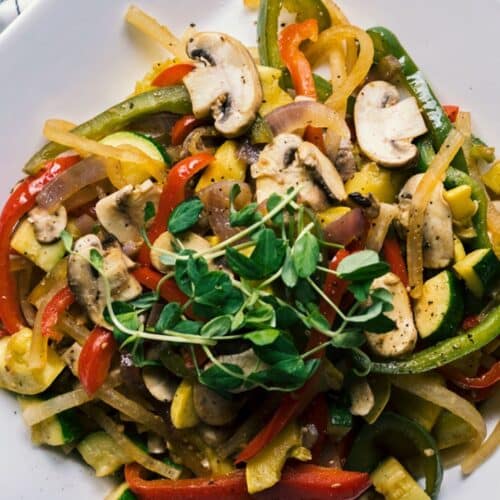 Vegetable Stir-Fry Recipe
Chicken stock and coconut aminos combine together to make magic happen in a Keto vegetable stir-fry. It is ready in a matter of minutes!
Ingredients
1

bell pepper

sliced

8

oz.

mushrooms

sliced

1

onion

sliced

1

daikon radish

thinly sliced

1

zucchini

diced

2

garlic cloves

minced

1

tbsp.

fresh ginger

minced

¼

cup

chicken stock

¼

cup

coconut aminos

2

tbsp.

coconut oil

Fresh cilantro for garnish

Sea salt and freshly ground black pepper
Instructions
Melt coconut oil in a skillet over medium heat.

Add the garlic and ginger, and cook until soft, about 2 to 3 minutes.

2 garlic cloves,

1 tbsp. fresh ginger

Add bell pepper, onion, daikon, and zucchini, and cook 4 to 5 minutes longer.

1 bell pepper,

1 onion,

1 daikon radish,

1 zucchini

Stir in the mushrooms and cook for 1 to 2 minutes, then pour in the coconut aminos and chicken stock and season to taste.

8 oz. mushrooms,

¼ cup chicken stock,

¼ cup coconut aminos,

Sea salt and freshly ground black pepper

Give everything a good stir and cook until all vegetables are soft.

Serve topped with fresh cilantro.

Fresh cilantro for garnish
Nutrition
Calories:
147
kcal
Carbohydrates:
17
g
Protein:
4
g
Fat:
8
g
Saturated Fat:
6
g
Polyunsaturated Fat:
1
g
Monounsaturated Fat:
1
g
Cholesterol:
0.5
mg
Sodium:
397
mg
Potassium:
693
mg
Fiber:
5
g
Sugar:
6
g
Vitamin A:
1031
IU
Vitamin C:
68
mg
Calcium:
67
mg
Iron:
8
mg