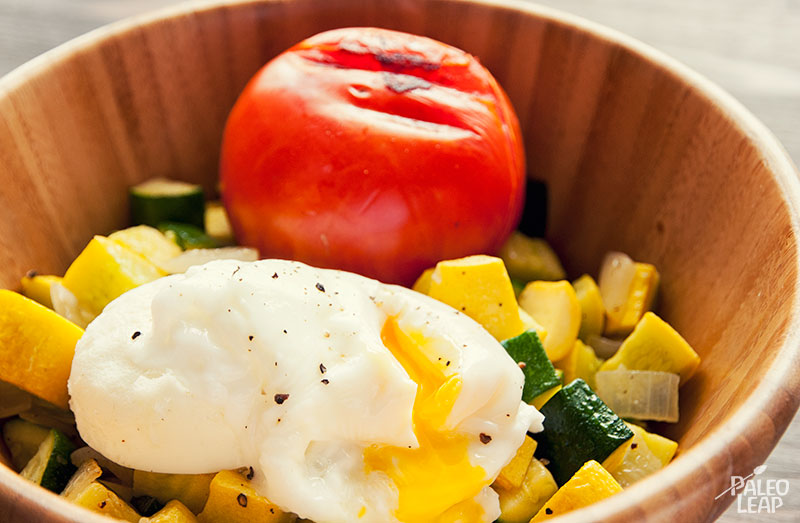 Eating a serving of vegetables for breakfast is great healthy habit to get into, but it's hard to get started since we don't usually see vegetables as a "breakfast food." After a year or two of eating Paleo it feels a little more natural to eat a big pile of vegetables in the morning, but in the beginning it's certainly not an obvious choice. And then there's the time crunch to consider: does anyone have 45 minutes to roast a pan of broccoli in the morning, even if they did want to eat it?
Making a side dish of vegetables doesn't have to be a time suck, though, and it also doesn't have to feel like you're eating dinner for breakfast. Zucchini comes to the rescue on both counts. It has a mild, sweet flavor that's perfect for breakfast time, and it doesn't take long at all to cook. Fried up quickly with your favorite cooking fat and topped with a creamy poached egg, it's a cheerful way to start the morning off right. Add a grilled tomato on the side for extra flavor and nutrients, and you'll have a meal that's sure to perk up even the gloomiest of Mondays.
When you're cooking this recipe, also remember that you can add more eggs for a heartier breakfast. Some people just prefer a very small morning meal, but one egg is pretty short rations for most of us! Fortunately, a couple of extras don't take any extra time to poach. And if you're really in a rush, you can also cut the tomato into slices before grilling, so it cooks up faster.
If you're theoretically in favor of vegetables for breakfast but struggling to make it work in practice, why not give this one a shot?
Zucchini and Egg Breakfast Recipe

SERVES: 1

PREP: 5 min.

COOK: 10 min.

Values are per portion. These are for information only & are not meant to be exact calculations.
Ingredients
½ cup diced zucchini;
½ cup diced yellow squash;
½ onion, cut into chunks;
1 whole tomato;
1 or 2 whole eggs;
1 tsp. apple cider vinegar;
1 tbsp. ghee;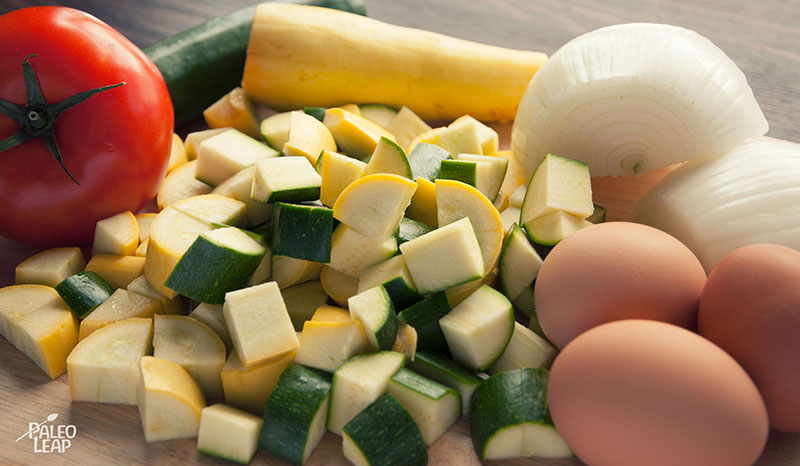 Preparation
Melt the ghee in a skillet placed over a medium-high heat.
Add the onions and cook until soft, about 4 to 5 minutes.
Add the zucchini and yellow squash to the skillet. Season to taste, cook for 5 to 7 minutes, and remove from the  heat.
Grill the tomato on a grill pan or simply sear in a hot skillet, and set aside.
Bring a medium saucepan filled with water to a boil, and add the apple cider vinegar.
Crack the egg into the water and allow it to swirl around in the water until the egg begins to set, about 1 or 2 minutes.
Place the vegetables in a bowl and set the eggs on top. Lay the tomato on the side.
Sprinkle the eggs with some extra salt and pepper and serve.