A big juicy burger is the cornerstone of any serious grilling repertoire, so here's a backyard summer classic, made Paleo just in time for the end-of-summer barbecue bonanza.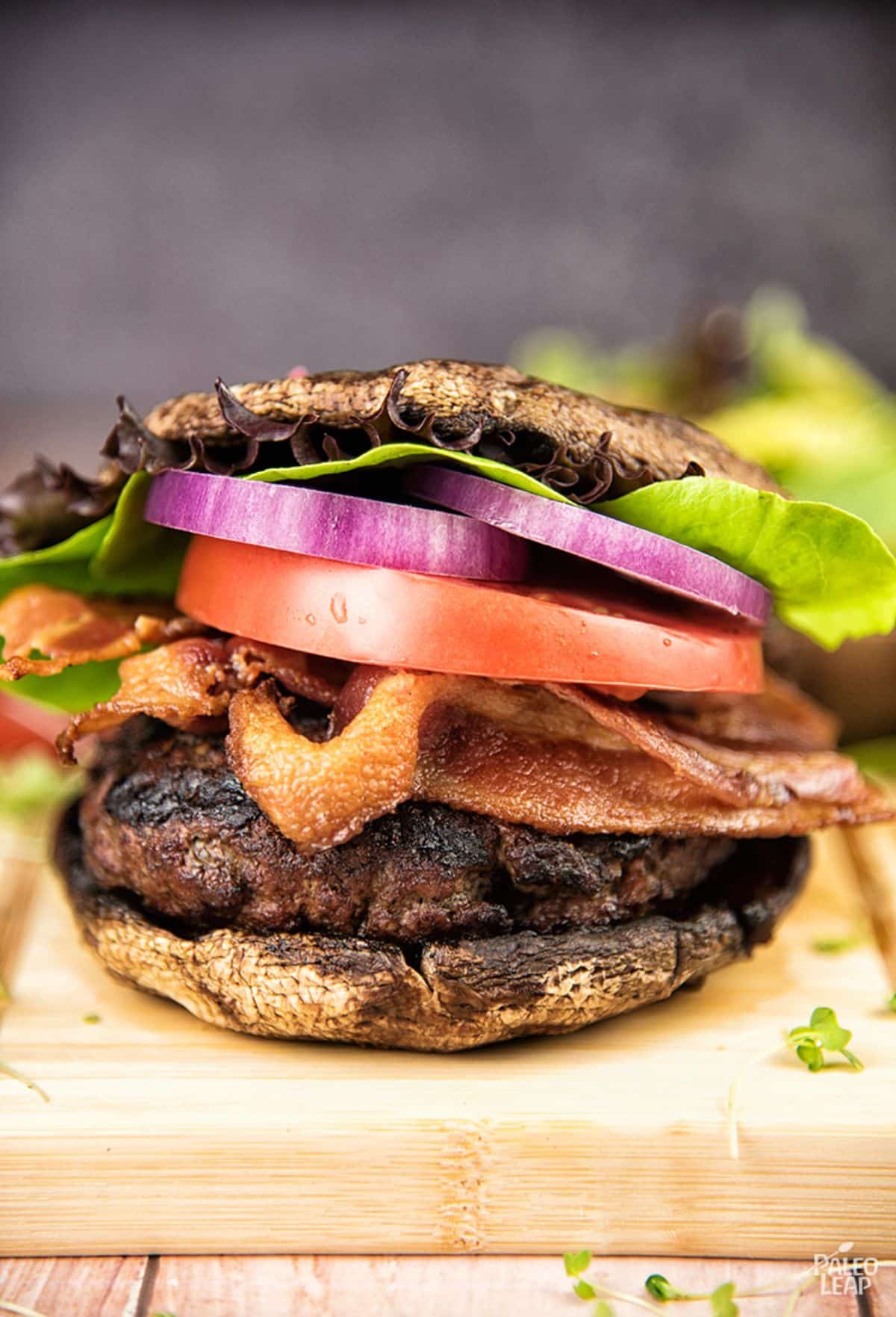 Of course, the big problem with a Paleo burger is the bun – for this recipe, Portobello caps stand in for the actual bread, but you could use any other substitution that you like (lettuce wraps are also great).
You can also go nuts with the toppings; everyone has a different favorite way to make their burger, and at least when you're making your own, you never have to worry about whether or not the kid at the drive-thru will actually remember to leave off the pickles.
The secret to a really juicy burger is starting with fatty beef – go for 70-80% lean instead of the really lean 90/10 kind. You can add spices if you want, but you might not need to if you've already got a really good, juicy patty full of flavor all on its own!
Serve your burger with a fresh salad and some sweet potato fries, and dig in!
All-American Burger Recipe
SERVES: 4 PREP: 20 min COOK: 10 min
Ingredients
1 lb. ground beef;
8 portobello mushrooms, stem removed;
8 bacon strips, cooked;
1 egg;
4 tomato slices;
4 onion slices;
Fresh lettuce;
Homemade ketchup; (optional)
2 tbsp. olive oil;
Sea salt and freshly ground black pepper;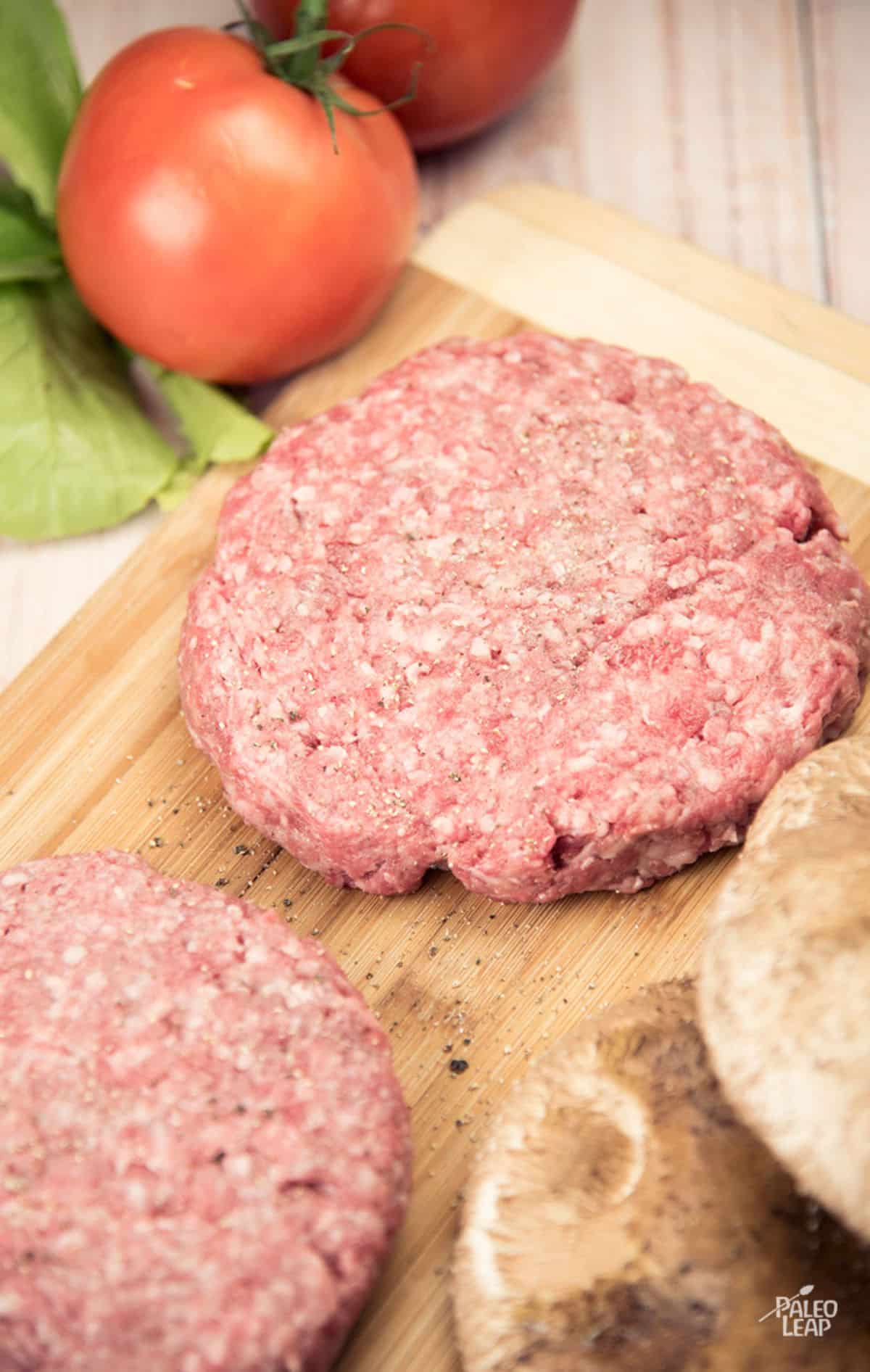 Preparation
Preheat your grill to medium-high.
In a bowl, combine the ground beef, and egg and season with salt and pepper to taste.
Shape the ground beef into 4 large patties.
Rub the portobello mushroom with oil and season to taste.
Grill the burgers, covered, for 4 to 7 minutes on each side.
Grill the portobello mushroom for 4 to 6 minutes on each side at the same time.
Serve the burger on portobello mushrooms topped with bacon, ketchup, tomato, onion, and lettuce.
📖 Recipe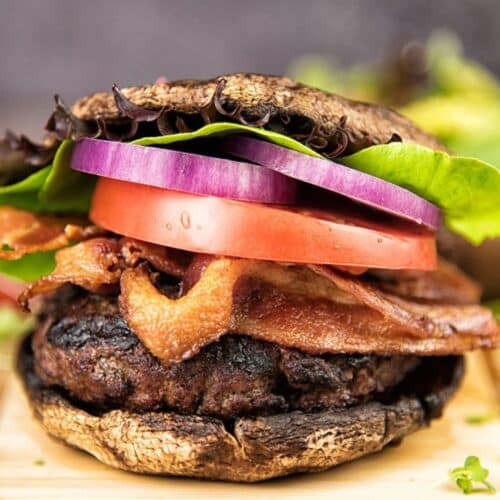 All-American Burger Recipe
A classic burger with all the fixings to anchor your summer grilling menu.
Ingredients
1

lb.

ground beef

8

portobello mushrooms

stem removed

8

bacon strips

cooked

1

egg

4

tomato slices

4

onion slices

Fresh lettuce

Homemade ketchup

optional

2

tbsp.

olive oil
Instructions
Preheat your grill to medium-high.

In a bowl, combine the ground beef, and egg and season with salt and pepper to taste.

1 lb. ground beef,

1 egg,

Sea salt and freshly ground black pepper

Shape the ground beef into 4 large patties.

Rub the portobello mushroom with oil and season to taste.

8 portobello mushrooms,

2 tbsp. olive oil,

Sea salt and freshly ground black pepper

Grill the burgers, covered, for 4 to 7 minutes on each side.

Grill the portobello mushroom for 4 to 6 minutes on each side at the same time.

Serve the burger on portobello mushrooms topped with bacon, ketchup, tomato, onion, and lettuce.

8 bacon strips,

4 tomato slices,

4 onion slices,

Fresh lettuce,

Homemade ketchup
Nutrition
Calories:
638
kcal
Carbohydrates:
18
g
Protein:
31
g
Fat:
49
g
Saturated Fat:
16
g
Polyunsaturated Fat:
5
g
Monounsaturated Fat:
23
g
Trans Fat:
1
g
Cholesterol:
150
mg
Sodium:
404
mg
Potassium:
1245
mg
Fiber:
4
g
Sugar:
10
g
Vitamin A:
303
IU
Vitamin C:
12
mg
Calcium:
62
mg
Iron:
3
mg