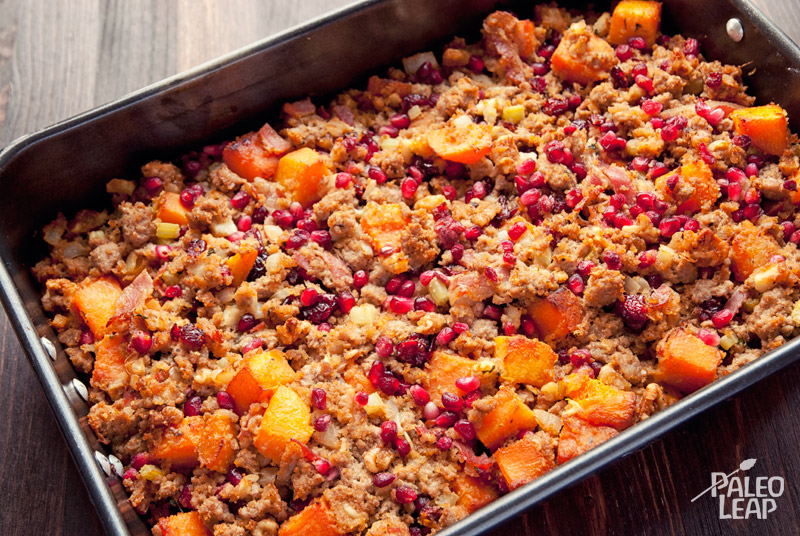 Today, we think of "stuffing" as a very bready affair. Whether it's croutons, bread crumbs, or simply chunks torn off a day-old loaf, bread is the main ingredient, seasoned with vegetables and spices to taste.
But it wasn't always like that! In the very first stuffing recipes we have, dating all the way back to ancient Rome, "stuffing" often involved nuts and organ meats like liver. And many different cuisines have historically used meats of various kinds (especially sausage meat) as stuffing, with the bread taking second place or left out altogether.
This recipe gets back to that bread-free stuffing tradition with a base of squash, pancetta and ground meat, sweetened with apples and rounded out with the familiar trio of onions, garlic, and celery. The squash cubes deliver that soft, fluffy, starchy goodness that makes stuffing such an irresistible treat, and the meat and chicken stock right in the recipe infuse everything with a savory richness even if the stuffing never sees the inside of a bird. You can add dried cranberries or pomegranate seeds if you like a little more sweetness, or leave it as-is if you don't.
Once you've made the basic recipe, this stuffing is versatile enough to fill pretty much anything, from a turkey to a squash. Try it in chickens, Cornish hens, bell peppers, mushrooms, or anything else that tastes better when it's filled with something delicious. You can also just eat it plain: the meat base makes it filling enough for a snack or a light meal in its own right. However you choose to enjoy it, it's a tasty and healthy alternative to grain-based stuffing that will leave you wondering why anyone would even want to eat day-old bread when they could have this!
Apple and Squash Stuffing Recipe

SERVES: 6

PREP: 20 min.

COOK: 1h20 min.

Values are per portion. These are for information only & are not meant to be exact calculations.
Ingredients
1 lb. ground veal or pork;
4 cups butternut squash, peeled and cut into cubes;
2 onions, chopped;
2 stalks celery, diced;
2 cups apples, peeled and diced;
2 clove garlic, minced;
4 slices pancetta, chopped;
2 tsp. Dijon or homemade mustard;
1 cup almond meal;
1 cup chicken stock;
1 cup dried cranberries; (optional)
1/2 cup pomegranate seeds; (optional)
2 eggs, lightly beaten;
1/3 cup Paleo cooking fat;
Sea salt and freshly ground black pepper;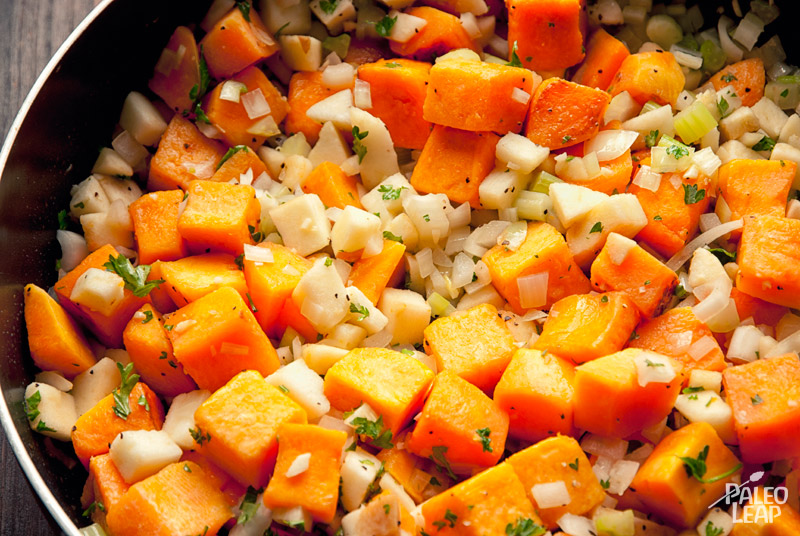 Preparation
Preheat your oven to 350 F.
Melt the cooking fat in a large skillet placed over a medium high heat.
Sauté the butternut squash, onion, apple, celery, and garlic for about 10 minutes, and season to taste with sea salt and black pepper.
When the squash mixture is cooked, transfer it to a separate bowl and set aside.
In the same skillet, cook the ground meat and the pancetta until browned.
Add the meat to the same bowl as the vegetables.
Add all the remaining ingredients to the bowl and give everything a good stir.
Pour the stuffing in a large baking dish and place in the oven for 45 minutes to 1 hour, or until the butternut squash is tender.