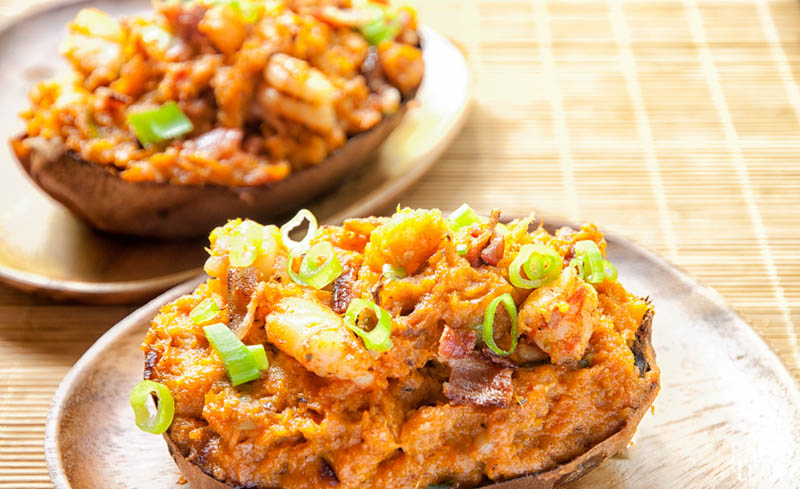 Delicious as party food, as a comforting dinner after a long day, or simply as a way to celebrate the fact that bacon isn't actually all that bad for you, these hearty sweet potatoes are first baked to give them a crispy, caramelized outside, and then stuffed with a hot and savory mixture of shrimp, bacon, and spices. They're filling enough that one can be a main course on its own, or make half a potato for each person as a side dish.
It might seem strange to be recommending sweet potatoes as a main course, even if you know that safe starches are nothing to fear. Where's the fat and the protein? But the shrimp in these potatoes actually provide 24 grams of protein per serving (and that's without even counting the bacon), and the ghee and olive oil add plenty of healthy fat. Athletes might want to add a little more shrimp, or just eat their potato alongside another protein-rich food, but for most people it actually makes a reasonably balanced meal.
To get enough stuffing for each potato, you'll have to use twice the number of potatoes you actually intend to serve. So for example, if you're making 4 stuffed potatoes, you'll need to start with 8 potatoes. This is actually a blessing in disguise, because it gives you some room for error when you're scooping out the insides. Sweet potatoes are pretty delicate and the skin can break apart easily, so you might want to practice with one or two of your "extra" potatoes before you dig into the ones you actually plan to serve.
If you don't like sweet potatoes, or just don't have any, you can also use white potatoes instead – see the full article for the explanation of why white potatoes are really nothing to fear. The taste of a white potato is a little different (more starchy, less sweet), so the final result will not exactly imitate what you'd get with sweet potatoes, but it's tasty in its own right.
Bacon-Shrimp Stuffed Sweet Potatoes Recipe

SERVES: 4

PREP: 20 min.

COOK: 1h20 min.

Values are per portion. These are for information only & are not meant to be exact calculations.
Ingredients
8 sweet potatoes;
1 lb. large raw shrimp, deveined and tails removed, cut into thirds;
6 slices of bacon, cooked and crumbled;
4 garlic cloves, minced;
4 green onions, thinly sliced; (keep some of the green for garnishing)
1 tbsp. paprika;
2 tbsp. chili powder;
1 tbsp. dried oregano;
½ tsp. cayenne pepper;
6 tbsp. ghee (clarified butter);
olive oil, to coat the potatoes;
Sea salt and freshly ground black pepper to taste;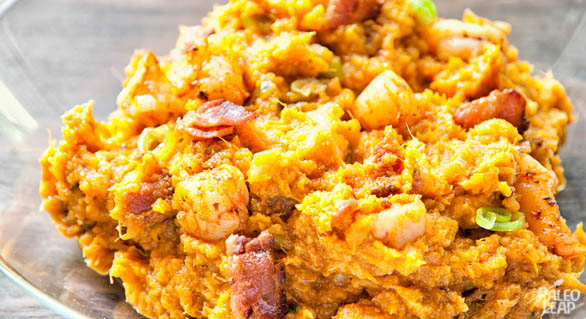 Preparation
Preheat your oven to 450 F.
Rub the potatoes with the olive oil, place them on a baking sheet and bake for about 40 to 45 minutes or until soft.
While the potatoes are baking; over a medium high fire, melt some cooking fat and add the garlic and the green onions. Cook for about 2 minutes.
Add the shrimp to the green onions and garlic, cook for 2 to 3 minutes then add the paprika, chili powder, dried oregano and cayenne pepper. Stir and cook until shrimp are done, about another 2 to 3 minutes.
When the potatoes are done, let them cool down and leave the oven on.
Slice the potatoes in half horizontally and carefully scoop out the flesh into a big bowl, making sure to keep the skins.
Mash the sweet potatoes until smooth then add the crumble bacon, the shrimp mixture, the ghee, season to taste and combine everything well.
Stuff the potato skins with the filling, return to the oven and cook for another 15 minutes.
When done remove from the oven and sprinkle with the remaining green onions.