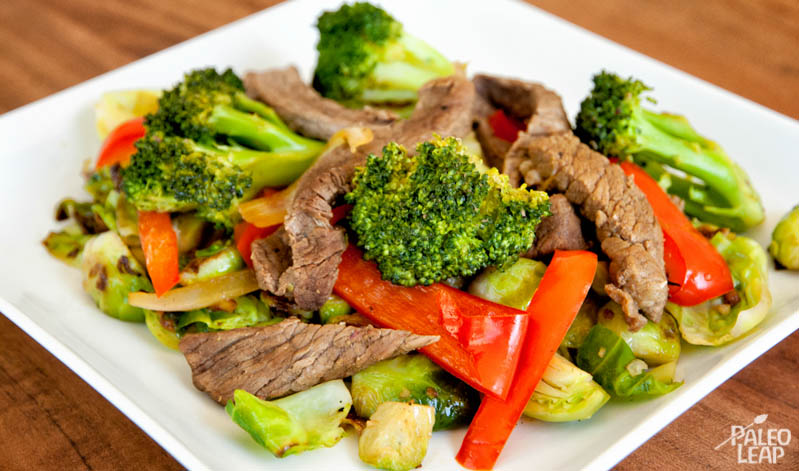 Have you ever ordered "beef and broccoli" from an Asian restaurant and been served a huge plate of rice with a few slices of beef and wilted broccoli florets on top? Here's a recipe that banishes that disappointment with a big plate full of just the good stuff: tender pan-fried steak and broccoli done to crispy perfection in plenty of coconut oil, with brilliant red peppers added for color and crunch, and a dash of coconut aminos to replace the soy sauce.
The whole recipe is served over a bed of vegetables that definitively beats out white rice both for taste and for nutrition. I used Brussels sprouts this time around, but you could easily replace them with bean sprouts or even spaghetti squash, depending on your tastes. Or, for a healthier starch than the pile of white rice, consider adding a baked Japanese sweet potato. Not as brightly colored as the orange American sweet potatoes, the Japanese kind are purple on the outside, and butter-yellow on the inside, with a pleasantly mild taste that goes beautifully with a simple topping of salt and butter.
This stir-fry is simple to throw together, and like all stir-fries, it's an easy way of using up any vegetable odds and ends you might find in the fridge. Toss in water chestnuts, yellow peppers, thin-sliced carrots, or whatever else is handy – stir-fries are a tried-and-true way of clearing out the fridge on the night before a big grocery-store run, or pulling together a nutritious dinner from various vegetable leftovers at the bottom of the crisper drawers.
Beef and Broccoli Stir-Fry Recipe

SERVES: 4

PREP: 30 min.

COOK: 20 min.

Values are per portion. These are for information only & are not meant to be exact calculations.
Ingredients
1 lb. boneless round steak, cut into 2-inch strips;
4 cups broccoli florets;
1 small onion, thinly sliced;
1 red bell pepper, thinly sliced;
1 clove garlic, minced;
1 tsp. ground ginger;
½ cup of water;
½ tbsp coconut aminos;
2 tbsp. coconut oil;
Sea salt and freshly black pepper;
Ingredients for the sautéed Brussel sprouts
1 ½ lb. Brussels sprouts;
2 cloves garlic, minced;
Sea salt and freshly ground black pepper to taste;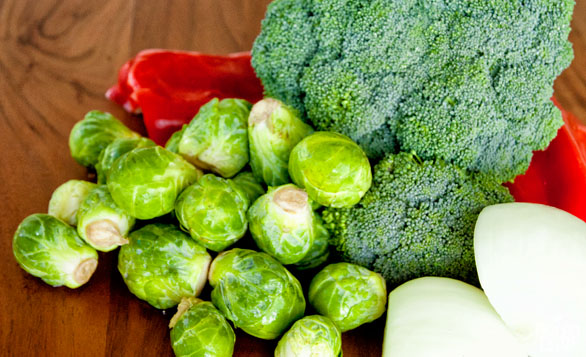 Preparation
Warm the cooking fat for the Brussels sprouts in a cast-iron skillet over a medium heat. Add the minced garlic and cook until golden, about 3 min.
Add the Brussels sprouts to the garlic, season to taste with salt and pepper, and cook until soft (about 15 minutes), tossing them around once in while. Remove the Brussels sprouts and set aside.
Warm the coconut oil in a cast-iron skillet over a medium heat, and stir-fry the beef until well cooked, about 6 minutes. Remove the beef from the skillet.
In the same skillet, cook the onions, broccoli, and red bell peppers until the broccoli is soft, about 5 to 6 minutes.
Return the beef to the skillet.
In a small bowl, combine the water, the coconut aminos, the ground ginger, the minced garlic and season with salt and pepper to taste.
Add this mixture to the pan. Cook everything for 2 to 3 minutes, and then remove from the heat.
Reheat the Brussels sprouts.
Serve the stir-fry on top of the sautéed Brussels sprouts.