If the mouthwatering thought of sweet and savory has been lingering on your mind all day long, yet egg muffins or apple butter chicken just won't do, then perhaps it is time to seek out an unknown recipe that offers a surprisingly pleasant aftertaste.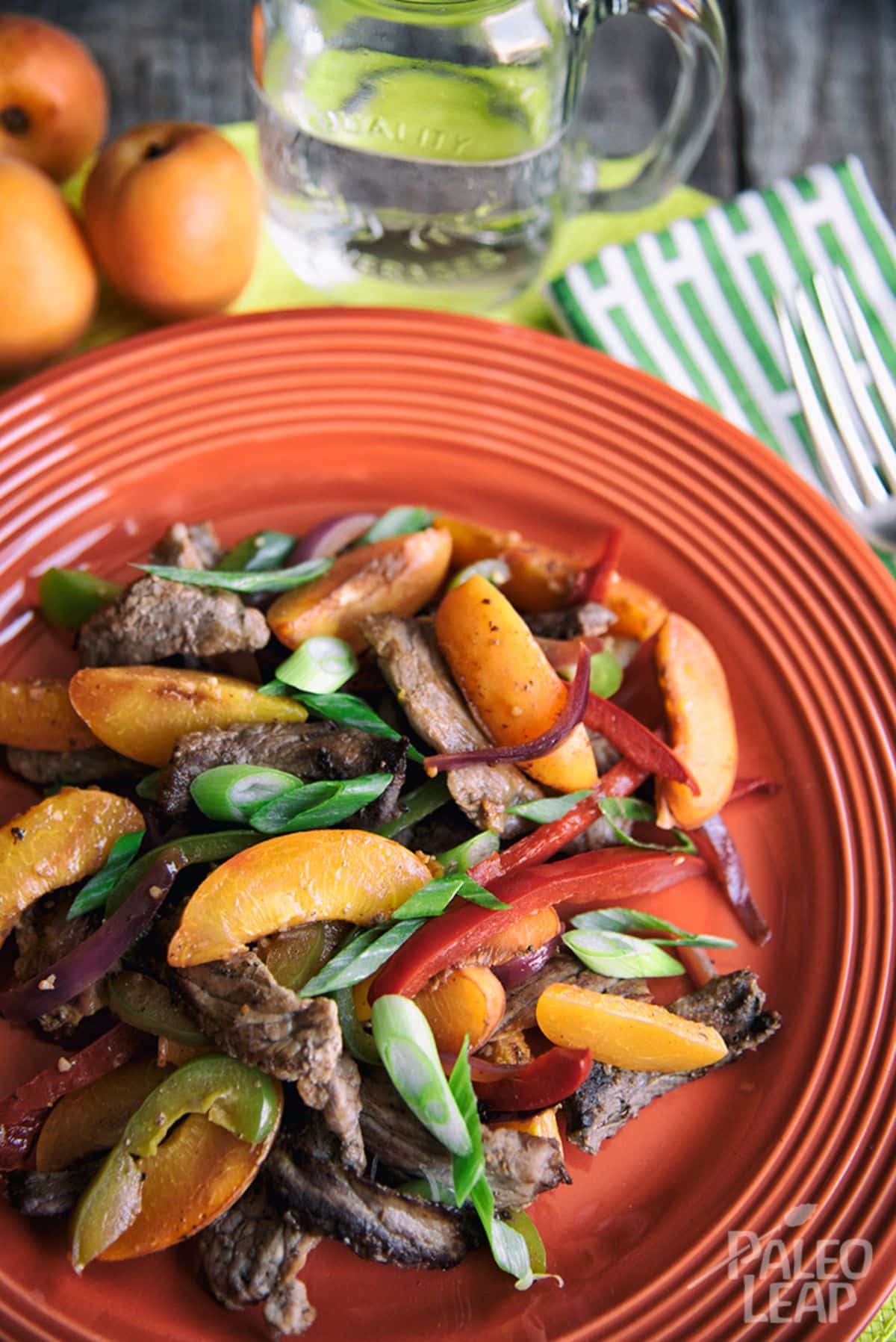 Not a dessert, nor an appetizer, this is a solid main dish that aims to please everyone; plus, it is a great way to get your recommended dose of red meat in your weekly meal plan.
Take a cut of strip or flank steak and slice it into thin strips to get started. Heat up a heavy skillet on medium-high heat, then toss in the meat along with a generous amount of coconut oil. Cook for a few short minutes, then add the finely chopped vegetables.
The apricots come in near the end after the coconut aminos have absorbed and combined all the lovely flavors. A thought on apricots: though they are in season nearly all summer long, you may want to make this recipe in the white of winter.
What to do, then? Well, dried apricots are sensible, provided they have soaked ahead of time. Apricot jam is another mind-altering option. Creativity is key to any sort of kitchen experimentation.
While this beef and apricot stir-fry is low-carb and keto-friendly, you may, or may not, want to serve it that way. If desired, let cauliflower tortillas fill any empty space you may have on the plate.
Beef And Apricot Stir-Fry Recipe
Serves: 4 Prep: 20 min Cook: 20 min
Ingredients
1 lb. strip or flank steak, sliced
4 apricots, pitted and sliced
1 bell pepper, sliced
1 red onion, sliced
2 garlic cloves, minced
1 tbsp. fresh ginger, minced
4 tbsp. coconut oil
¼ cup coconut aminos
1 green onion, sliced
Sea salt and freshly ground black pepper
Preparation
Heat a skillet over medium-high heat until very hot; add half of the coconut oil.
Brown the beef strips for 2 to 3 minutes per side, then set aside.
Lower the heat to medium and add the remaining coconut oil.
Cook the red onion, ginger, and garlic until fragrant, about 2 to 3 minutes.
Add the bell pepper and cook for another 2 to 3 minutes.
Pour in the coconut aminos, and give everything a good stir making sure to scrape the bottom of the pan.
Bring the beef back to the pan, add the apricots and cook for 4 to 5 minutes, stirring until the apricots start to soften.
Season to taste and serve topped with chopped green onions.
📖 Recipe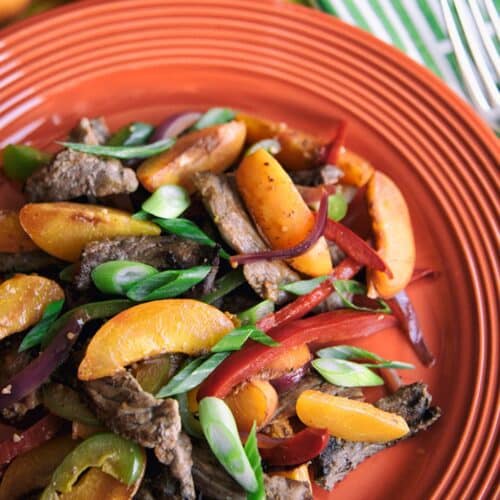 Beef and Apricot Stir-Fry Recipe
The one-pan stir-fry is the ultimate way to get dinner on the table in a flash; this low-carb Paleo beef and apricot stir-fry is no exception.
Instructions
Heat a skillet over medium-high heat until very hot; add half of the coconut oil.

Brown the beef strips for 2 to 3 minutes per side, then set aside.

1 lb. strip or flank steak

Lower the heat to medium and add the remaining coconut oil.

Cook the red onion, ginger, and garlic until fragrant, about 2 to 3 minutes.

1 red onion,

1 tbsp. fresh ginger,

2 garlic cloves

Add the bell pepper and cook for another 2 to 3 minutes.

Pour in the coconut aminos, and give everything a good stir making sure to scrape the bottom of the pan.

Bring the beef back to the pan, add the apricots and cook for 4 to 5 minutes, stirring until the apricots start to soften.

Season to taste and serve topped with chopped green onions.

1 green onion,

Sea salt and freshly ground black pepper
Nutrition
Calories:
416
kcal
Carbohydrates:
13
g
Protein:
24
g
Fat:
31
g
Saturated Fat:
19
g
Polyunsaturated Fat:
1
g
Monounsaturated Fat:
9
g
Cholesterol:
69
mg
Sodium:
402
mg
Potassium:
527
mg
Fiber:
2
g
Sugar:
6
g
Vitamin A:
1653
IU
Vitamin C:
45
mg
Calcium:
27
mg
Iron:
2
mg