Eggs are a classic breakfast for both Paleo and non-Paleo eaters - whether they're scrambled, in an omelette, or served sunny side up - eggs are coveted by many breakfast lovers.
Trade in your usual scrambled eggs for these convenient and cute muffin-sized egg cups. Fill the base with sauteed vegetables, then cover with whipped eggs to hold the egg muffin together.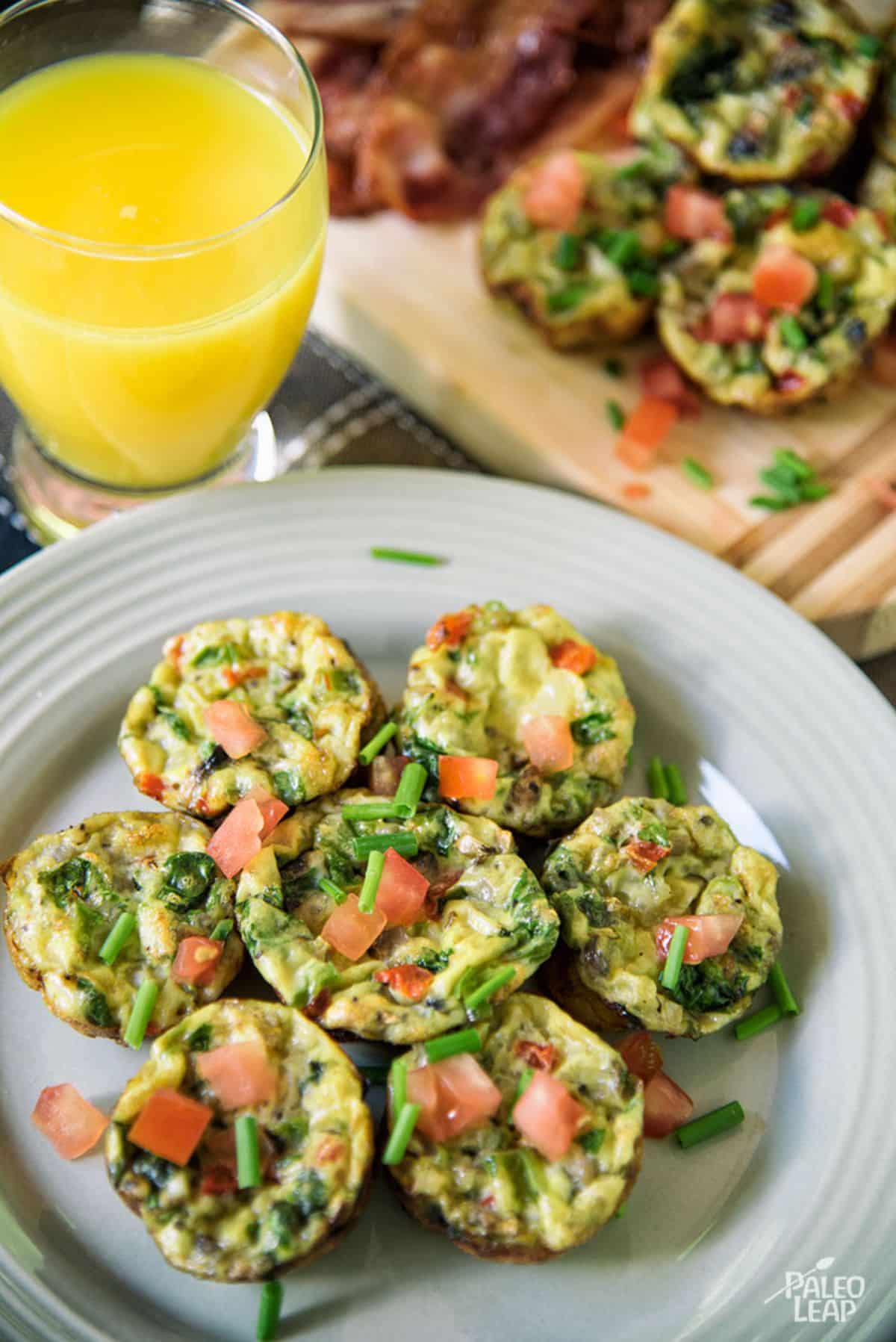 It can be difficult to eat vegetables with breakfast, but this recipe provides a classic omelet vegetable mix. You can vary up the vegetables by using different vegetables, like brussel sprouts or broccoli.
Don't be afraid to use pre-cooked, leftover vegetables from dinner the night before (there's no need to cook them again, just add them to the beaten eggs).
Egg muffins are a perfect breakfast to enjoy on the go – throw a couple into a bag and eat them on the way to work or after a tough workout. Plan ahead and make these over the weekend, so you'll have a healthy breakfast on hand all week.
Egg And Vegetable Muffin Cups Recipe
Serves: 4 Prep: 20 min Cook: 25 min
Ingredients
2 garlic cloves, minced
½ cup yellow onion, minced
½ cup bell pepper, minced
½ cup mushroom, minced
1 cup spinach, chopped
4 whole eggs
4 egg whites
2 tbsp. fresh chives, minced
1 small tomato, diced
Cooking fat
Sea salt and freshly ground black pepper
Tiny muffin pan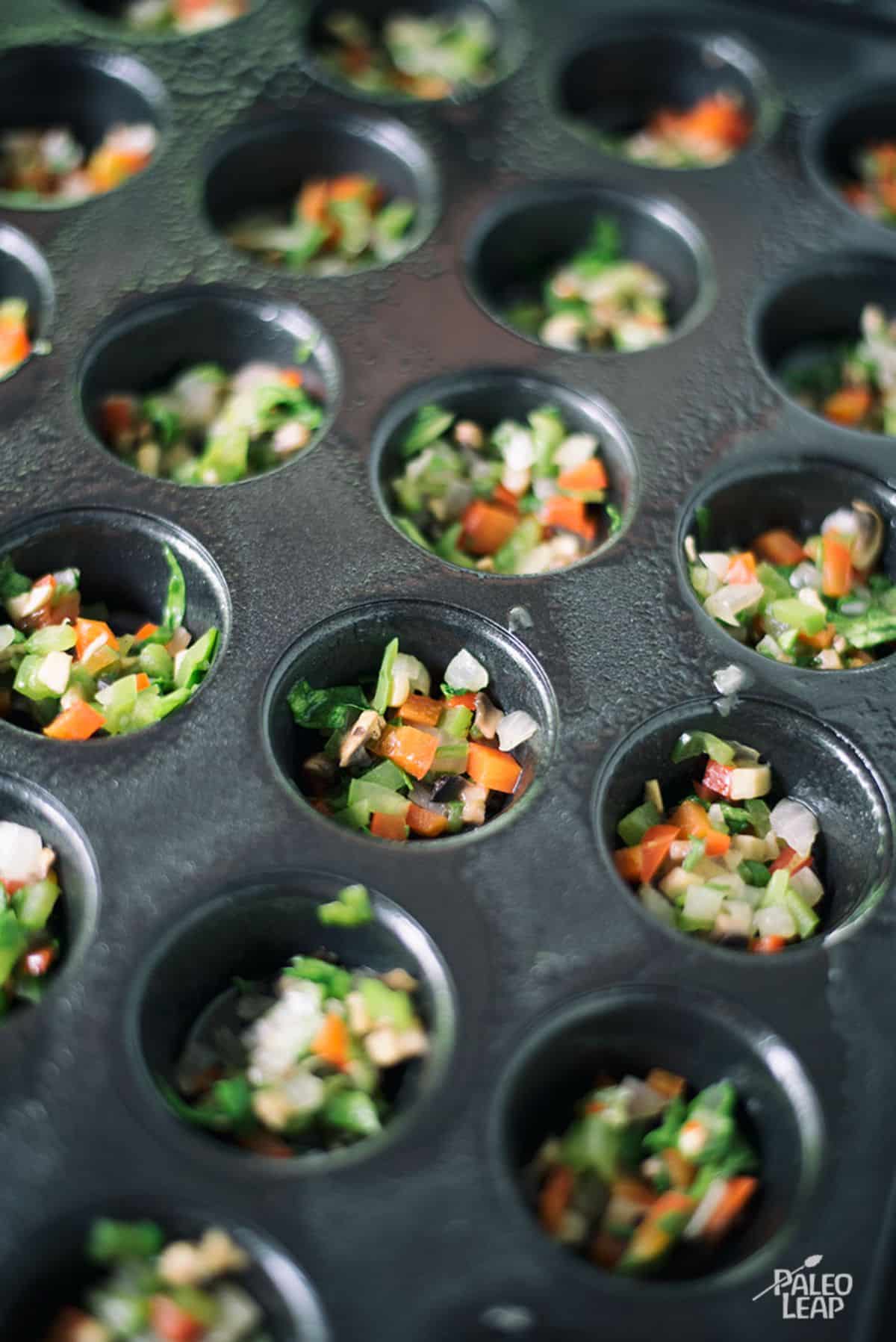 Preparation
Preheat the oven to 350 F.
Melt some cooking fat in a skillet over medium heat, and cook the onion and garlic until fragrant.
Add the bell pepper and mushrooms and cook until soft, 2 to 3 minutes.
Add the spinach, season everything to taste, and cook for another minute and set aside.
In a bowl, whisk the whole eggs and the white eggs, and season with salt and pepper.
Fill each muffin tin with a layer of cooked vegetables, then top with beaten egg mixture.
Place in the oven and bake for 15 to 18 minutes or until the eggs are set.
Serve the egg muffins topped with chives and freshly diced tomatoes.
📖 Recipe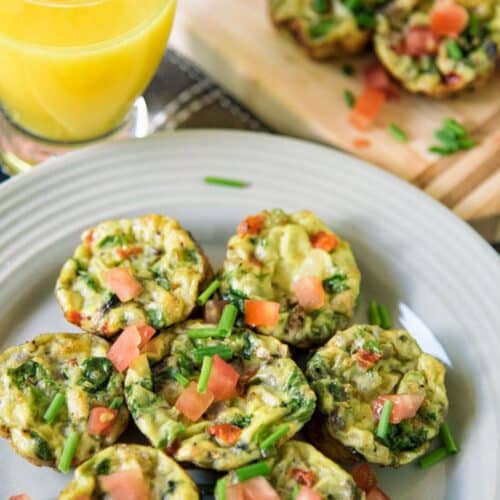 Egg And Vegetable Muffin Cups Recipe
Short on time for breakfast? Bake up these convenient and cute muffin-sized egg cups.
Instructions
Preheat the oven to 350 F.

Melt some cooking fat in a skillet over medium heat, and cook the onion and garlic until fragrant.

½ cup yellow onion,

Cooking fat,

2 garlic cloves

Add the bell pepper and mushrooms and cook until soft, 2 to 3 minutes.

½ cup bell pepper,

½ cup mushroom

Add the spinach, season everything to taste, and cook for another minute and set aside.

1 cup spinach,

Sea salt and freshly ground black pepper

In a bowl, whisk the whole eggs and the white eggs, and season with salt and pepper.

4 whole eggs,

4 egg whites,

Sea salt and freshly ground black pepper

Fill each muffin tin with a layer of cooked vegetables, then top with beaten egg mixture.

Place in the oven and bake for 15 to 18 minutes or until the eggs are set.

Serve the egg muffins topped with chives and freshly diced tomatoes.

2 tbsp. fresh chives,

1 small tomato
Nutrition
Calories:
106
kcal
Carbohydrates:
6
g
Protein:
10
g
Fat:
5
g
Saturated Fat:
1
g
Polyunsaturated Fat:
1
g
Monounsaturated Fat:
2
g
Trans Fat:
0.02
g
Cholesterol:
164
mg
Sodium:
122
mg
Potassium:
359
mg
Fiber:
2
g
Sugar:
3
g
Vitamin A:
2102
IU
Vitamin C:
37
mg
Calcium:
53
mg
Iron:
1
mg