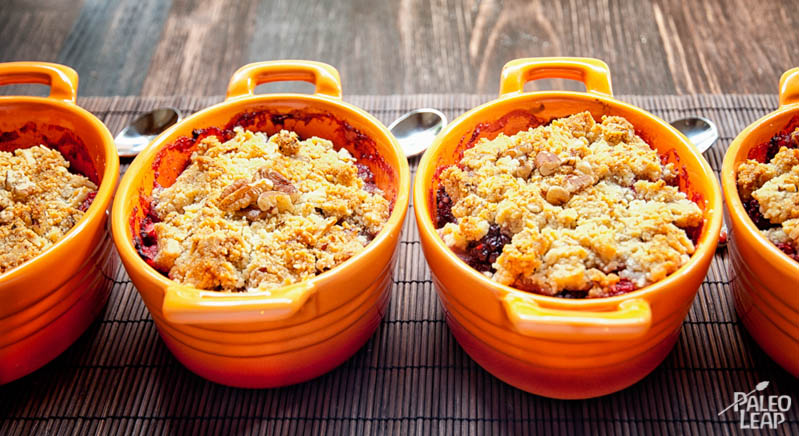 Paleo desserts are always a gray area, and this one is especially designed to imitate a favorite grain-based treat, so be smart about it: if you're still trying to fight off cravings for the real thing, making a replacement out of nuts and fruit is not doing yourself any favors. But if you've mentally and physically settled into a Paleo lifestyle and just want something crunchy and sweet, this is a delicious treat, and it's pretty easy to make because it skips most of the fiddly and time-consuming aspects of making almond flour "dough."
For the mixed nuts, you don't have to use exactly the same mix. In terms of nutrition, macadamia nuts would be a great choice as one ingredient, since they have the best kinds of fat. Almonds, walnuts, and hazelnuts are also classic choices for desserts; pick whatever tastes good to you or goes best with the berries you're using. When you've got your mix ready, I'd suggest roasting them for 5-6 minutes at 350 F before you crush them: this makes them easier to grind, and brings out so much more flavor.
You can cook the crumble in one large pie dish, but because the crust is quite fragile, it's more convenient to bake it in individual dishes. That makes for a more attractive presentation, and from a practical standpoint, it's faster and less messy to serve. Just pop the ramekins out of the oven and onto the table, and dig in!
Berry Crumble Recipe

SERVES: 4

PREP: 15 min.

COOK: 30 min.

Values are per portion. These are for information only & are not meant to be exact calculations.
Ingredients
4 cups mixed fresh berries;
1 cup almond meal;
1 cup of assorted nuts, oven roasted;
½ cup of ghee;
1/2 teaspoon ground cinnamon;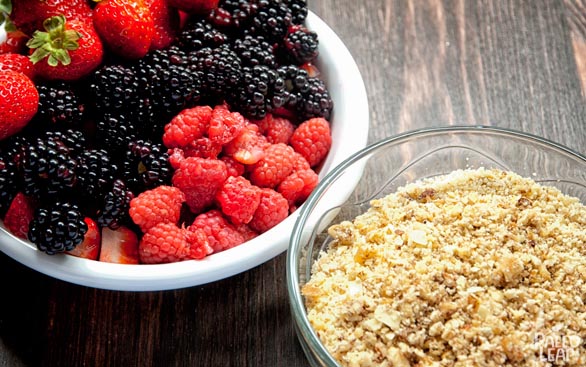 Preparation
Preheat your oven to 350 F.
Using a rolling pin, meat hammer, or mortar and pestle, crush the nuts into small chunks.
In a bowl, combine the almond meal, nut chunks, cinnamon, and ghee, and combine well.
In individual ramekins or in a pie dish, spread half of the nut mixture over the bottom, then top with the mixed berries and finish with another layer of the nuts.
Bake for 30 minutes and serve warm.