The spices in this shrimp dish will remind you of Cajun kitchens and cuisine in New Orleans. The Cajun spices bring heat and warmth to these protein-packed shrimp, and the freshly-squeezed lemon juice cuts through with a bite of bittersweet.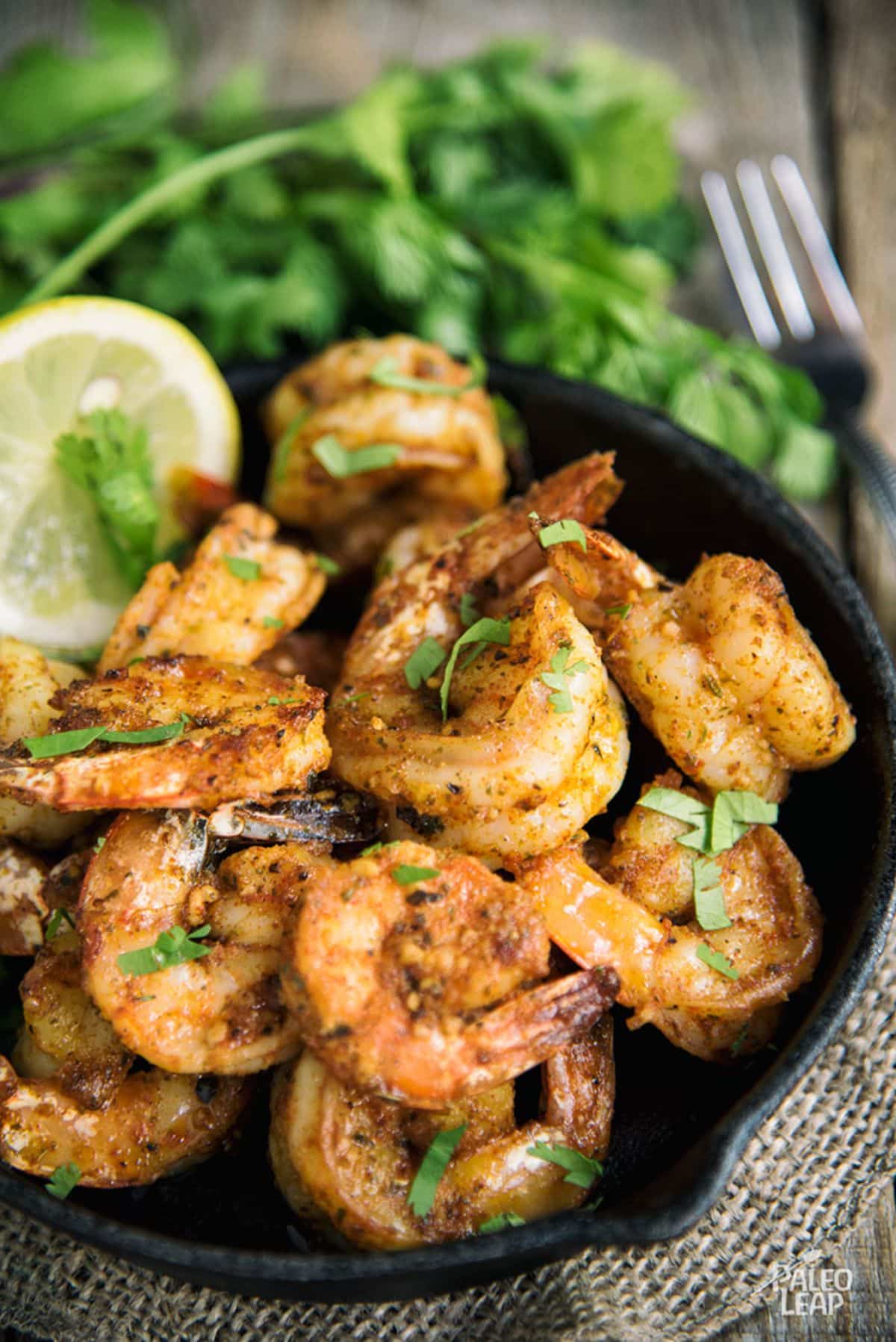 Shrimp are a nutritious protein source and a good source of minerals. Because shrimp are naturally quite low in fat, it's a good idea to add a cooking fat like butter, coconut oil, or olive oil. In sticking with the Cajun theme, you can include sausages, which will also provide more healthy dietary fat.
Serve these shrimp over a bed of cauliflower rice and sprinkle with fresh cilantro and squeezed lemon juice. Adding a side of oven-roasted vegetables or a green salad won't take away from the spicy Cajun smoke of the main meal!
Cajun-Style Shrimp Recipe
Serves: 4 Prep: 15 min Cook: 8 min
Ingredients
1 lb. shrimp, peeled and deveined
2 tbsp. olive oil
2 garlic cloves, minced
2 tbsp. lemon juice
Fresh cilantro
Lemon wedges
Cajun Spice Mix Ingredients
1 tsp. ground cumin
1 tsp. ground coriander
1 tsp. paprika
¼ tsp. dried oregano
Sea salt and freshly ground black pepper
Preparation
Preheat the oven to 400 F.
In a bowl, combine the seasoning ingredients for the cajun spices and season to taste.
In another bowl, combine the olive oil, lemon juice, garlic, and cajun spices.
Add the shrimp to the cajun mixture, and toss until well coated.
Place the shrimp on a baking sheet in a single layer.
Cook in the preheated oven for 6 to 8 minutes or until cooked through.
Serve the shrimp with fresh cilantro and lemon wedges.
📖 Recipe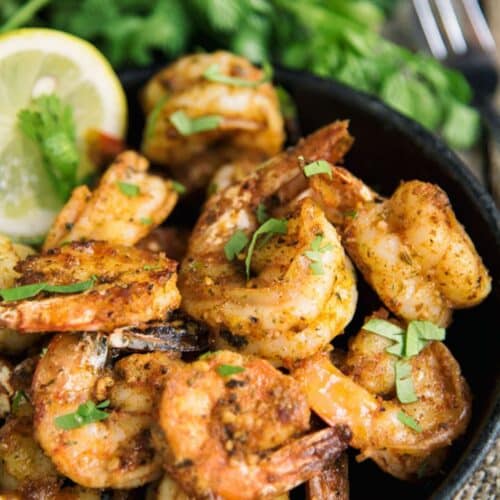 Cajun-Style Shrimp Recipe
Add smoky heat to protein-packed shrimp with this Cajun-style dish!
Instructions
Preheat the oven to 400 F.

In a bowl, combine the seasoning ingredients for the cajun spices and season to taste.

1 tsp. ground cumin,

1 tsp. ground coriander,

¼ tsp. dried oregano,

Sea salt and freshly ground black pepper,

1 tsp. paprika

In another bowl, combine the olive oil, lemon juice, garlic, and cajun spices.

2 tbsp. olive oil,

2 tbsp. lemon juice,

2 garlic cloves

Add the shrimp to the cajun mixture, and toss until well coated.

Place the shrimp on a baking sheet in a single layer.

Cook in the preheated oven for 6 to 8 minutes or until cooked through.

Serve the shrimp with fresh cilantro and lemon wedges.

Fresh cilantro,

Lemon wedges
Nutrition
Calories:
445
kcal
Carbohydrates:
3
g
Protein:
87
g
Fat:
13
g
Saturated Fat:
1
g
Polyunsaturated Fat:
1
g
Monounsaturated Fat:
6
g
Cholesterol:
1293
mg
Sodium:
3996
mg
Potassium:
83
mg
Fiber:
1
g
Sugar:
0.4
g
Vitamin A:
628
IU
Vitamin C:
4
mg
Calcium:
485
mg
Iron:
10
mg