Traditional hummus is a mouth-watering delicious spread made from chickpeas… Not exactly Paleo-friendly. Even if you take the extra step to sprout your chickpeas first, you will want to dip them in moderation.
However, if you are seeking a creamy indulgence without cheating, then try cauliflower hummus as a savory alternative.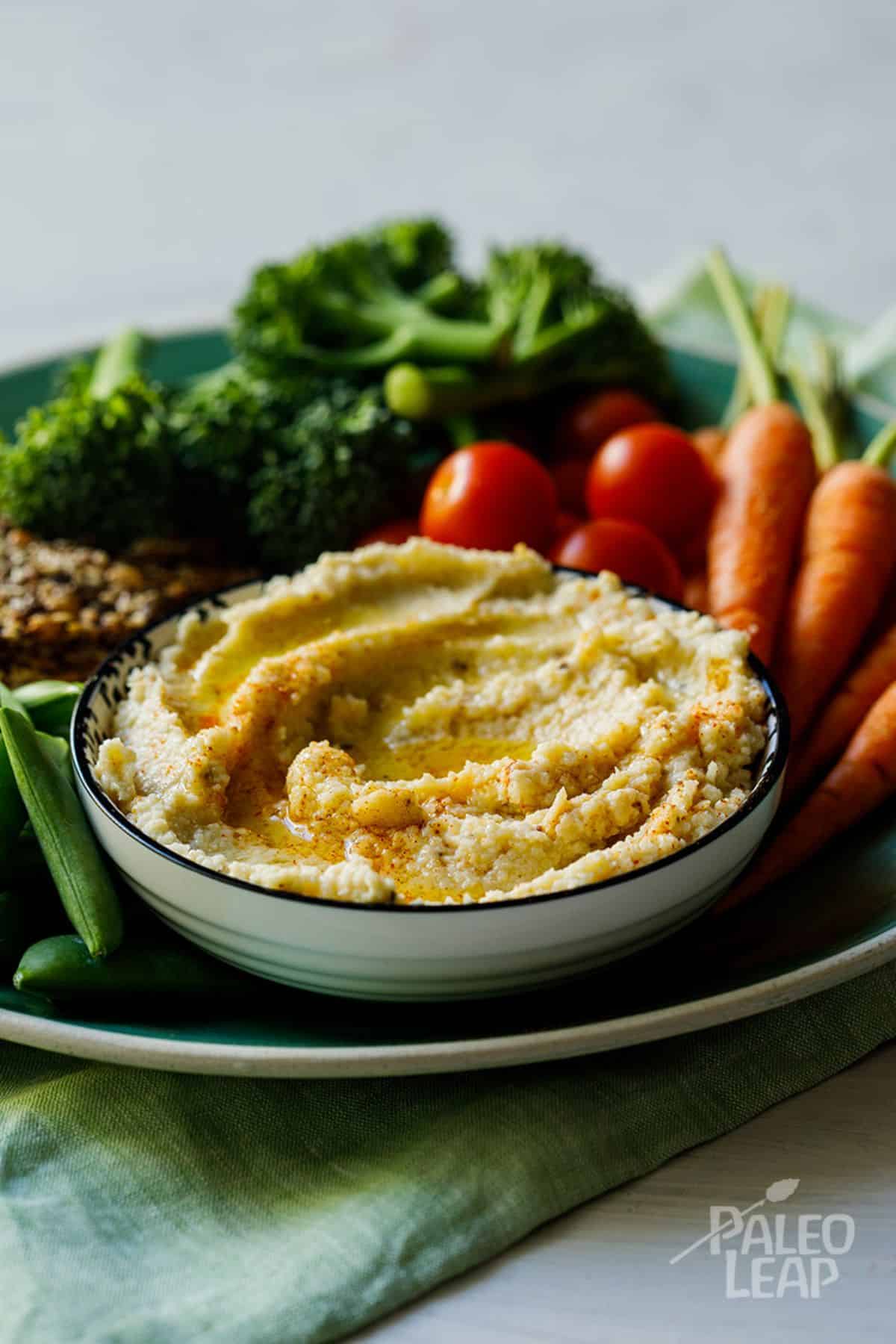 We all know that cauliflower is an amazing and versatile vegetable. It can become a crunchy pizza base, fritters, or a mash, even baked into a cauliflower roll. No matter how you cook it, it is tasty.
Putting the flavor aside, this pale-colored yet noble vegetable is known to be rich in Vitamin K, which has amazing anti-inflammatory properties, and it is high in essential vitamins. What more can you ask for when you are searching for that perfect healthy snack?
Take a bowl of cauliflower hummus to a picnic alongside a sweeter Carrot and Pineapple Slaw, or keep it selfishly to yourself, as there are no rules about sharing. And there are absolutely no excuses not to try this recipe. It's satisfying, it's healthy, and it ticks all the boxes.
So, the next time you are invited to a party and expected to bring along an appetizer, consider packing some Bacon-Wrapped Brussels Sprouts and some Spicy Cajun Chicken Wings for a little dose of protein. You can dip those wings in hummus too!
Cauliflower Hummus With Crudités Recipe
Serves: 4 Prep: 10 min Cook: 45 min
Ingredients
1 large head of cauliflower, broken down into florets
2 tsp. olive oil
1 tsp. salt
1 tbsp. tahini paste
3 garlic cloves
2-3 tbsp. lemon juice, to taste
3 tbsp. olive oil
Salt & pepper to taste
Choice of vegetables for dipping (carrots, grape tomatoes, broccoli florets, celery, etc)
Homemade or store-bought Paleo crackers (optional)
Preparation
Preheat the oven to 350 F.
Place the cauliflower florets in an oven-proof dish. Drizzle 2 tsp. olive oil over the florets, sprinkle 1 teaspoon of salt and toss to combine.
Place in the oven and allow to roast for 45 minutes or until the cauliflower is cooked through.
Remove from the oven and allow to cool.
Place the cauliflower, tahini, garlic, lemon juice, and 3 tbsp. olive oil and seasoning in the bowl of a food processor and blend. If needed, add a little water to achieve a creamy consistency.
Check to season and adjust the flavor.
Serve with crudités of your choice and Paleo crackers.
📖 Recipe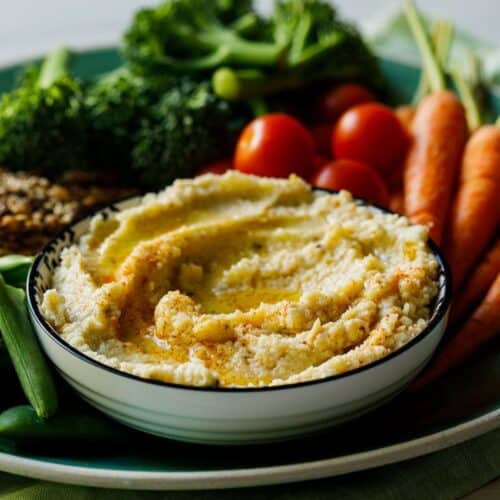 Cauliflower Hummus With Crudités Recipe
When you go Paleo and have to skip the appetizing dips, know that you are no longer missing out. Cauliflower hummus is here.
Ingredients
1

large head of cauliflower

broken down into florets

2

tsp.

olive oil

1

tsp.

salt

1

tbsp.

tahini paste

2-3

tbsp.

lemon juice

to taste

3

tbsp.

olive oil

Choice of vegetables for dipping

carrots, grape tomatoes, broccoli florets, celery, etc

Homemade or store-bought Paleo crackers

optional
Instructions
Preheat the oven to 350 F.

Place the cauliflower florets in an oven-proof dish. Drizzle 2 tsp. olive oil over the florets, sprinkle 1 teaspoon of salt and toss to combine.

1 large head of cauliflower,

2 tsp. olive oil,

1 tsp. salt

Place in the oven and allow to roast for 45 minutes or until the cauliflower is cooked through.

Remove from the oven and allow to cool.

Place the cauliflower, tahini, garlic, lemon juice, and 3 tbsp. olive oil and seasoning in the bowl of a food processor and blend. If needed, add a little water to achieve a creamy consistency.

1 tbsp. tahini paste,

3 garlic cloves,

2-3 tbsp. lemon juice,

3 tbsp. olive oil,

Salt & pepper to taste,

Choice of vegetables for dipping

Check to season and adjust the flavor.

Serve with crudités of your choice and Paleo crackers.

Homemade or store-bought Paleo crackers
Video
Nutrition
Calories:
183
kcal
Carbohydrates:
9
g
Protein:
4
g
Fat:
16
g
Saturated Fat:
2
g
Polyunsaturated Fat:
2
g
Monounsaturated Fat:
11
g
Sodium:
523
mg
Potassium:
464
mg
Fiber:
3
g
Sugar:
3
g
Vitamin A:
3
IU
Vitamin C:
73
mg
Calcium:
42
mg
Iron:
1
mg