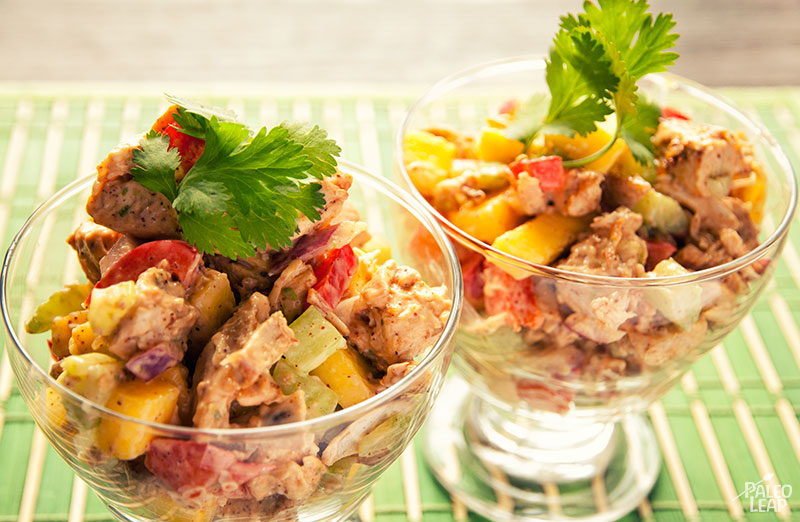 Sometimes, classic recipes are the most fun to modify: you get the familiarity of a favorite lunch, with just one or two little pleasant surprises to help you appreciate the dish even more. It's a way to rediscover what you've always loved about a traditional recipe, and maybe even to get some modification ideas of your own.
That's what this recipe does for chicken salad. It keeps everything that makes chicken salad so delicious – the triple whammy of creamy, crunchy, and sweet – but in a fruity, tropical variation using mango instead of the more traditional grapes or apples. Instead of relying on the fruit to add that crunch, here you'll toss in some sweet bell peppers and celery, with slivers of red onions to balance the sweetness. The lime juice brightens it all up, and just a dash of chili powder tops everything off with a hint of spice.
The salad is easy to cook starting with raw chicken breasts, but if you already have some pre-cooked, you can just sprinkle on a bit of the chili powder and go, no need to turn on the oven at all. Since it's designed to be enjoyed cold, this would be a great lunchbox option, or as the days get longer and the sun starts to peek out again, it would make a perfect treat to save for your first picnic of the year!
Mango Chicken Salad Recipe

SERVES: 4

PREP: 15 min.

COOK: 8 min.
Values are per portion. These are for information only & are not meant to be exact calculations.
Add to Meal Plan
Ingredients
½ lb. chicken breast;
¼ cup bell pepper, chopped;
¼ cup red onions, minced;
1 tsp. chili powder
1 mango, diced;
1 cup celery, chopped;
1/3 cup homemade mayonnaise;
Juice of ½ lime;
1 tbs. minced garlic;
Fresh cilantro; (optional)
Sea salt and freshly ground black pepper to taste;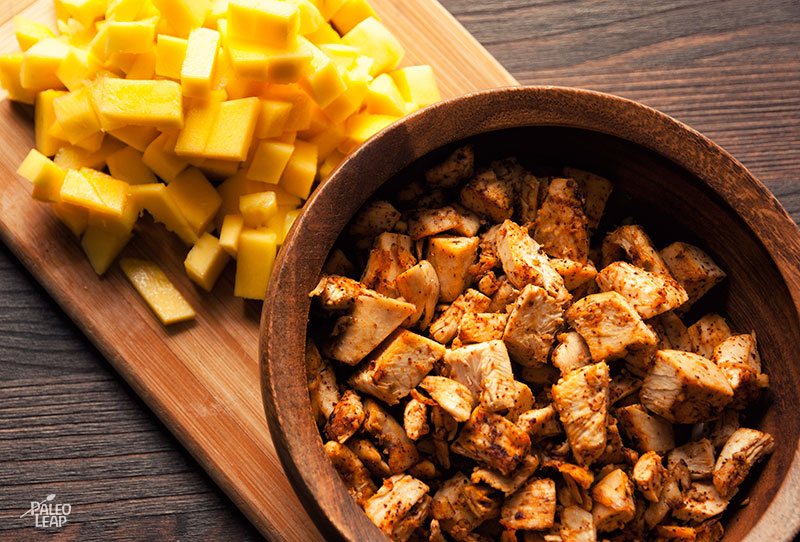 Preparation
Melt some cooking fat in a skillet placed over a medium-high heat.
Season the chicken with chilli powder, sea salt, and black pepper.
Cook the chicken breast in the warm skillet until it's browned and cooked through (about 5 minutes per side). Take it out of the pan and let it cool down; then cut into cubes.
In a large bowl, combine all the remaining ingredients and mix well.
Season to taste and refrigerate for 1 or 2 hours before serving.
Garnish with fresh cilantro to serve.