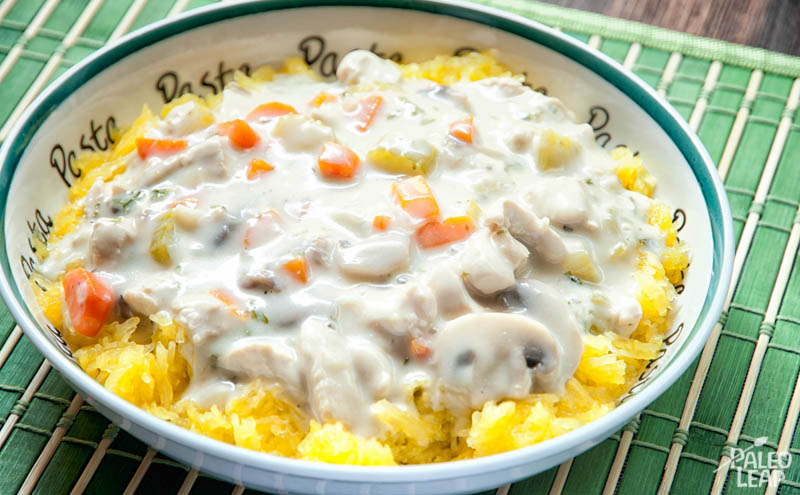 Spaghetti Alfredo on the brain? Beat that craving at its own game with this rich, decadent comfort food. The coconut milk sauce is thick and creamy – and if it isn't quite thick enough for your taste, you can just add a little tapioca starch for texture. The mushrooms are a double bonus here. First off, they add an incredible flavor thanks to their high levels of glutamate: this is the all-natural version of the same chemical that makes MSG so addictive. Unlike MSG though, mushrooms aren't even debatably bad for you, so you get all the flavor without any health worries.
The second great part about using mushrooms here is their Vitamin D content: as winter approaches, getting enough sunshine gets harder and harder, so food sources of Vitamin D become even more important. Among many other functions, Vitamin D is important for mood and mental health, so a creamy mushroom sauce is one "comfort food" that might actually be science-approved.
Like all good comfort food recipes, this one is also pretty simple to cook; in fact, if you don't have anyone to impress, you can even skip a step and pour the chicken sauce right into the roasted squash halves without scooping out the flesh into bowls. It's quick enough to throw together whenever you want some, but delicious enough that you might find yourself reaching for it even with no pasta craving in sight.
In this very fitting month of October, don't forget to read all about Winter squash in our recent article on the subject.
Creamy Chicken And Delicata Squash Recipe

SERVES: 4

PREP: 15 min.

COOK: 45 min.
Values are per portion. These are for information only & are not meant to be exact calculations.
Ingredients
2 delicata squash, halved and seeded;
4 boneless skinless chicken breasts, cut into cubes;
6 oz button mushrooms, sliced;
1 medium onion, finely diced;
1 large carrot, finely diced;
2 celery stalks, finely diced;
2 tbsp. Paleo cooking fat, melted;
2 garlic cloves, minced;
1 can full-fat coconut milk;
¼ cup fresh parsley, chopped;
1 tbsp. tapioca starch;
Sea salt and freshly ground black pepper to taste;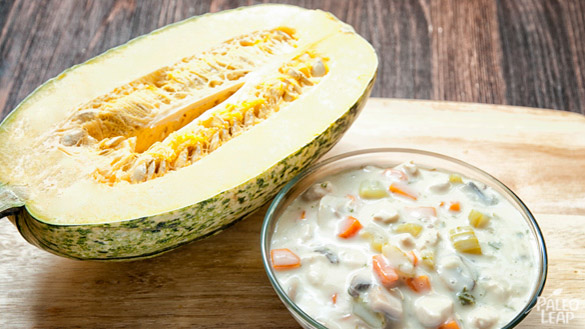 Preparation
Preheat your oven to 400 F.
Brush the squash with olive oil and season to taste with salt and pepper.
Place the squash face down on a baking sheet and roast until soft, about 30 minutes.
In a large saucepan placed over a medium heat, sauté the onion, garlic, carrot, and celery in 1 tbsp. of the cooking fat until softened.
Add the chicken and cook until done (about 8 minutes).
Add mushroom and cook for another minute or two.
Add the coconut milk, the parsley and salt and pepper to taste. Give everything a good stir; at this point, if the sauce is not thick enough for your taste you can add some tapioca starch.
Once the squash is ready, let it cool a few minutes, until it's just cool enough to handle. Then use a fork to scrape out the flesh and set it aside.
Add a generous amount of squash flesh in each bowl. Top with a good portion of the creamy chicken sauce and serve.