Simple salads take little effort, yet they allow for lots of beaming nutrition to shine through, especially when you keep the vegetables raw and organic.
Everyone loves cucumbers, for example, yet when you combine them with red radishes and some Paleo mayonnaise, the results are "Can you pass the salad, please?" And that is a good thing to hear when kids of any age are sitting around the table!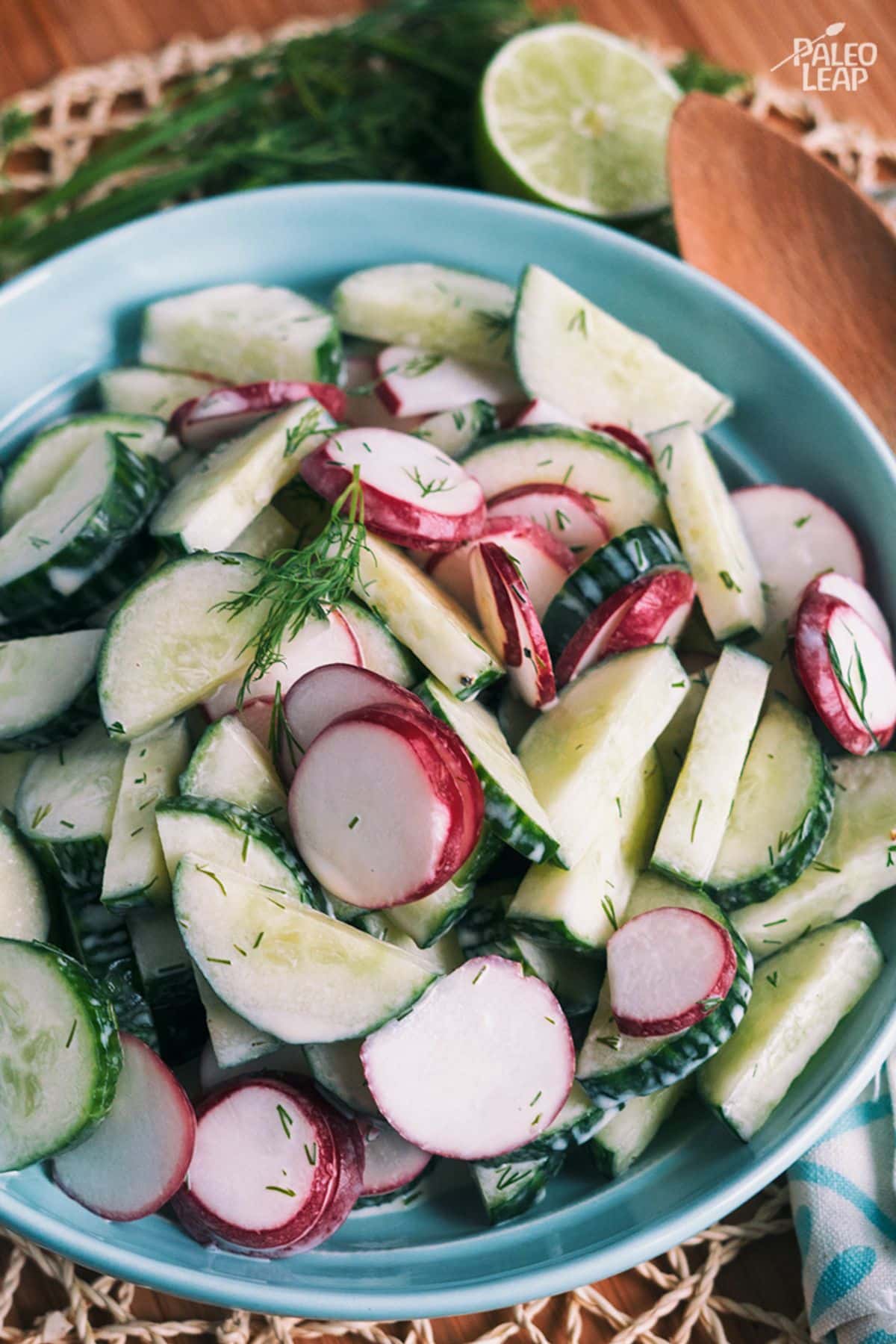 We strongly believe that salads are not just for summer; they should be consumed year-round. It's easy to keep that in mind when you discover just how diverse they can be - from shrimp to tuna salad, to celery with olives, and all the way back to fresh peach and bacon salad, there is something for everyone to love.
Salads are a great way to eat your vegetables, and we don't mean to eat only greens. It is the vast array of colors that gives them an exciting visual appeal, and they are always quick at hand, oftentimes with no cooking required. Get chopping, find a nice serving bowl, and make sure there is always something nutritious to decorate the table.
You can serve this cooling salad alongside a spicy buffalo chicken meatloaf, just as well next to a skewer or two of grilled Asian-balsamic steaks. It is versatile, easy on the budget, and ready in 20 minutes or less. Time to work on your chopping skills!
Cucumber And Radish Salad Recipe
Serves: 4 Prep: 20 min
Ingredients
1 cucumber, sliced
10 radishes, sliced
2 tbsp. fresh dill, minced
1 garlic clove, minced
¼ cup homemade mayonnaise
Juice from half a lemon
2 tbsp. apple cider vinegar
¼ cup olive oil
Sea salt and freshly ground black pepper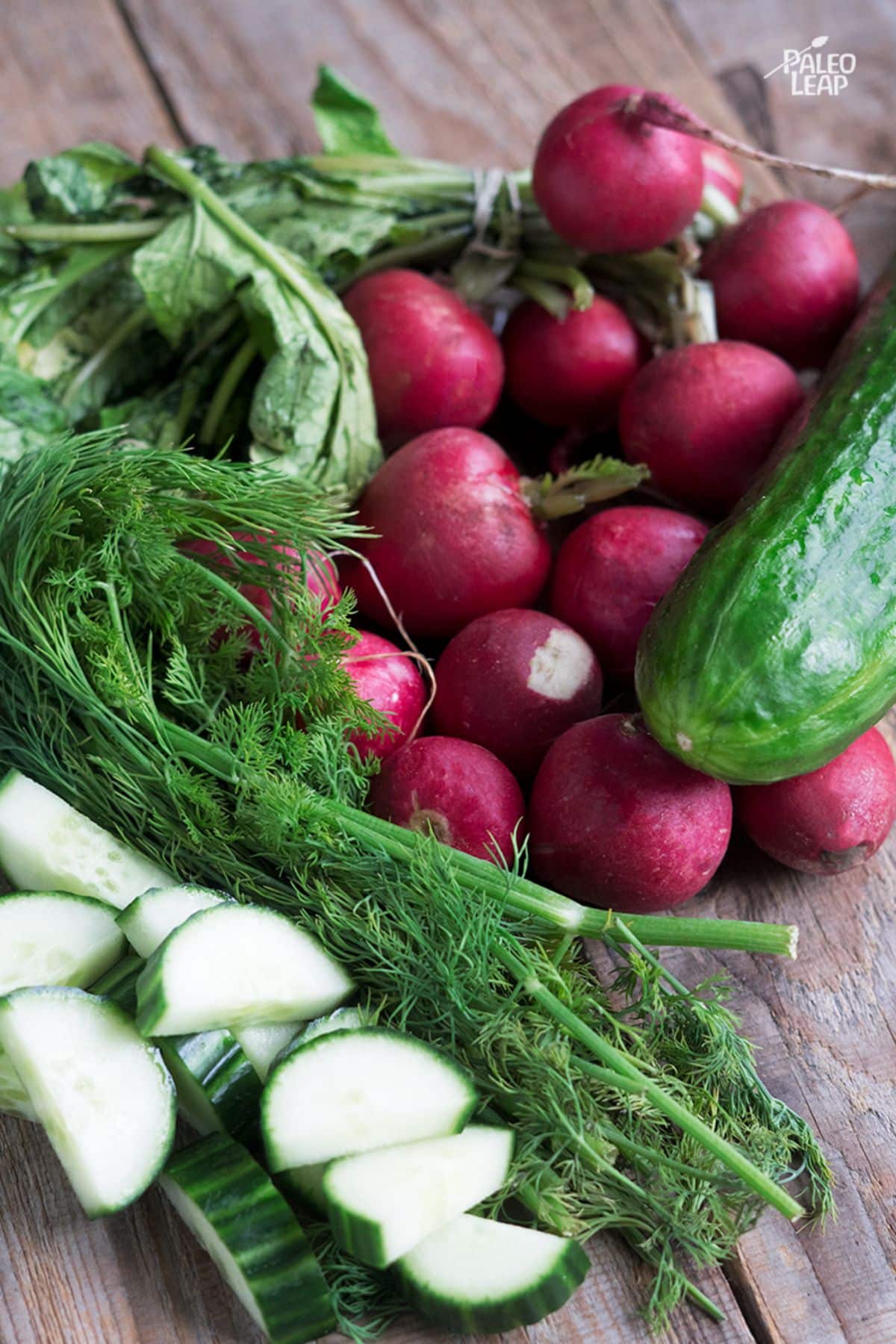 Preparation
In a small bowl, combine the mayonnaise, olive oil, vinegar, lemon juice, garlic, dill, and season to taste.
Place the cucumber and radishes in a salad bowl.
Drizzle the sauce over the vegetables and give everything a gentle toss.
Adjust seasoning and refrigerate before serving.
📖 Recipe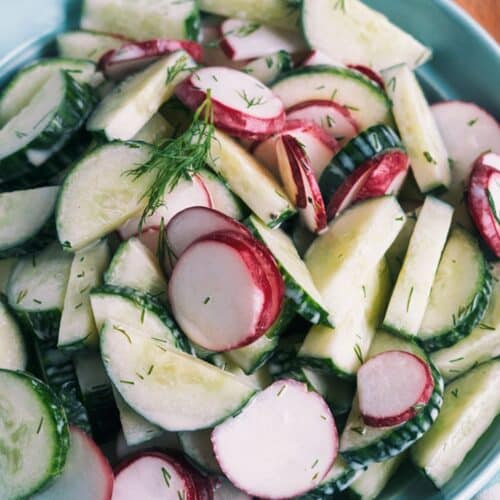 Cucumber And Radish Salad Recipe
Salads do not have to be sophisticated to be enjoyed; often, the simplest ones know how to best hit the spot, as does this cucumber and radish salad with Paleo mayonnaise.
Instructions
In a small bowl, combine the mayonnaise, olive oil, vinegar, lemon juice, garlic, dill, and season to taste.

2 tbsp. fresh dill,

1 garlic clove,

¼ cup homemade mayonnaise,

Juice from half a lemon,

2 tbsp. apple cider vinegar,

¼ cup olive oil,

Sea salt and freshly ground black pepper

Place the cucumber and radishes in a salad bowl.

Drizzle the sauce over the vegetables and give everything a gentle toss.

Adjust seasoning and refrigerate before serving.

Sea salt and freshly ground black pepper
Nutrition
Calories:
231
kcal
Carbohydrates:
3
g
Protein:
1
g
Fat:
24
g
Saturated Fat:
4
g
Polyunsaturated Fat:
8
g
Monounsaturated Fat:
12
g
Trans Fat:
0.03
g
Cholesterol:
6
mg
Sodium:
100
mg
Potassium:
191
mg
Fiber:
1
g
Sugar:
1
g
Vitamin A:
634
IU
Vitamin C:
10
mg
Calcium:
32
mg
Iron:
1
mg