Arugula, also called the rocket, is a sadly underappreciated green leafy vegetable that's much more nutritious than the standard lettuce and delivers a flavor totally different from spinach.
Arugula has a sharper, spicier taste, and the contrast with the richness of ham and eggs brings out the sophisticated side of this recipe. The arugula is delicious on its own, but you can also add a simple vinaigrette if you like (the recipe is included below).
As well as the optional vinaigrette, this recipe uses the homemade hollandaise sauce included in the Paleo recipe book for extra flavor. This dressing is also optional if you don't have time to make it – the arugula salad with the ham and eggs is just as good without it.
The ham in this recipe might raise a few eyebrows – isn't ham usually cured with sugar?
It is, but it's possible to get high-quality ham that isn't full of added sugars and unsavory additives; just make sure to read the labels carefully or ask the butcher what's in the product. Don't let the fear of cheap lunch meats prevent you from enjoying a tasty breakfast.
Note that to bake the ham and egg cups, you'll need a muffin pan (finally, a chance for your old baking equipment to be useful again!).
If you don't have one, you can also make DIY molds out of aluminum foil; the sides won't be as smooth, but the taste is the same.
Eggs Benedict and Ham Recipe
Serves: 4 Prep: 15 min Cook: 18 min
Ingredients
8 thin slices of ham;
8 large eggs;
4 cups of fresh arugula;
1 red bell pepper, thinly sliced;
1 cup of hollandaise sauce; (optional)
Sea salt and freshly ground black pepper to taste;
Ingredients for the simple vinaigrette (optional)
¼ cup extra-virgin olive oil;
1 tbsp. white wine vinegar;
1 tsp. lemon juice;
Sea salt and freshly ground black pepper;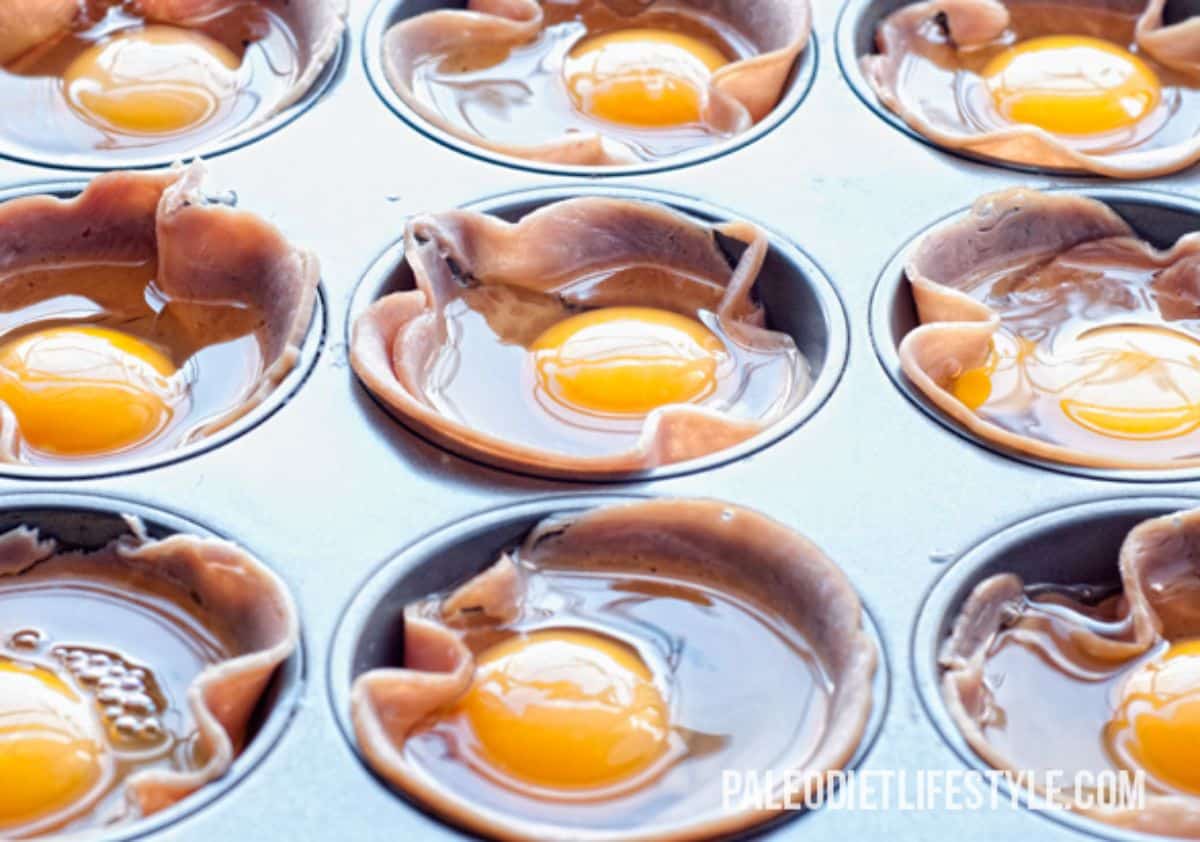 Preparation
Preheat your oven to 350 F.
Make one cut into each slice of ham from the center to the side.
Use each slice of ham to line a muffin cup like a cupcake wrapper, curling it in a circle around the edge of the cup (see photo above).
Break an egg into each cup.
Season to taste with sea salt and black pepper.
Place the egg and ham cups in the oven, and cook for 15 minutes.
While the eggs are cooking, on medium-high heat, cook the red pepper until soft and crunchy using some Paleo cooking fat, about 2-3 minutes.
In a small bowl, combine all the ingredients for the vinaigrette. Whisk well, and season with sea salt and black pepper to taste.
Mix the vinaigrette into the arugula and add the cooked red bell pepper.
Once the eggs are cooked, divide the salad equally among the plates (about 1 cup per serving), then place two egg and ham cups on top of each plate.
Add some hollandaise sauce to top the egg and ham cups and serve.
📖 Recipe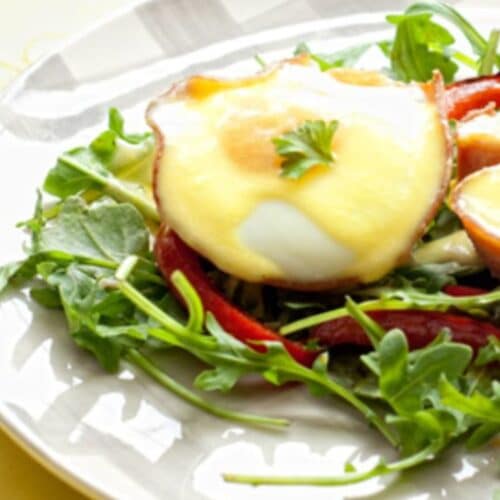 Eggs Benedict and Ham Recipe
The Paleo way to enjoy delicious eggs Benedict. Served on a bed of fresh arugula, this dish is also highly nutritious.
Ingredients
8

thin slices of ham

4

cups

of fresh arugula

1

red bell pepper

thinly sliced

1

cup

of hollandaise sauce

optional

Sea salt and freshly ground black pepper to taste
Ingredients for the simple vinaigrette
Instructions
Preheat your oven to 350 F.

Make one cut into each slice of ham from the center to the side.

Use each slice of ham to line a muffin cup like a cupcake wrapper, curling it in a circle around the edge of the cup (see photo above).

Break an egg into each cup.

Season to taste with sea salt and black pepper.

Sea salt and freshly ground black pepper to taste

Place the egg and ham cups in the oven, and cook for 15 minutes.

While the eggs are cooking, on medium-high heat, cook the red pepper until soft and crunchy using some Paleo cooking fat, about 2-3 minutes.

In a small bowl, combine all the ingredients for the vinaigrette. Whisk well, and season with sea salt and black pepper to taste.

¼ cup extra-virgin olive oil,

1 tbsp. white wine vinegar,

1 tsp. lemon juice,

Sea salt and freshly ground black pepper

Mix the vinaigrette into the arugula and add the cooked red bell pepper.

4 cups of fresh arugula,

1 red bell pepper

Once the eggs are cooked, divide the salad equally among the plates (about 1 cup per serving), then place two egg and ham cups on top of each plate.

Add some hollandaise sauce to top the egg and ham cups and serve.

1 cup of hollandaise sauce
Nutrition
Calories:
617
kcal
Carbohydrates:
8
g
Protein:
26
g
Fat:
54
g
Saturated Fat:
13
g
Polyunsaturated Fat:
4
g
Monounsaturated Fat:
18
g
Trans Fat:
0.03
g
Cholesterol:
371
mg
Sodium:
1240
mg
Potassium:
421
mg
Fiber:
1
g
Sugar:
2
g
Vitamin A:
1881
IU
Vitamin C:
42
mg
Calcium:
88
mg
Iron:
3
mg