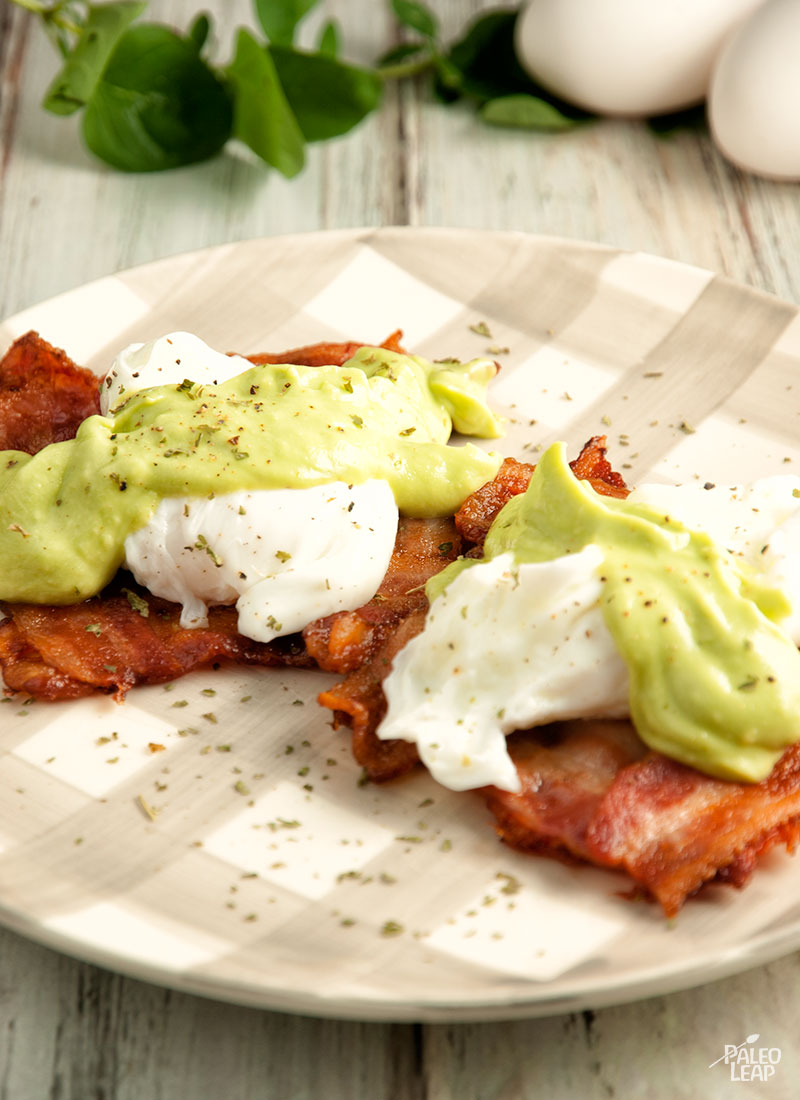 Here's a new way to serve your Paleo eggs Benedict: use a "mat" of bacon for the base in place of a muffin, and top the egg off with a generous spoonful of creamy avocado sauce. It's rich enough that you probably wouldn't want it every day, but it's delicious as a treat for Sunday brunch, and certainly an impressive meal to feed a special guest.
A main course this rich needs something a little lighter to go with it: melon slices or fresh fruit salad would be good. Baby greens or fresh asparagus would also be good in season, and of course potatoes are a classic side for eggs Benedict if you're in the mood for something hearty.
To make the bacon bases for the eggs, just weave together a few strips of bacon into a little mat, large enough to hold an egg but not so big it's hard to pick up with a spatula (the picture below should give you a good idea of what you're aiming for). Then poach your eggs and whip up the avocado sauce while the bacon is cooking, and brunch is served!
Eggs Benedict With Avocado Sauce

SERVES: 4

PREP: 15 min.

COOK: 25 min.

Values are per portion. These are for information only & are not meant to be exact calculations.
Ingredients
5 strips of bacon, cut in half;
4 eggs;
Sea salt and freshly ground black pepper;
Ingredients for the avocado sauce
1 medium avocado, peeled;
1/4 cup lemon juice;
1/2 tsp. garlic powder;
1/3 cup olive oil or water;
Sea salt;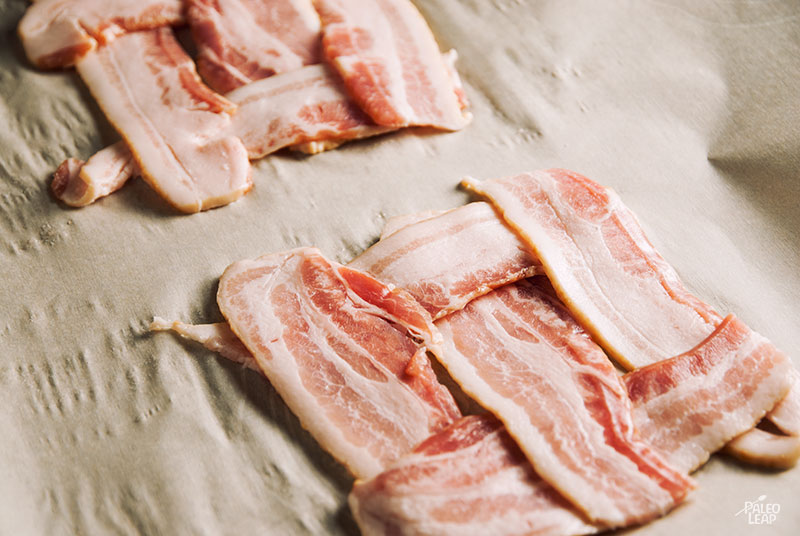 Preparation
Preheat your oven to 400 F.
On a baking sheet, arrange the bacon into four separate bases for the eggs: each base should be a few pieces of bacon arranged in a weave pattern (see the picture).  Cook the bacon bases in the oven for 15 to 20 minutes.
Puree the avocado, lemon juice and garlic powder in a food processor until smooth. Add the olive oil or water until you get a thick but pourable consistency. Season to taste with sea salt.
Bring a pot of water to a boil, drop an egg in, and let it cook until the whites are set (2 to 4 minutes). Remove and repeat for the remaining eggs.
Divide the bacon among the plates, top with the poached eggs and pour avocado sauce on top of each egg.