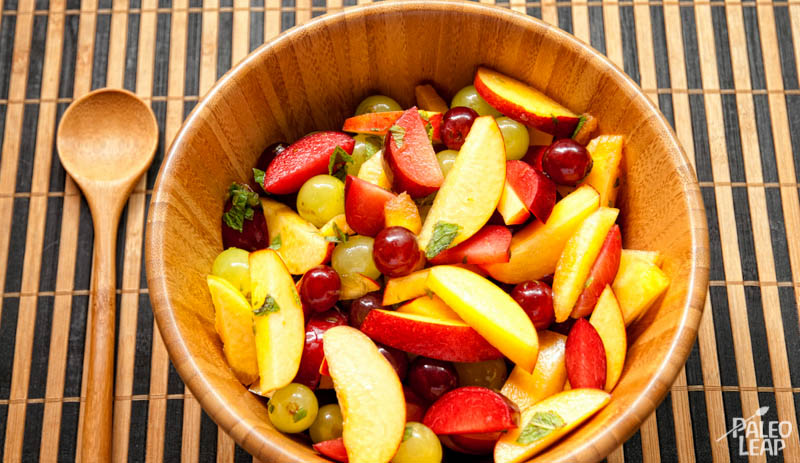 Cold fruit salad is a delicious afternoon treat after a hot day in the summer, but just throwing together some pineapple, orange slices, and watermelon in a bowl gets repetitive pretty fast. You can always vary the kinds of fruit you use, or even go for vegetables (cucumber and avocado, anyone?) but another great way to add a little jazz to your fruit mixture is to put a "dressing" on it just like a regular salad.
The canned-fruit tactic of smothering everything in cloyingly sweet syrup is obviously out, and not all kinds of fruit salad go well with a vinaigrette-style dressing, but here's a recipe with a fresh alternative: a light mint and lime topping that adds an elegant touch to the dish and tempers the sweetness of the fruit. Topped with a sprig or two of mint, it's the perfect addition to a summertime picnic basket.
Like almost all salads, this one is fairly versatile; you can vary the fruit depending on what you have on hand. Do try to get a variety of different colors, though; it makes the presentation a lot more visually appealing. Also be careful when you're picking your fruit: peaches and plums should have a little bit of "give" when you gently squeeze them. If they're hard as rocks, they're not ripe yet, and if they're bruised or mushy, they're overripe.
Fruit Salad With Mint and Lime
Values are per portion. These are for information only & are not meant to be exact calculations.
Ingredients
1 cup seedless red grapes;
1 cup seedless green grapes;
3 plums, cut into wedges;
2 peaches, peeled and cut into wedges;
2 nectarines, cut into wedges;
1 cup of water;
6 mint sprigs;
2 tbsp. lime juice
2 tbsp. fresh mint, minced;
1 tsp. lime zest;
8 strips of lime peel, about 2 inches each;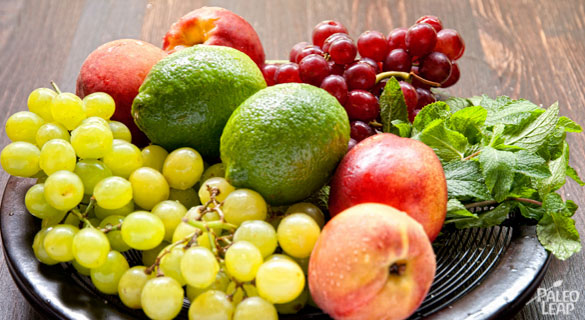 Preparation
In a small saucepan over a medium high heat, combine the water, the lime peel strips and the mint sprigs. Bring to a boil and cook until half the liquid has evaporated.
Remove the lime strips and mint sprigs and let the mixture cool down.
Add the minced mint, the lime zest, and the lime juice.
In a large bowl, combine the red grapes, the green grapes, the plums, the peaches and the nectarines.
Pour the lime and mint sauce over the fruits, and toss gently until all the fruit is coated.