Looking for a hearty and delicious meal that will satisfy your hunger and keep you on track with your paleo or keto diet? Look no further than German Pork Hocks. This dish is packed with flavor and easy to make, thanks to the simple ingredients and cooking method.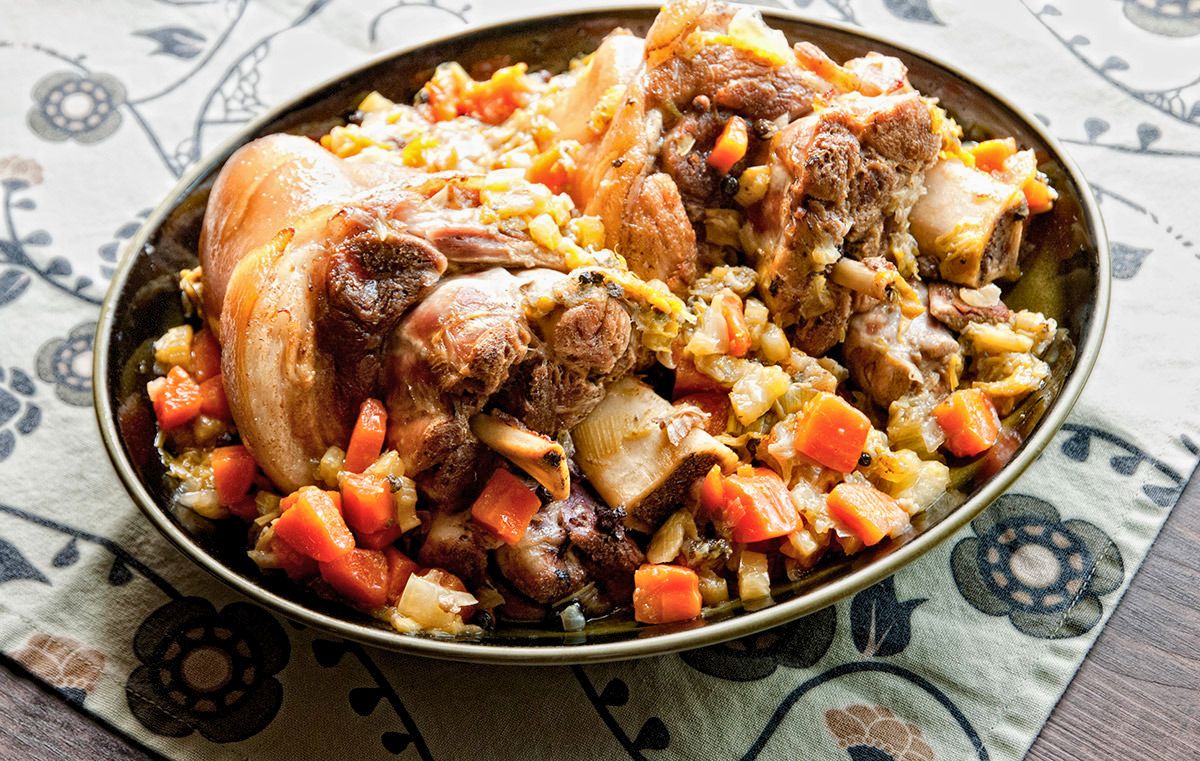 Jump to:
German Pork Hocks
Pork hocks may not be the most glamorous cut of meat, but don't let that fool you. When cooked slowly and gently, they offer a delicious taste that's hard to beat. Plus, they're a budget-friendly option that will leave you feeling full and satisfied.
One of the best things about German Pork Hocks is that they're AIP-friendly, meaning they're free from common allergens and can be enjoyed by those following an autoimmune protocol. And while their cook time is longer, it's hands off making this a great meal for busy weekdays.
Not sure what to serve with your German Pork Hocks? In Germany, they're often served with sauerkraut, but feel free to enjoy them with any of your favorite sides. For a paleo- and keto-friendly option, try roasted Brussels sprouts or a cauliflower rice recipe. Or, if you're looking for another dish to pair with your pork hocks, consider a simple green salad with a homemade vinaigrette.
Want something a bit more basic? Check out these oven-roasted pork hocks instead!
Ingredients
Serves: 4 Prep Time: 10 minutes Cook Time: 3 hours 30 minutes
1 leek, cut into 1" pieces
2 celery stalks, diced
1 carrot, diced
1 onion, diced
2 pork hocks
Sea salt, to taste
1 teaspoon whole black peppercorns
How to Make German Pork Hocks
In a large stockpot or Dutch oven, place the pork hocks, leeks, celery, onion, carrot, and whole peppercorn then season with salt. Then, fill the pot with enough water to cover the pork and vegetables. Bring the mixture to a boil, then reduce heat to low and let it simmer for 2 to 3 hours until the meat is tender.
Once the meat is tender, drain the liquid off the mixture, reserving it for later. Then, preheat the oven to 425°F.
Place the pork hocks and vegetables onto a baking sheet with some of the reserved cooking liquid. Then roast in the oven for 30 minutes, occasionally basting the meat.
More Paleo Pork Recipes
Pork is a great affordable choice for most meal plans. Add more to your menu with this recipe, or some of our other favorites below. There are tons of great ways to include pork in your menu that are paleo-friendly!
📖 Recipe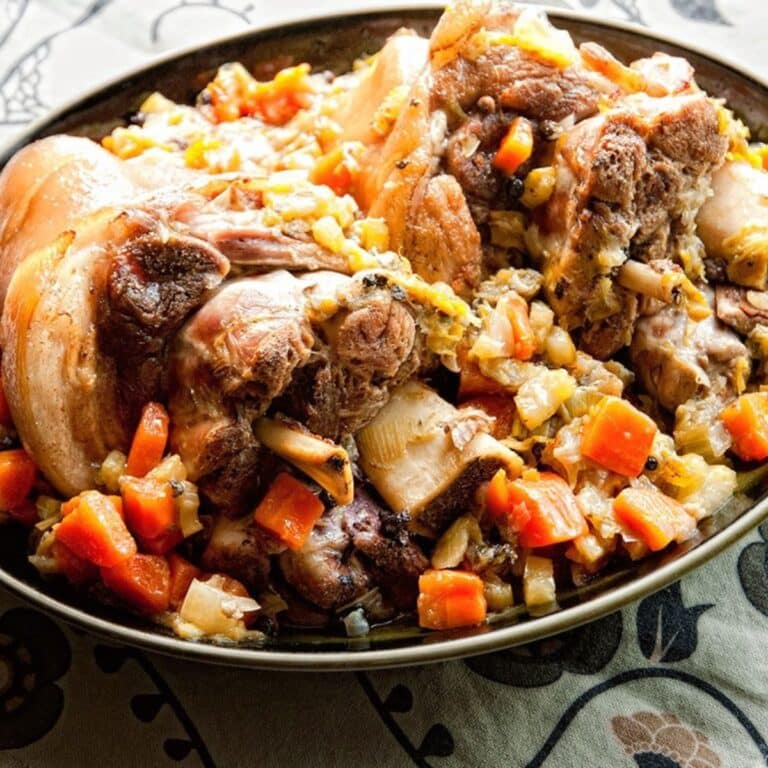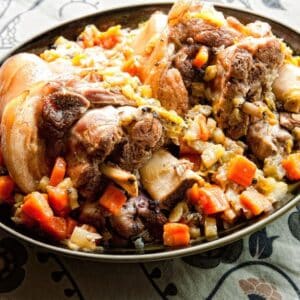 German Pork Hocks
Looking for a hearty German meal? Try our delicious pork hocks recipe! Slow-cooked to perfection with carrots, celery, and onions. The perfect home-cooked comfort food meal on a paleo diet.
Instructions
Begin by arranging the pork hocks in a generously sized pot alongside the leeks, celery, onions, carrots, and whole peppercorns. Don't forget to season with a sprinkle of sea salt.

1 leek,

2 celery stalks,

1 carrot,

1 onion,

2 pork hocks,

Sea salt,

1 teaspoon whole black peppercorns

Next, pour enough water into the pot until the hocks and vegetables are fully submerged. Bring everything to a boil and then reduce the heat to a gentle simmer. Allow the meat to cook this way for 2-3 hours until it's falling off the bone.

Once the pork hocks have finished cooking, strain the contents of the pot, reserving the liquid. Preheat your oven to 425 F.

Arrange the cooked hocks and vegetables in a baking dish, adding some of the reserved liquid to the dish. Place the dish in the oven and roast the pork hocks for roughly 30 minutes, basting them intermittently.
Notes
For the tender and fully rendered pork hock, allowing it to cook slowly is key.  A Dutch oven is a great way to slowly simmer while keeping it tender, and moist, and not burning it on the stovetop. 
Serve with a side of sauerkraut for a more authentic German experience.  Fermented foods are great for a paleo and AIP diet. Just double check that your brand is truly AIP-compliant. 
Nutrition
Serving:
4
g
Calories:
313
kcal
Carbohydrates:
8
g
Protein:
25
g
Fat:
20
g
Saturated Fat:
7
g
Polyunsaturated Fat:
2
g
Monounsaturated Fat:
9
g
Cholesterol:
93
mg
Sodium:
230
mg
Potassium:
461
mg
Fiber:
2
g
Sugar:
3
g
Vitamin A:
2934
IU
Vitamin C:
6
mg
Calcium:
47
mg
Iron:
2
mg