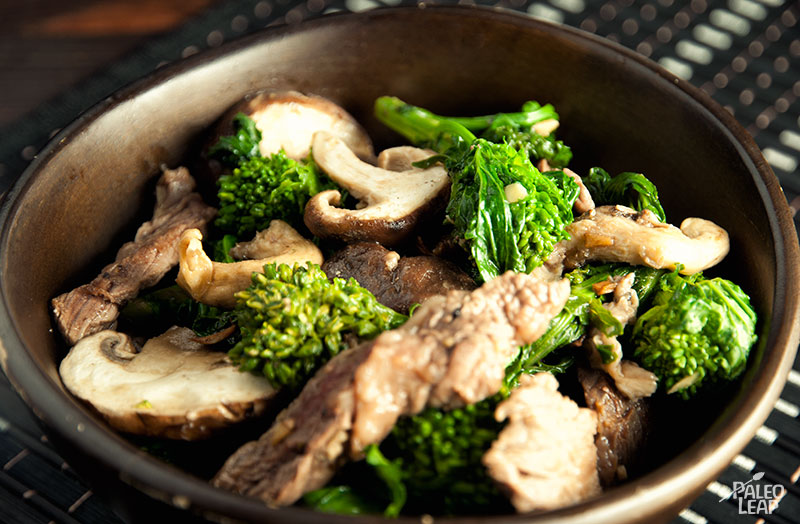 It's just like the ginger beef you used to get from the takeout menu…if that ginger beef got a healthy makeover, skipped on the mystery oils, and added a healthy dose of mushrooms and leafy greens for extra color and nutrition. So in other words, it's really not like the ginger beef you used to get from the takeout menu: it's better.
If you're not familiar with rapini (also called broccoli rabe), it looks just like a leafier and more slender version of broccoli. That makes it better for stir-frying, because it cooks more evenly and the shape is more similar to the other ingredients. In the produce section, it should be near the broccoli and cauliflower and other brassicas; if you can't find it, you can always substitute kale.
The mushrooms are also pretty flexible; use whatever kind you like or can get. The kinds named in the ingredients are really just a suggestion: tasty, but not the only way to go. This would be a perfect main dish to use if you're testing your skills at making cauliflower rice, but you could also enjoy it over any kind of roasted vegetables, or just with a hot bowl of soup.
Ginger, Beef, and Mushroom Stir-fry Recipe
Values are per portion. These are for information only & are not meant to be exact calculations.
Ingredients
1 lb. thinly sliced flank steak or sirloin, cut into thin strips;
2 garlic cloves, minced;
8 oz. cremini mushrooms, sliced;
4 oz. shiitake mushrooms, halved;
3 cups rapini (broccoli rabe) or kale, chopped;
Ginger Marinade Ingredients
¾ cup beef stock;
3 Tbsp. rice wine vinegar (yes, it's Paleo; there's no actual rice in it);
1 thumb size ginger, minced;
1 garlic clove, minced;
Sea salt and freshly ground black pepper;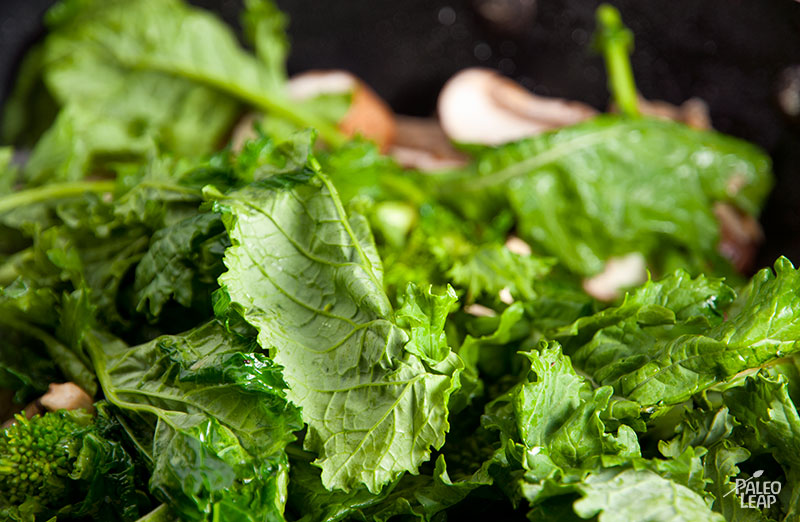 Preparation
Add all the marinade ingredients to a bowl and whisk to combine.
Add the steak to the marinade, gently toss to combine, and refrigerate for at least 15 minutes.
Heat some cooking fat in a large sauté pan placed over a medium-high heat.
Remove the steak from the marinade, reserving the marinade.
Add the steak and the garlic to the pan and sauté for 3 to 4 minutes.
Remove the steak and set aside.
Add the mushrooms, kale, and reserved marinade, and cook for another 3 to 4 minutes.
Return the steak to the skillet and stir to combine.
Serve immediately.