A generous knob of fresh ginger and just a hint of turmeric add some zing to this savory-sweet soup.
Carrots, apples, and zucchini might not seem like an obvious combination, but it really works here: all three of them have a slightly different combination of sweet and hearty, and all together, they make a very tasty soup.
Make it with vegetable stock for your vegan friends, or whip up a big batch of bone stock for an even more velvety taste.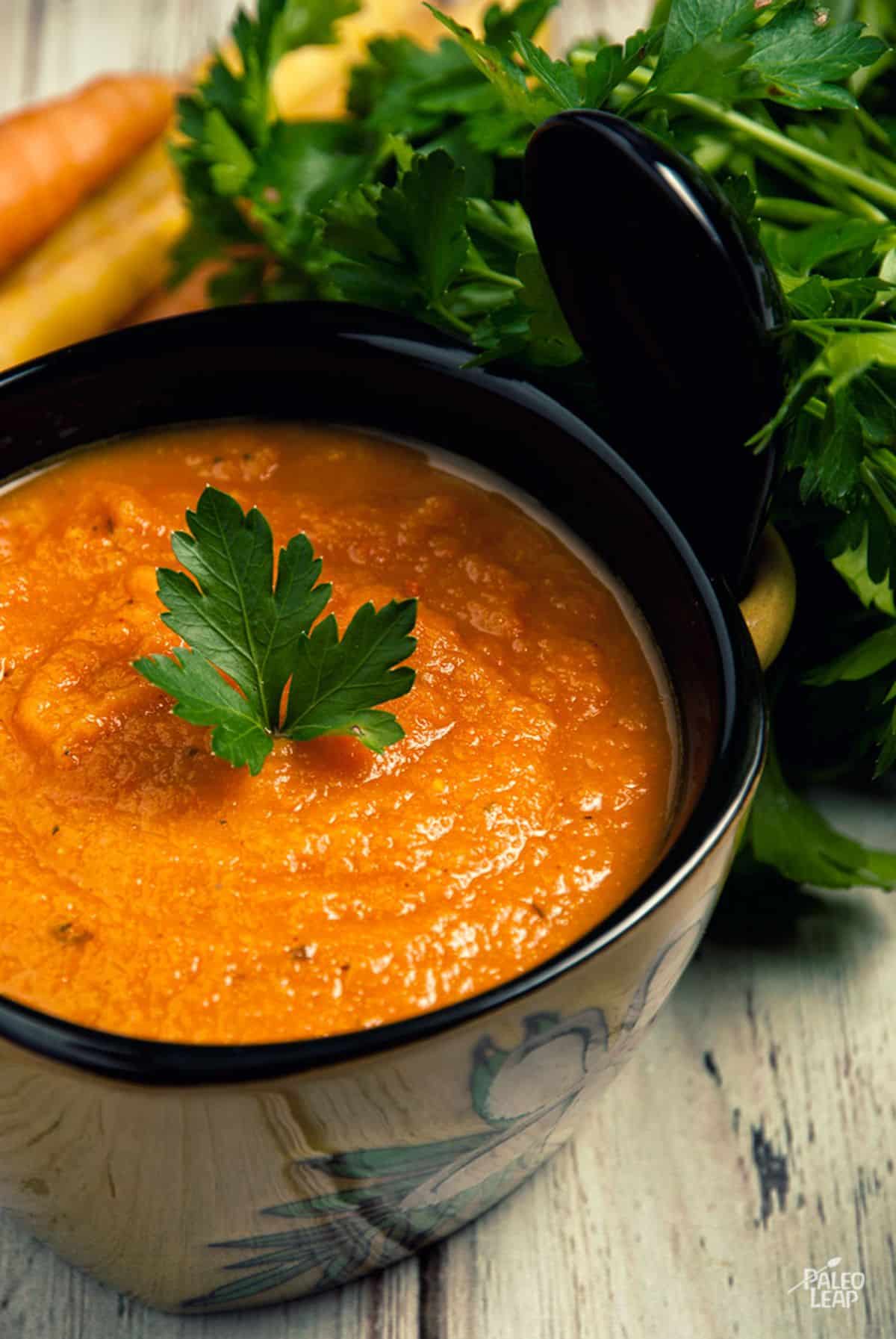 The zucchini also makes this one slightly lower in carbs per serving than a soup made only with carrots and apples – there's nothing wrong with carbs, but if you're trying to lower yours for any reason, it's a good recipe to have up your sleeve.
Try this soup with a steak salad to add some body to the meal, or maybe as an appetizer for richer meat like lamb or duck. It's colorful enough to perk up any table, and it goes well with a surprising number of different main courses.
And these kinds of sweet gingery soups almost get better as leftovers because the flavors develop a little in the fridge and get even more intense the next day. Why not make a double batch and see for yourself?
Ginger Carrot Soup Recipe
SERVES: 4 PREP: 15 min COOK: 45 min
Ingredients
8 carrots, peeled and roughly chopped;
2 small zucchini, peeled and roughly chopped;
1 small onion, diced;
1 apple, peeled and roughly chopped;
2 tbsp. fresh ginger, minced;
1 tsp. turmeric;
Pinch of cinnamon;
4 cups chicken or vegetable stock;
1 cup coconut milk; (optional)
Sea salt and freshly ground black pepper;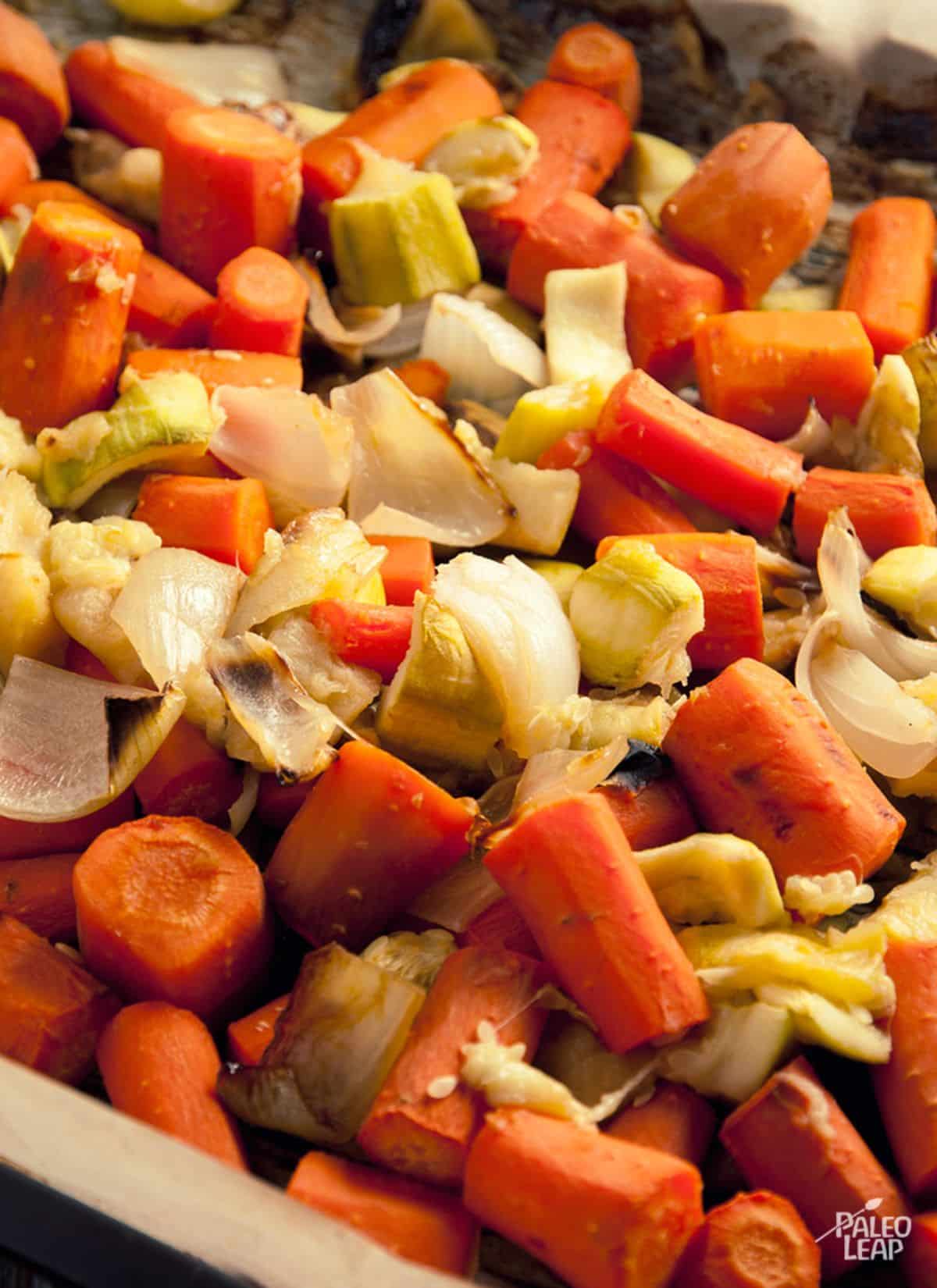 Preparation
Melt some cooking fat in a saucepan placed over medium-high heat.
Add the ginger and the onion and cook until fragrant, about 4 minutes.
Add all the remaining vegetables, the apple, and the spices. Give everything a good stir, and cook until the carrots are soft.
Pour in the stock and bring to a boil; lower the heat and let everything simmer for 25 to 30 minutes.
Puree the soup using an immersion blender or in batches using a blender.
Pour in the coconut milk, season to taste, and serve warm.
📖 Recipe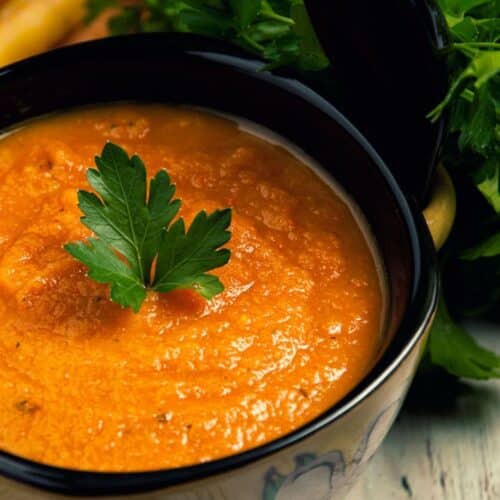 Ginger Carrot Soup Recipe
A sweet winter soup with just a hint of heat: it's perfect to warm up with whenever you need something tasty.
Instructions
Melt some cooking fat in a saucepan placed over medium-high heat.

Add the ginger and the onion and cook until fragrant, about 4 minutes.

2 tbsp. fresh ginger,

1 small onion

Add all the remaining vegetables, the apple, and the spices. Give everything a good stir, and cook until the carrots are soft.

8 carrots,

2 small zucchini,

1 apple,

1 tsp. turmeric,

Pinch of cinnamon

Pour in the stock and bring to a boil lower the heat and let everything simmer for 25 to 30 minutes.

4 cups chicken or vegetable stock

Puree the soup using an immersion blender or in batches using a blender.

Pour in the coconut milk, season to taste, and serve warm.

1 cup coconut milk,

Sea salt and freshly ground black pepper
Nutrition
Calories:
190
kcal
Carbohydrates:
20
g
Protein:
3
g
Fat:
13
g
Saturated Fat:
11
g
Polyunsaturated Fat:
0.3
g
Monounsaturated Fat:
1
g
Sodium:
973
mg
Potassium:
547
mg
Fiber:
3
g
Sugar:
11
g
Vitamin A:
3480
IU
Vitamin C:
23
mg
Calcium:
42
mg
Iron:
3
mg