Sometimes, the best things in life are the simple pleasures – food doesn't have to be fancy or complicated, just fresh, flavorful, and on the table when you're hungry.
This salad fits the bill perfectly, with nothing that's unfamiliar or challenging to cook and a delicious final result that's ready in no time. To make it even faster, buy a bag of pre-washed, pre-cut mixed greens: you'll pay for the convenience, of course, but some days it's just worth it.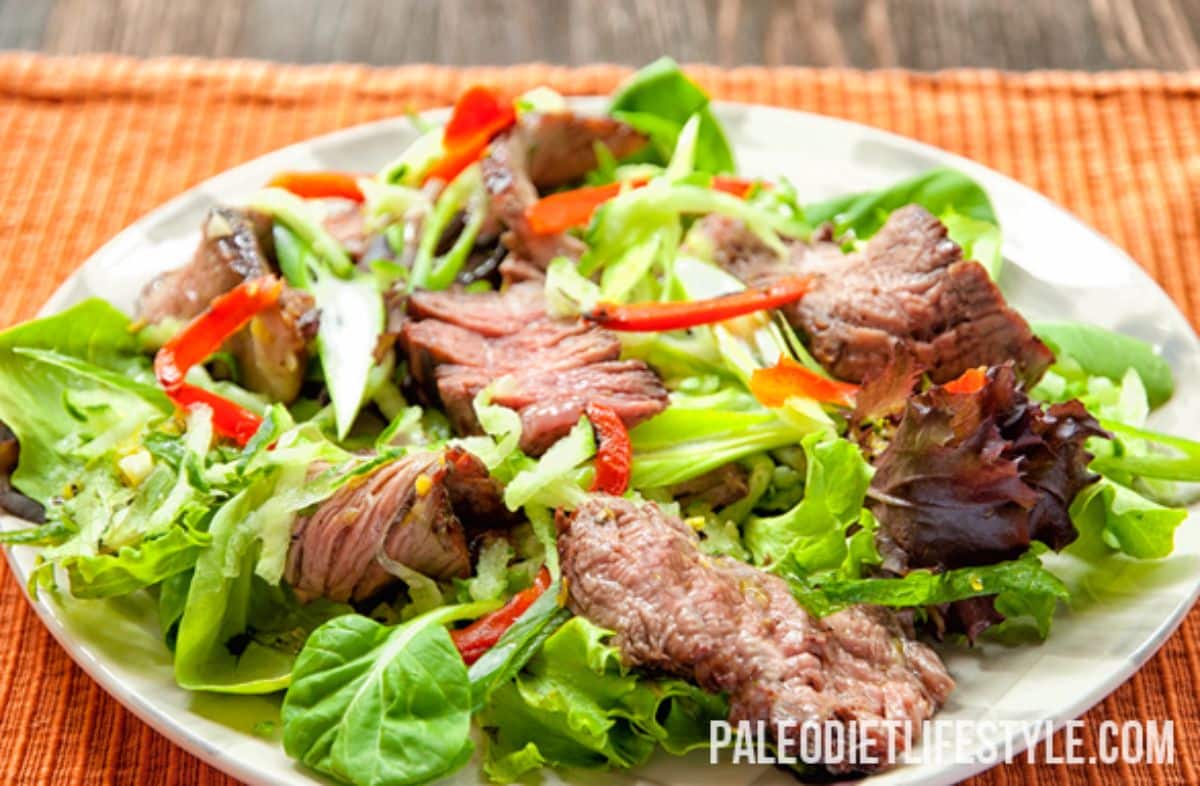 If you do have the time to play around with the recipe, you can really make it interesting by varying the salad greens. Lettuce and baby spinach are familiar to everyone, but branching out has a surprising taste and health benefits.
Arugula, for example, is surprisingly high in calcium compared to regular lettuce, and it has a sharp, peppery taste that makes a delicious contrast with the steak.
Dandelion greens aren't for the faint of heart (they're quite bitter) but try mixing just a few leaves into a bed of other lettuce. And of course, kale always wins first prize for nutrition.
This salad would make a very classy first course for a party, but it's also satisfying enough to work as the main dish if you're just looking for a light lunch. Enjoy it with a side of soup and maybe a piece of fresh fruit for dessert: simple, classic, and delicious.
Grilled Steak Salad Recipe
SERVES: 4 PREP: 10 min COOK: 15 min
Ingredients
1 lb. New York strip steak(s);
6 cups of mixed salad greens;
2 cucumbers, chopped;
1 red bell pepper, thinly sliced;
2 green onions; thinly sliced;
10 mint leaves, cut into thin ribbons;
1 clove garlic, minced;
3 tbsp. lemon juice;
Zest of 2 lemons;
6 tbsp. extra-virgin olive oil;
Sea salt and freshly ground black pepper;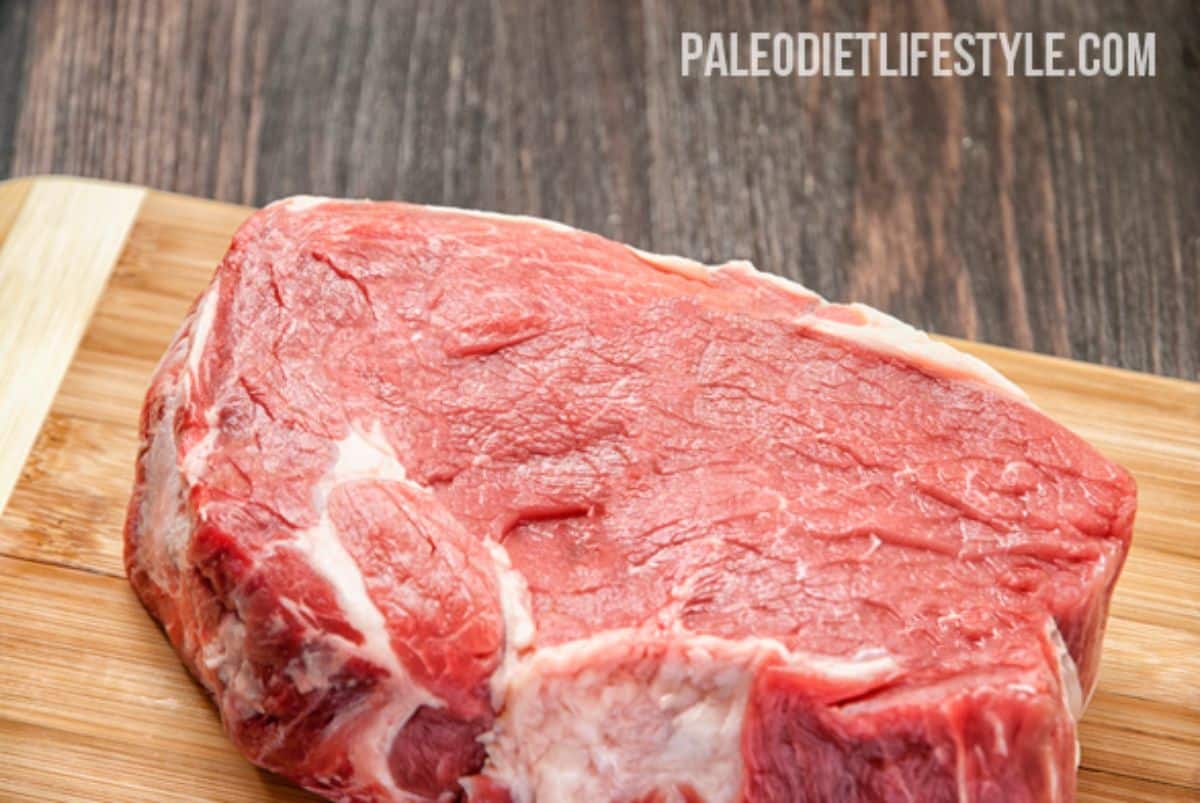 Preparation
Preheat a BBQ or grill to 350 - 400 F.
Season the steak(s) with sea salt and black pepper. For medium-rare, grill them for 8 to 9 minutes, turning once, or until the center reaches 130° to 140°. Let the steak rest for about 5 minutes after cooking.
In a small bowl, combine the olive oil, lemon zest, juice, garlic, mint, and salt and pepper to taste.
Thinly slice the steak crosswise.
On individual plates, top a pile of salad greens with cucumbers, red bell peppers, green onions, and steak. Drizzle the vinaigrette on top and serve.
📖 Recipe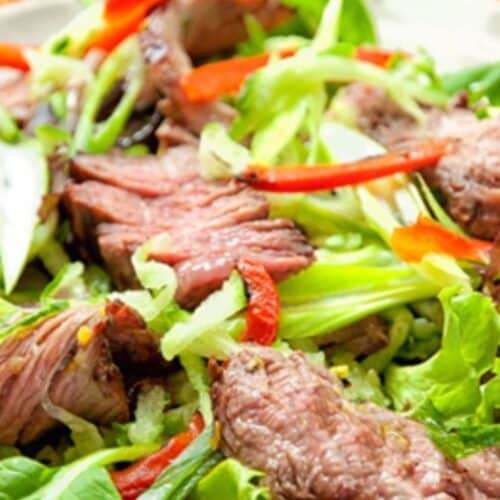 Grilled Steak Salad Recipe
A timeless steak salad with a simple vinaigrette that goes from grill to table in just a few minutes.
Instructions
Preheat a BBQ or grill to 350 – 400 F.

Season the steak(s) with sea salt and black pepper. For medium-rare, grill them for 8 to 9 minutes, turning once, or until the center reaches 130° to 140°. Let the steak rest for about 5 minutes after cooking.

1 lb. New York strip steak,

6 cups of mixed salad greens

In a small bowl, combine the olive oil, lemon zest, juice, garlic, mint, and salt and pepper to taste.

10 mint leaves,

1 clove garlic,

3 tbsp. lemon juice,

Zest of 2 lemons,

6 tbsp. extra-virgin olive oil,

Sea salt and freshly ground black pepper

Thinly slice the steak crosswise.

On individual plates, top a pile of salad greens with cucumbers, red bell peppers, green onions, and steak. Drizzle the vinaigrette on top and serve.

2 cucumbers,

1 red bell pepper,

2 green onions thinly sliced
Nutrition
Calories:
542
kcal
Carbohydrates:
26
g
Protein:
27
g
Fat:
40
g
Saturated Fat:
10
g
Polyunsaturated Fat:
3
g
Monounsaturated Fat:
24
g
Cholesterol:
91
mg
Sodium:
84
mg
Potassium:
924
mg
Fiber:
7
g
Sugar:
7
g
Vitamin A:
1865
IU
Vitamin C:
111
mg
Calcium:
117
mg
Iron:
4
mg