Calamari is often found on restaurant menus and is usually served fried and breaded. However, calamari doesn't need to be fried to taste delicious because it's so mild and doesn't have that "seafood taste." Grilled and served over a bed of greens and berries, calamari is a healthy, nutrient-rich protein source.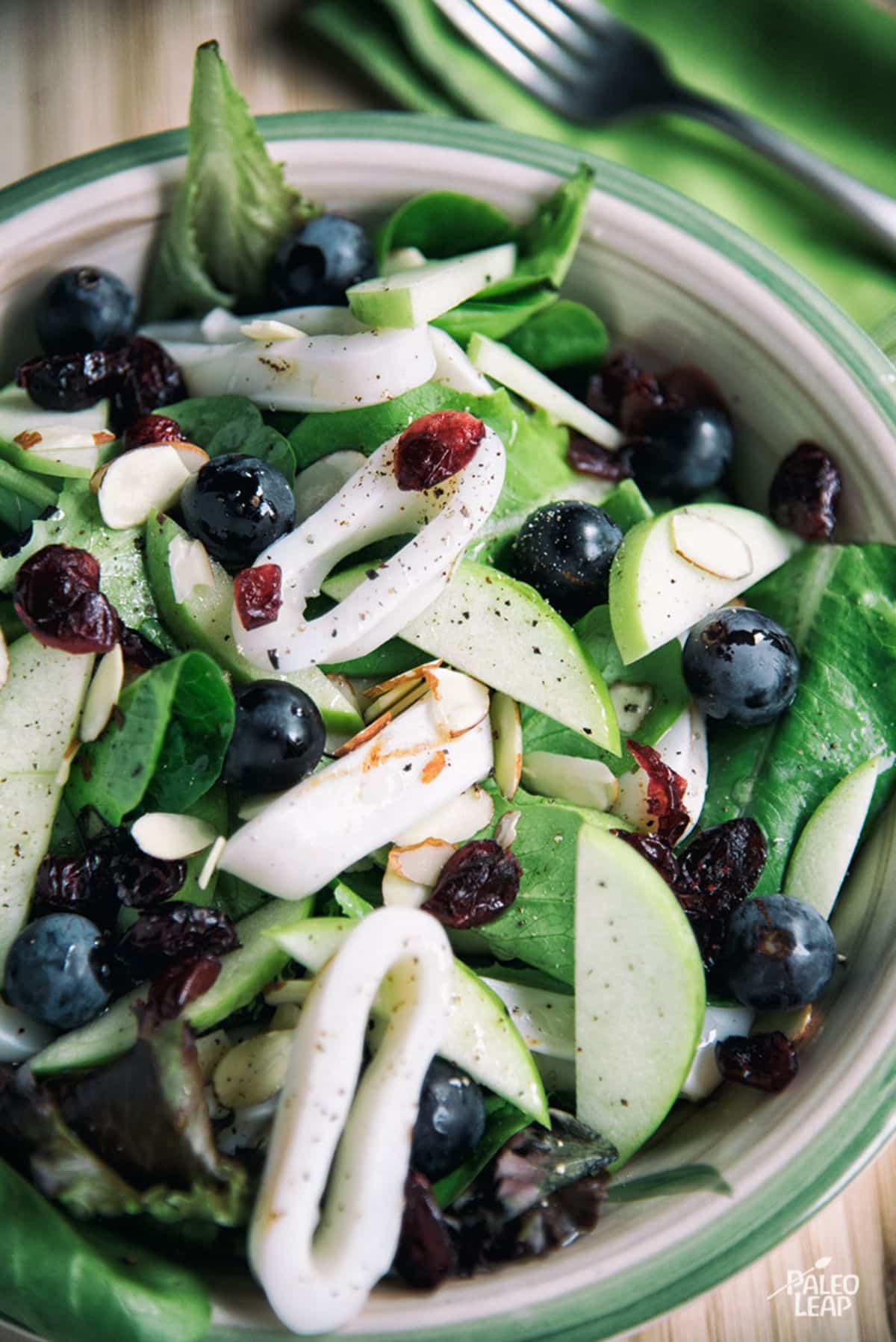 Calamari is rich in B vitamins, especially B2 and B12. It's also rich in minerals like copper and selenium. Selenium is an important mineral for thyroid health. Luckily, seafood is generally rich in selenium, so eating seafood a few days a week can help support it.
This recipe calls for a Simple Dressing, which you can use on a variety of salads. Bottled dressings are expensive and often filled with sugar, processed oils, and preservatives. A dressing like this one can be made in under 2 minutes and costs pennies compared to a bottled dressing.
Grilled Calamari Salad Recipe
Serves: 4 Prep: 15 min Cook: 5 min
Ingredients
1-½ lb. calamari tubes, cleaned
¼ cup olive oil
Juice from ½ lemon
1 granny smith apple, thinly sliced
6 cups fresh spinach
¾ cup blueberries
¼ cup dried cranberries
¼ cup sliced almonds
Sea salt and freshly ground black pepper
Simple dressing Ingredients
¼ cup extra virgin olive oil
2 tbsp. apple cider vinegar
1 tbsp. fresh lemon juice
Sea salt and freshly ground black pepper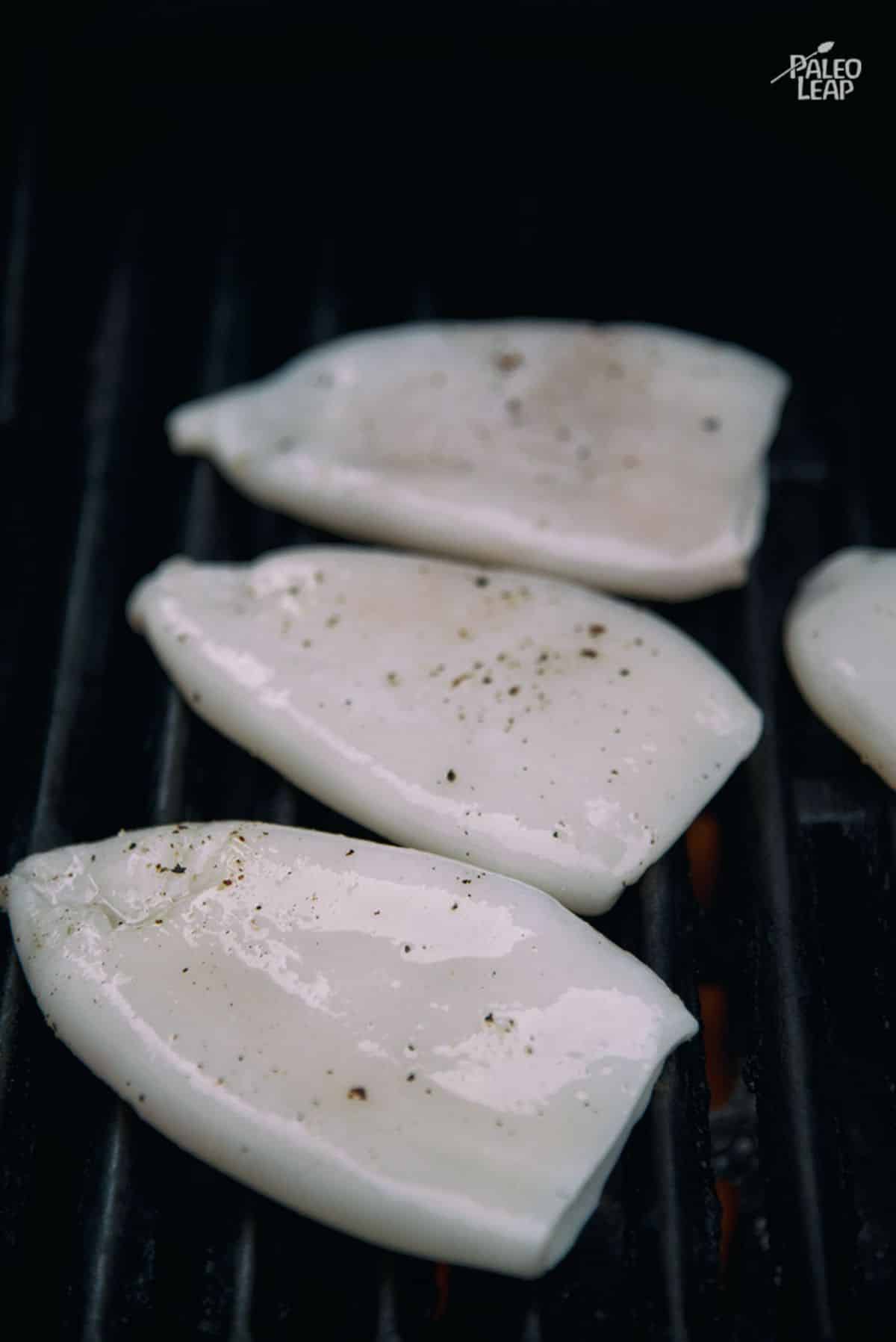 Preparation
Preheat the grill to medium heat.
In a bowl, combine the olive oil and lemon juice and season to taste.
Baste the calamari tubes with the olive-lemon mixture generously.
Grill the tubes for about 2 minutes per side or until opaque and cooked. Set aside and slice lengthwise.
In a bowl, combine all the ingredients for the dressing and whisk until well blended.
In a salad bowl, combine all the salad ingredients, drizzle the dressing, and gently toss until well coated.
📖 Recipe
Grilled Calamari Salad Recipe
Grilled calamari served over a bed of spinach with sweet blueberries, cranberries and a granny smith apple.
Instructions
Preheat the grill to medium heat.

In a bowl, combine the olive oil and lemon juice and season to taste.

¼ cup olive oil,

Juice from ½ lemon,

Sea salt and freshly ground black pepper

Baste the calamari tubes with the olive-lemon mixture generously.

Grill the tubes for about 2 minutes per side or until opaque and cooked. Set aside and slice lengthwise.

In a bowl, combine all the ingredients for the dressing and whisk until well blended.

In a salad bowl, combine all the salad ingredients, drizzle the dressing, and gently toss until well coated.

6 cups fresh spinach,

¾ cup blueberries,

¼ cup dried cranberries,

¼ cup sliced almonds,

1 granny smith apple
Nutrition
Calories:
222
kcal
Carbohydrates:
17
g
Protein:
9
g
Fat:
14
g
Saturated Fat:
2
g
Polyunsaturated Fat:
2
g
Monounsaturated Fat:
9
g
Cholesterol:
106
mg
Sodium:
50
mg
Potassium:
405
mg
Fiber:
3
g
Sugar:
11
g
Vitamin A:
3422
IU
Vitamin C:
16
mg
Calcium:
67
mg
Iron:
2
mg