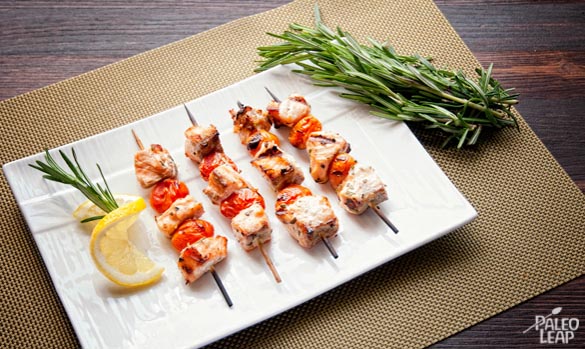 Perfect for a picnic or an early-summer barbecue, these skewers are flavorful without being overwhelming. They're also highly nutritious – salmon is full of Omega-3 fats, and tomatoes are rich in antioxidants like lycopene, which may be protective against certain kinds of cancer. This recipe would go well with a light salad, or a simple side of roasted potatoes with sea salt and rosemary to keep the cooking easy. Just pop them in the oven while you're marinating the skewers, and they'll be done when you're ready to eat. Zucchini cakes would be a another delicious addition, and you could just keep the barbecue fired up and make grilled peaches with prosciutto and basil for dessert.
When using bamboo skewers, some people like to soak them for an hour or two before cooking with them, to prevent them from burning. This is a debate that goes back and forth, and every barbecue chef has his own opinion, but if you want to try it, it's easy enough to do. Just toss them in a bowl of water with something heavy on top to keep them submerged. Alternately, you could go for metal skewers, which are a little harder to pick up off the grill but reusable and definitely not at risk of catching on fire.
Salmon is a little more delicate than the usual barbecue fare, so you'll need to take some extra precautions to keep it from sticking to the grill (you want to eat your salmon, not watch it fall apart into the flames). Rub some oil on the grill with a brush or rag before cooking, and wait for it to heat up before you toss the skewers on. This saves more of the fish for your taste buds, and also makes cleaning up afterwards easier: definitely a win-win.
Grilled Salmon-Tomato Skewers Recipe

SERVES: 4

PREP: 30 min.

COOK: 10 min.

Values are per portion. These are for information only & are not meant to be exact calculations.
Ingredients
1 lb. salmon fillet cut in 1-inch cubes;
24 cherry tomatoes;
3 tsp. fresh rosemary, minced;
4 tsp. extra-virgin olive oil;
2 tsp. lemon juice;
3 garlic cloves, minced;
1 Lemon, sliced;
Sea salt and freshly ground black pepper;
12 bamboo skewers;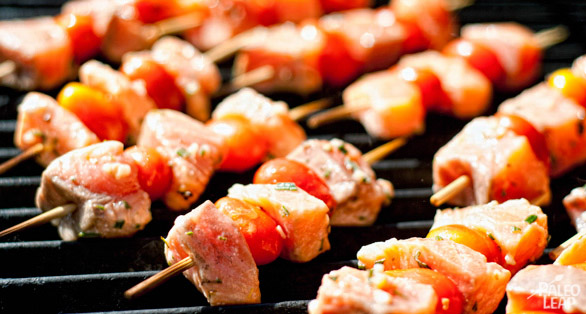 Preparation
Preheat your grill to a medium-high heat.
In a bowl, combine the olive oil, rosemary, garlic, and lemon juice. Add sea salt and freshly ground black pepper to taste, and whisk everything together.
Add the salmon and cherry tomatoes and marinate for about 30 minutes.
Load up each skewer, alternating tomatoes with pieces of salmon.
When the grill is hot, BBQ the skewers until the salmon is well done. Turn them carefully when the first side is cooked, since fish can break easily. The fish should be ready in 6 to 10 minutes.
Serve with a fresh slice of lemon and garnish with rosemary.