We love putting a Paleo twist on recipes, and this grilled tandoori chicken with Indian roots is no different. Instead of yogurt in the marinade, this recipe calls for coconut milk, and believe it when we say that this little switch makes it just that much better.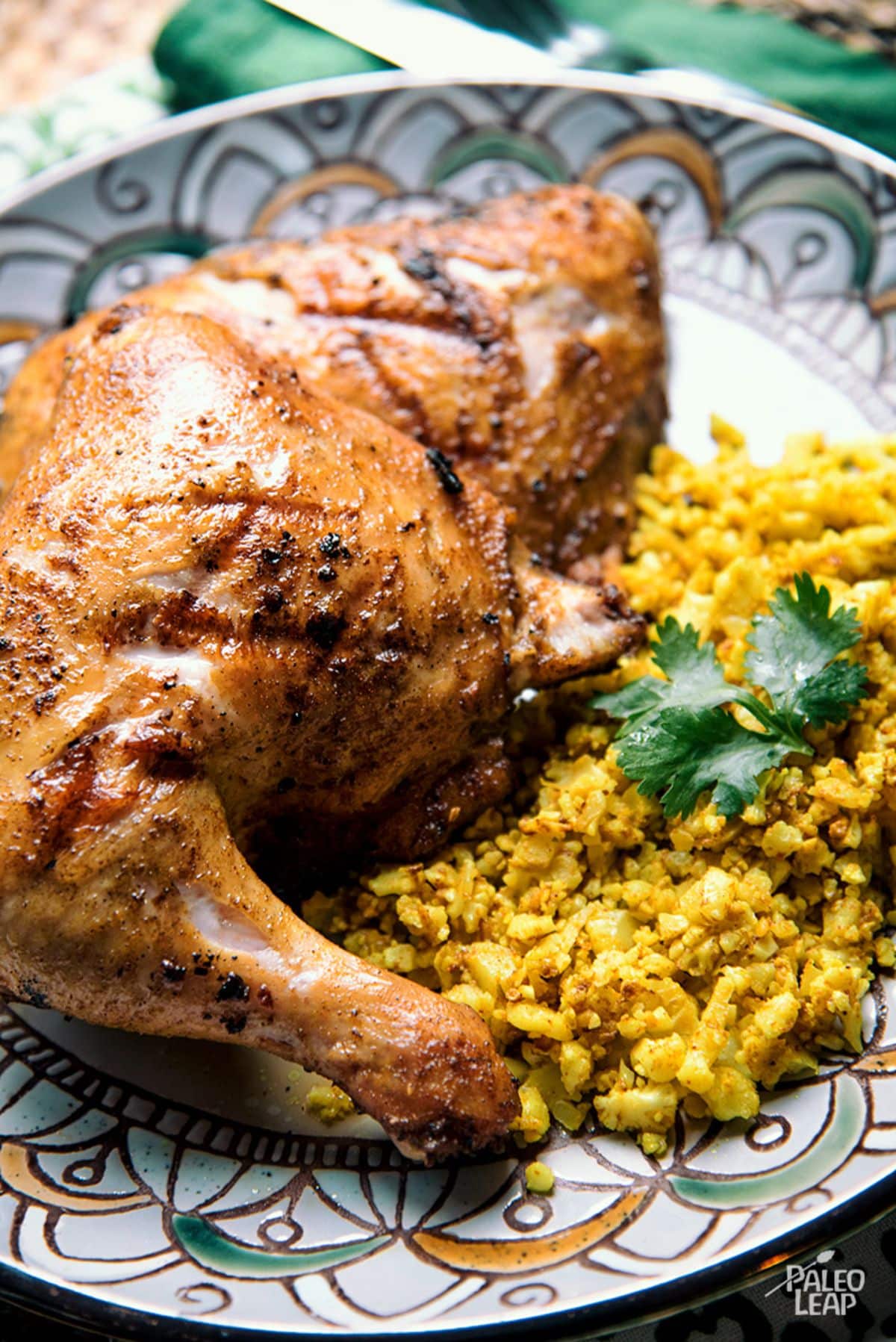 Of course, you will still be using all the traditional spices; you can even put in a pinch more turmeric if you like, just for the color alone. And while the authentic tandoori chicken is cooked in a clay oven, you can also grill it too, with surprisingly great results.
If you are a grill fanatic, then surely you have already discovered the amazing benefits of indirect grilling, but if you haven't done it before, don't worry; it is incredibly easy.
To make the most of your protein source and for the meat to come out moist (not dry or too charred), you will have to control your cooking temperature on the grill, just as in the oven. Too intense heat in too short of a time leaves you with hockey puck burgers, and for chicken, it is even worse.
To make sure your marinated chicken gets all the respect it deserves, you will have to delve into indirect heating.
Simply put, this means placing the hot charcoal on one side of the grill and cooking on the other side (for a longer period of time) to allow the meat to cook thoroughly. In the end, you can move the chicken over the direct heat for a final crisping of the skin.
With that settled, you will have plenty of time to make a grilled eggplant and sun-dried tomato salad or a cheerful pomegranate fruit salad to eat alongside the meal.
Grilled Tandoori Chicken Recipe
Serves: 4 Prep: 2 h Cook: 45 min
Ingredients
4 to 6 whole chicken legs
1 cup coconut milk
2 tbsp. lemon juice
4 garlic cloves, minced
1 tbsp. fresh ginger, minced
1 tsp. ground coriander
1 tsp. ground cumin
1 tsp. ground turmeric
1 tsp. cayenne
1 tbsp. garam masala
1 tbsp. paprika
2 tbsp. coconut oil
Fresh cilantro for garnish
Sea salt and freshly ground black pepper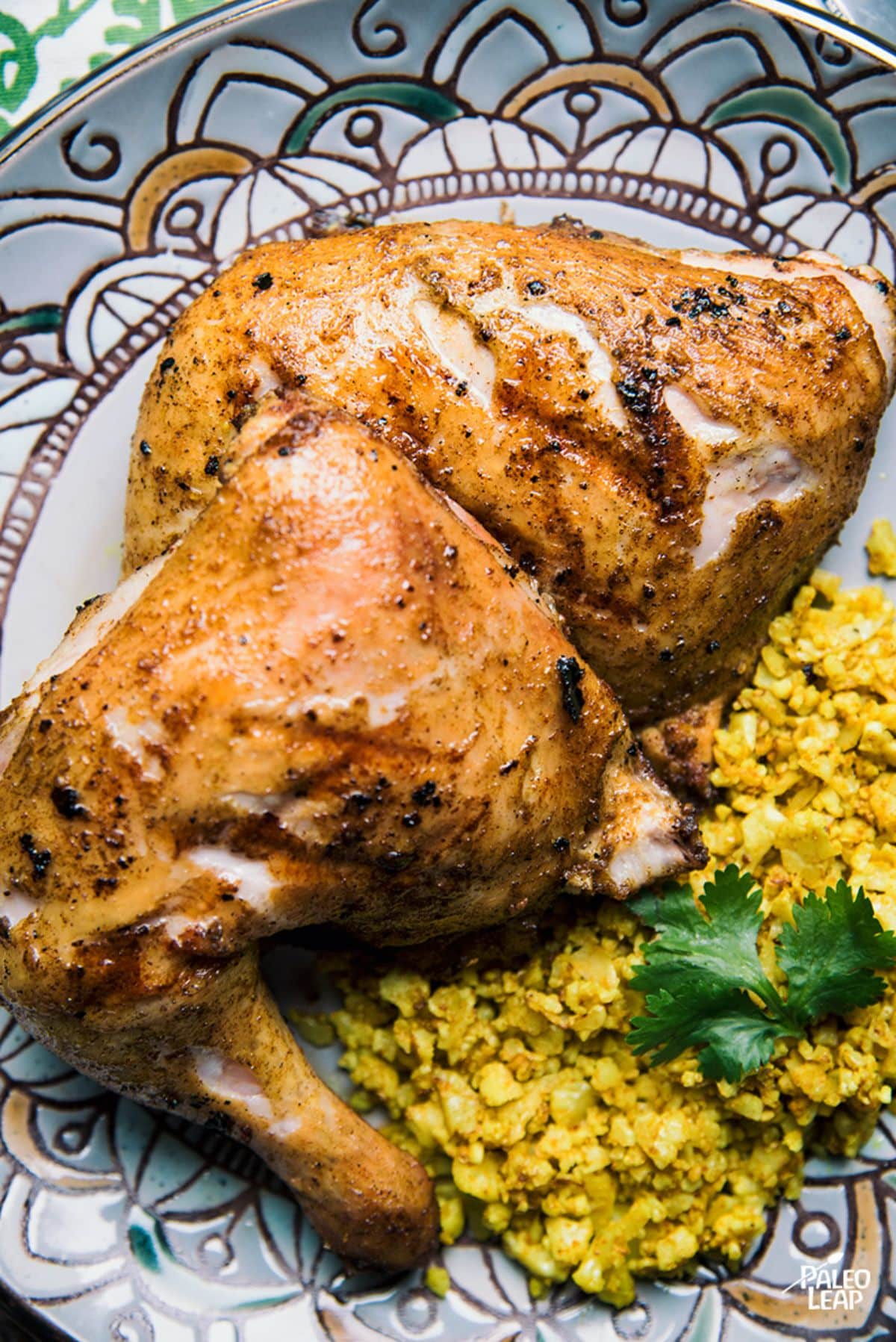 Preparation
Heat coconut oil in a skillet over medium heat.
Add the garlic, ginger, coriander, cumin, turmeric, cayenne, garam masala, and paprika; cook for 1 to 2 minutes, stirring constantly.
Remove the skillet from heat and let cool.
Pour the coconut milk and lemon juice into the skillet and stir.
Place the chicken in a container and pour the coconut milk sauce over the chicken. Let the chicken marinate for 2 to 6 hours.
Prepare the grill for indirect cooking and remove the chicken from the marinade.
Grill chicken over direct high heat for 4 to 5 minutes.
Then place the chicken over indirect heat, and cook for another 40 to 45 minutes, covered.
Finish the cooking over direct heat for another 2 to 3 minutes per side.
Serve the chicken with fresh cilantro.
📖 Recipe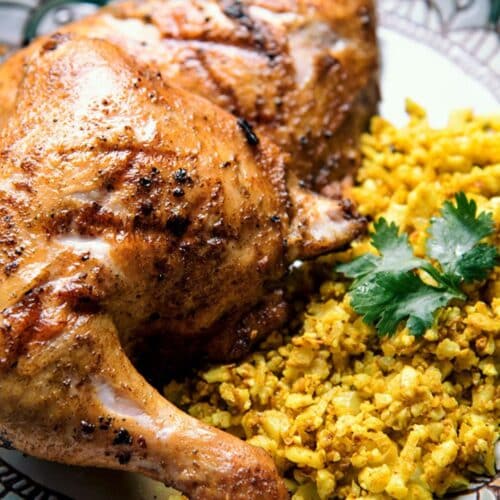 Grilled Tandoori Chicken Recipe
If you lack a Tandoor oven, yet crave the amazing flavors of Tandoori chicken, look no further than your grill - just remember to keep the authentic spices!
Instructions
Heat coconut oil in a skillet over medium heat.

Add the garlic, ginger, coriander, cumin, turmeric, cayenne, garam masala, and paprika; cook for 1 to 2 minutes, stirring constantly.

4 garlic cloves,

1 tbsp. fresh ginger,

1 tsp. ground coriander,

1 tsp. ground cumin,

1 tsp. ground turmeric,

1 tsp. cayenne,

1 tbsp. garam masala,

1 tbsp. paprika,

Sea salt and freshly ground black pepper

Remove the skillet from heat and let cool.

Pour the coconut milk and lemon juice into the skillet and stir.

1 cup coconut milk,

2 tbsp. lemon juice

Place the chicken in a container and pour the coconut milk sauce over the chicken. Let the chicken marinate for 2 to 6 hours.

4 to 6 whole chicken legs

Prepare the grill for indirect cooking and remove the chicken from the marinade.

Grill chicken over direct high heat for 4 to 5 minutes.

Then place the chicken over indirect heat, and cook for another 40 to 45 minutes, covered.

Finish the cooking over direct heat for another 2 to 3 minutes per side.

Serve the chicken with fresh cilantro.

Fresh cilantro for garnish
Nutrition
Calories:
496
kcal
Carbohydrates:
10
g
Protein:
24
g
Fat:
42
g
Saturated Fat:
23
g
Polyunsaturated Fat:
5
g
Monounsaturated Fat:
10
g
Trans Fat:
0.1
g
Cholesterol:
120
mg
Sodium:
125
mg
Potassium:
599
mg
Fiber:
3
g
Sugar:
1
g
Vitamin A:
2468
IU
Vitamin C:
6
mg
Calcium:
61
mg
Iron:
5
mg